Title: Sanyare: The Rebel Apprentice
Author: Megan Haskell
Genre: Fantasy Adventure
Cover Designer: 
Deranged Doctor Design
Editor: KM Editorial and Laura Taylor
Publisher: Trabuco Ridge Press
Hosted by: 
Lady Amber's PR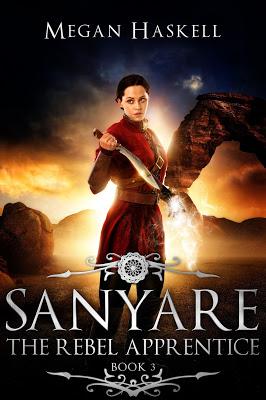 Blurb:
To save millions of lives, she may have to sacrifice the ones she loves…
Rie is on the run from the wrath of elvish kings. As her enemies grow and the assassins close in, she must bring a traitor to justice to save herself. But to keep one step ahead, Rie may need to leave her friends and the man she loves behind…
Her only chance of survival may lie in a hidden colony of water fae off the Florida coast. When the Fire Queen approaches with a vengeance and innocent people die, Rie faces an impossible choice: give herself up to save her loved ones or watch as the entire human realm is completely annihilated…
Sanyare: The Rebel Apprentice is the third book in the Sanyare Chronicles, a series of breathtaking fantasy adventure novels. If you like headstrong heroines, mythological creatures, and a hearty dose of magic and mayhem, then you'll love Megan Haskell's thrilling series.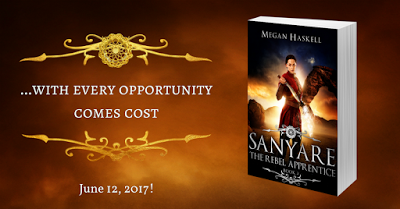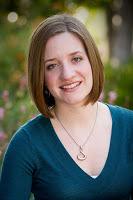 Megan Haskell is the author of the dark fantasy adventure series, The Sanyare Chronicles, and Program Director for O.C. Writers, A Network of Published and Aspiring Authors. She lives in Orange County, California with her husband, two young daughters, and one ridiculously energetic dog. You can find her on her website at www.MeganHaskell.com, www.OCWriters.Network, and Facebook.




Author Links:

Facebook: www.facebook.com/meganhaskellauthor

Instagram: www.instagram.com/meganphaskell/

Twitter: @meganphaskell or www.twitter.com/meganphaskellPinterest: https://www.pinterest.com/meganphaskell/G+: https://plus.google.com/b/109428672595505357182/+MeganhaskellAuthor/postsGoodreads: https://www.goodreads.com/author/show/12172278.Megan_HaskellAmazon: http://amzn.to/2qFcT4e


Buy Links:

The Last Descendant:

http://amzn.to/2pxknss

The Heir Apparent:

http://amzn.to/2pYpLX4

Pixie Tamer:

http://amzn.to/2oXMiTG

The Rebel Apprentice:

http://amzn.to/2rde7Zb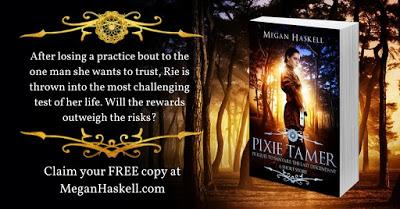 Get Your FREE copy of Pixie Tamer!
To get your FREE copy of Pixie Tamer, the short story prequel to Sanyare: The Last Descendant, PLUS three excerpts from the novel featuring Rie's tiniest allies, sign up for Megan Haskell's newsletter at www.meganhaskell.com/newsletter-subscription.