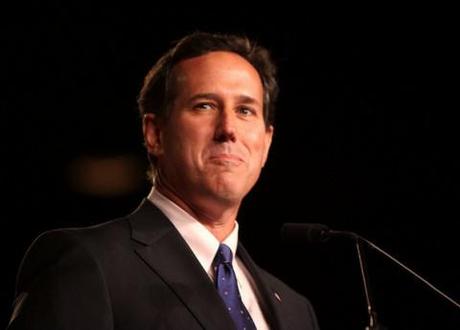 Feeling good? Rick Santorum. Photo credit: Gage Skidmore via flickr
Social conservative Rick Santorum has won the Mississippi and Alabama primaries, beating Newt Gingrich into second place and leaving establishment favorite Mitt Romney in third. Libertarian-leaning Ron Paul trailed the rest of the field a distant fourth.
The results are a particular blow to Gingrich: the former Speaker of the House had been counting on the Southern states contests to bring him back into the race, and wins in South Carolina and Georgia had seemed to validate this strategy. But the voters of Mississippi and Alabama refused to play ball, and many GOP-watchers are counting down the days until Gingrich drops out of the Republican nomination race.
Romney was not expected to do well in these two ultra-conservative states, and still has a comfortable lead over his rivals in terms of delegate numbers. Nevertheless, the results will do nothing to dispel disquiet over the former Massachusetts governor's inability to unite the party.
Gingrich finished. "Newt Gingrich may not drop out of the race just yet, but his campaign for president is effectively finished," wrote Ben Adler at The Nation. The fact that Gingrich has only managed wins in Southern states means he was never going to be a credible national presidential candidate, said Adler, but victories in Mississippi and Alabama would at least have made him a "power-broker". Adler argued that Gingrich's campaign has damaged his reputation: "The entire Republican establishment came out to squash his candidacy, publicly reminiscing about his poor leadership in the House. He will leave the campaign, whenever that happens, as a divisive has-been."
Newt Gingrich slammed Mitt Romney at his election night party: "If you are the front-runner and you keep coming in third, you are not much of a front-runner. I do not believe a Massachusetts moderate is going to be in any position to win any debates this fall," Gingrich said, reported The Guardian.
Gingrich may stay to hurt Romney. Gingrich's real strategy is "no longer to win to nomination outright but to make Mitt Romney lose by denying him the 1,144 delegates he needs to clinch the GOP nomination before the Republican convention in August", said Patricia Murphy at The Daily Beast. According to Murphy, Gingrich has become increasingly bitter towards establishment favorite Romney after a series of angry exchanges between the candidates earlier in the race. Gingrich has declared that he's staying in the contest, but he may not have a choice: "It will be up to donors to his campaign and super PAC, including billionaire Sheldon Adelson, who will have to decide if they are making a worthwhile investment in Gingrich and his ambitions or throwing good money after bad," Murphy said.
"We will compete everywhere. The time is now for conservatives to pull together. If we nominate a conservative we will beat Barack Obama," said Rick Santorum at a victory rally, reported Reuters.
Gingrich staying will help Romney. "It is the competition between Gingrich and Santorum that will help keep Santorum's delegate count low, allowing Romney to maintain or lengthen his lead," argued Jennier Rogan on a Washington Post blog. The delegate-number issue continues to dog Santorum, said Rogan, as Romney still has a comfortable lead, and the Alabama and Mississippi wins have not raised the social conservative's count significantly.
A contest that just won't end. "Even as he wins the delegate war, the former Massachusetts governor keeps getting reminders that conservatives are resistant to his candidacy and seemingly immune to the call of electability and inevitability," pointed out Jonathan Martin at Politico. The latest primary results have done nothing to answer accusations that Romney just can't close the deal: "The establishment favorite needs to explain why, two and a half months into the primary season, he can't seem to put away underfunded rivals who are viewed by many in the party as general election disasters."
Why doesn't the GOP establishment step in? Molly Ball pointed out at The Atlantic that the never-ending nomination contest is damaging the Republican Party's chances in the November presidential election. So why, asked Ball, hasn't the party elite stepped in to seal the deal for Romney? The first reason is that remaining candidates Santorum, Gingrich and Paul "are not seen as particularly vulnerable to being leaned on by the GOP establishment, to put it mildly"; what's more, GOP leaders are worried that any intervention would antagonise the Republican base. And in fact, Ball argued, Romney is not really the establishment choice: "His rivals have strained to paint Romney as the favorite of the GOP elites, and he certainly has more support than they do from that quarter. But that support has been gradual and grudging."