0 Flares
0 Flares
×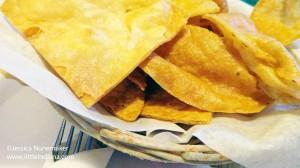 Santiago's Mexican Restaurant in Porter, Indiana
Santiago's Mexican Restaurant in Porter, Indiana is absolutely amazing.
Everything here is not only homemade–it's portioned for big appetites!
Santiago's Mexican Restaurant in Porter, Indiana
You know that I LOVE a great Mexican restaurant and wow did Santiago's Mexican Restaurant impress.
While deciding on what to order, our server brought out a basket of fresh, homemade salsa and homemade tortillas.
Flaky, light, and golden, these are hands-down the best tortillas I have ever had! If you know me, you also know I've had more than my fair share of them!
If you've only had jarred salsa, you'll really enjoy the flavor of homemade. There's just nothing like it! We ate our entire basket and got to work on another. They were so good we kept forgetting to look at the menu and figure out what we actually wanted to order as our meal at this Porter County Mexican Restaurant!
Mexican Cuisine in Porter, Indiana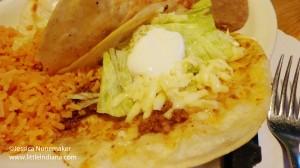 Santiago's Mexican Restaurant in Porter, Indiana
While my husband was distracted by salsa and chips, I asked our server about his favorite item on the menu.
He replied, with zero hesitation, "The Chimichanga."
Quickly claiming "dibs" on the Chimichanga, hubs went with the Wet Burrito. Our boys both wanted tacos. Kid #1 had steak tacos and Kid #2 had beef.  Both of their orders came with rice and beans.
My Chimichanga was absolutely fantastic! Hubs was just as happy about his Wet Burrito. Truly, this was a heck of a meal!
Go There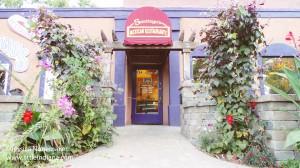 Santiago's Mexican Restaurant in Porter, Indiana
It's been awhile since we have had a meal this delicious! There's so many reasons to step inside a mom and pop Mexican restaurant. Food like this will delight and amaze!
Absolutely check out Santiago's Mexican Restaurant in Porter, Indiana–and let me know what fantastic item you ordered in the comments below.
Small Towns: Destinations, not Drive-Thrus! I'm Jessica Nunemaker and THIS is little Indiana!
Find pictures in Indiana on my Flickr photostream or on the new little Indiana Tumblr blog.
Just don't forget to tell 'em that  little Indiana sent you!
Santiago's Mexican Restaurant
124 Lincoln Street
Porter, Indiana 46304
219.926.6518
Don't miss a moment. Subscribe to little Indiana and receive instant updates to stay on top of everything "little."
little Indiana: Where to Stay, Play, and Eat in Small Towns in Indiana. Discovering Indiana's best small towns! Now get little Indiana on your Kindle.
Targeted. Relevant. Affordable! little Indiana advertising.