New to little Indiana? Subscribe for free to my RSS feed. Thanks for stopping by!
Welcome to little Indiana's new series: Christmas in July-in June! Plenty of time left for you to plan your Indiana family vacation. Santa Claus, Indiana is the perfect place to celebrate!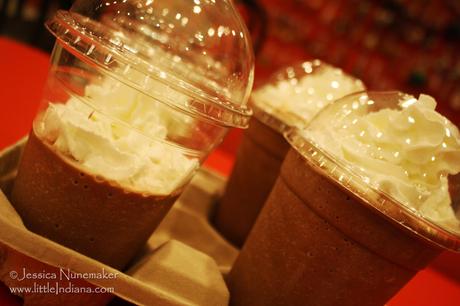 Santa Claus, Indiana: Santa's Candy Castle Frozen Hot Chocolate
little Indiana was thrilled to visit Santa's Candy Castle in Santa Claus, Indiana a second time! It's a great hit with the kids and certainly one of the more unusual mom and pop businesses.
For starters, wolfing down the phenomenal Frozen Hot Chocolate? Doesn't look as ridiculous when it's 90* as compared to when it's 10* and you are already freezing.
Let me tell you what, Winter or Summer, the Frozen Hot Chocolate at Santa's Candy Castle is amazing and one of my favorite things. Ever.
Aside from my love of Frozen Hot Chocolate, what I really wanted to share with you is the video below featuring the owner of Santa's Candy Castle, Kevin Klosowski.
He will tell you all about the history of his Santa Claus, Indiana building and maybe even his plans for the future. It's amazing to learn how far the place has come–can you believe someone used it as a house for a few years?
This is a super fun look at a phenomenal piece of Indiana history. Santa's Candy Castle was the first themed attraction–in the nation! Santa Claus, Indiana is an incredible Indiana town–and has the history to match!
Watch my interview with Kevin Koslowski at Santa's Candy Castle in Santa Claus, Indiana on YouTube or below. Then check out my Flickr photostream for more on this Indiana town and other pictures in Indiana.
Special thanks to Paula Werne at Holiday World and to the Spencer County Visitors Bureau for making this trip possible.
little Indiana: Where to Stay, Play, and Eat in Small Towns in Indiana. Discovering Indiana's best small towns! Now get little Indiana on your Kindle.
New! Offering affordable online advertising for your small Indiana business! little Indiana Businesses is the online presence that you've been looking for.