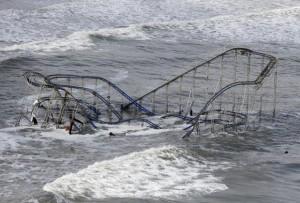 Hurricane Sandy appears to have brought a resurgence of interest in climate change. The massive storm that sank parts of the Jersey shore, flooded countless homes and resulting in the loss of over 100 lives is causing the public and government officials alike to question how much of Sandy's destruction was a result of climate change. It appears to be a commonly understood fact between climate scientists and meteorologists that Sandy could have occurred even in a world without climate change, but factors related to climate change made the storm worse than it had to be.
One thing to remember when talking about extreme weather events is that there is a difference between weather and climate. Weather is what is occurring today, tomorrow, and in the near future. Thunderstorms, blizzards, and heat waves are examples of weather. Climate is defined as much more long term weather patterns that span over decades into centuries. So saying that Hurricane Sandy is proof of climate change is erroneous, but a growing trend in extreme weather certainly suggests that something is going on.
So if Sandy wasn't caused by climate change, why are climate scientists still talking about it? Warmer oceans, and a warmer planet in general, means the atmosphere is holding more water vapor, attributing to a stronger storm. Along with this, rising sea levels and a sinking eastern coast of the United States means the storm surge traveled further inland than it would have a hundred years ago. These facts are simple, and they are not something you can debate. Sandy wasn't caused by climate change, but it was certainly stronger and more destructive than it would have been without it.
With all the attention Sandy has brought to climate change, does this mean the start of real change and focus being put into solving the problem? I, along with many others, seriously doubt it. Neither Hurricane Katrina, devastating droughts in the past and present, nor a planet-wide concert put on by former Vice President Al Gore on July 7, 2007, successfully kept climate change in the forefront of people's minds. A recent Gallup poll found that climate change was far down the list of American's worries in 2012 prior to the storm, and I'd say climate change will most likely move back down the ranks relatively soon. But why is this, seeing that climate change has the potential to be one of the most dire issues of mankind's existence?
Simply put, people have more immediate things to worry about. The commonly held view among people is that climate change is still far off and its effects won't be felt for a long time to come. Perhaps, some may say, if we get people back to work and feed the hungry, then we will have time to address climate change. But with events like Sandy shutting down one of the largest cities in the world, and the terrible wildfires and droughts this last summer, we no longer have the luxury to believe that climate change isn't going to directly affect us in the very near future. Perhaps after a few more catastrophic events like Sandy people will truly start to take notice.
Image URL