About 3 months ago, I did a post on a curious couple named Joseph and Lynn Wasik who were interviewed by the media in the days immediately after the alleged massacre on Dec. 14, 2012 of 20 children and 6 adults by alleged lone gunman Adam Lanza at the Sandy Hook Elementary School (SHES) in Newtown, Connecticut.
Although the Wasiks were not victims — their daughter, Alexis, not being one of Lanza's victims — they readily made themselves available to the media, including this interview with Fox News on Dec. 16, 2012.
What caught my attention was how, during the entire 12-minute interview, Joseph kept his left hand at his daughter's throat, undeterred by Alexis' repeated attempts to free herself from his suffocating hold.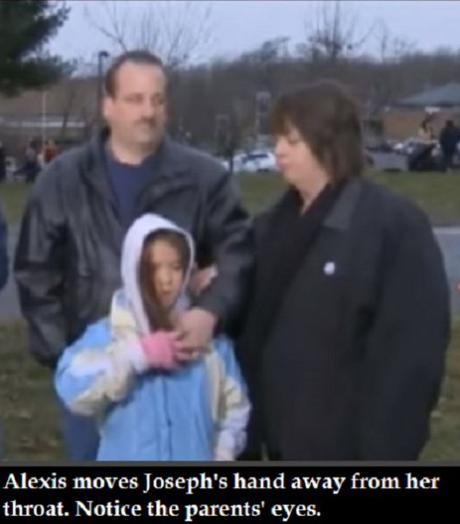 Each time Alexis moved his hand away from her throat, Joseph not only moved his hand back, he clasped his left hand with his right hand to better control Alexis, while the mother, Lynn, reinforced her husband's grip by putting her hand on her husband's left arm, thereby increasing the weight of Joseph's hand against the girl's throat.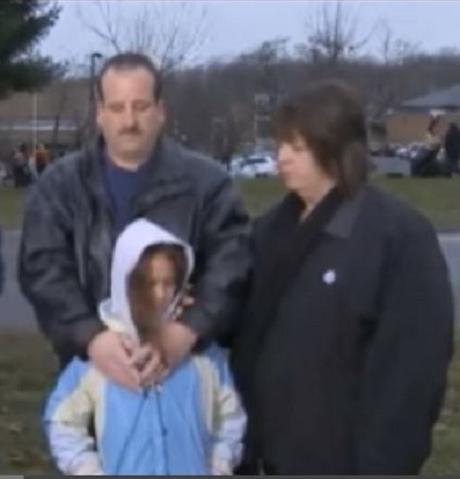 Something very wrong was going on.
This is a follow-up on that post.
To begin, Email Finder says Joseph Wasik, born in 1969, age 46, who lives at 80 Engleside Terrace, Sandy Hook, CT 06482, has 5 relatives (Lisa J Bishop, Kristin Harlow Gingras, Lynn Marie Ingrassia, Michael J Ingrassia, Michael Andrew Ingrassia), none of whom is Alexis Wasik.
I then searched for "Lynn Wasik, Connecticut" on VerifyPast. It says she's 44 years old; has lived at 80 Engleside Ter. since 2007; and has one relative: Joseph Wasik. No mention of Alexis.
Next, I conducted a search for "Alexis Wasik," using three people search engines:
I searched for the birth records of "Alexis Wasik" of Connecticut in VerifyPast. Result: No records.
I searched for "Alexis Wasik" in Archives.com. The only result is an Alexia Wasik, who was born in Ohio.
I searched for Alexis Wasik, female, born in Connecticut, whose parents are Joseph and Lynn Wasik in 

Ancestry.com

. There were 25 results, none of which is Alexis Wasik. Most of the 25 are not even people whose last name is Wasik. When I modified the search to include the address "80 Engleside Terrace, Sandy Hook," there were 10 results, only 5 of which were relevant (the other 5 results were of people whose last names weren't Wasik.) The 5 relevant results are:

Morgan Alexis Wasik, born on Jan 9, 1998 in Clark, Nevada, which would make this Wasik 14 years old at the time of the Sandy Hook shooting, which means this is not the Alexis Wasik in the Fox News video because she was identified as a third-grader, which means she was about 9 years old.
The other 4 results were of U.S. School Yearbooks and U.S. Phone and Address Directories of an "Alexis Wasik" whose residence is in Michigan.
When I searched for "Joseph Wasik, Connecticut" in VerifyPast, his addresses previous to the present one in Sandy Hook included POB 6076, Rutland, VT 05702; 222 Bradley Ave., Waterbury, CT 06708, and 650 Mix Ave., Hamden, CT 06514 in 2001.
So I searched for "Alexis Wasik" in "Vermont" on VerifyPast, but was told, once again, "no records". I then expanded the search for Alexis Wasik to nationwide on VerifyPast. There are 4 records of "Alexis Wasik," all of whom are in Michigan; one of whom is 86 years old.
In other words, according to 4 people search engines, Alexis Wasik, the daughter of Joseph and Lynn Wasik, does not exist.
There are some who claim that genealogy websites like Ancestry.com do not publish personal information, such as birth records, of minors.
That is not true. Not only is there no disclaimer on ancestry.com to that effect, I was able to find personal data, specifically the SSDI (Social Security Death Index), of Lanza's alleged child victims on precisely those genealogy websites, even though those children were first-graders — about 3 years younger than Alexis Wasik. See "Dec. 14 was date of death for every Sandy Hook massacre victim, except Adam Lanza".
The last search I conducted was for the Wasiks' home in Vision Government Solutions' data base. The result:
Owner(s): Lynn Ingrassia and Joseph Wasik
Sale price: $0
Sale date: 12/25/09
Just like the homes of 17 Sandy Hook victims, and those of the three selectmen who make up Newtown's governing body, and of non-victims Gene Rosen and the Phelps (who had made themselves readily available for TV interviews about the massacre) — all of which also had a sale price of $0 and a sale date of 12/25/09. (See "The strange purchase date and price of Sandy Hook homes")
For links to all the posts FOTM has published on Sandy Hook, go to our "Sandy Hook Massacre" page.
~Éowyn