The video below is also a reason why Glenn Beck should not be trusted.
And the Sandy Hook decathlon champion is . . .
Robbie Parker!
Watch the grief-stricken dad of alleged 6-year-old victim Emilie, in mere seconds, go from laughing and joking to feigning to choke back his tears (no tear actually materialized) as he made a statement to the press.
I'll leave y'all with this screenshot from the Fake-O-lympics video of smiling and laughing Lynn and Chris McDonnell, after just finding out their precious 6-year-old daughter Grace had been brutally shot to death.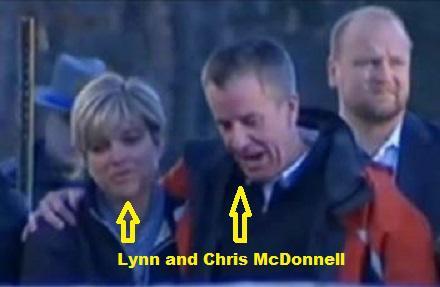 H/t flynchr
See also:
The curious parents of Sandy Hook child victim Noah Pozner

Sandy Hook Massacre — for the links to all the posts we've published on this false-flag hoax
~Eowyn