A breaching round or slug-shot is a shotgun shell specially made for the purposes of door breaching. Breaching rounds are designed to destroy door deadbolts, locks and hinges without risking lives, and are used by military and SWAT teams to quickly force entry into a locked room. Breaching rounds are frangible, i.e., they break up into fragments, and are made of a dense sintered material, often metal powder in a binder such as wax, which can destroy a lock then immediately disperse.
That means after a shotgun has fired a breaching round, it should leave a residue of metal powder.
In a video uploaded to YouTube by "Barry Soetoro," it is claimed exactly that metal powder residue can be seen surrounding bullet holes left on a wooden magazine rack in the foyer of Sandy Hook Elementary School. The rack was right next to a large glass window that the FBI claimed Adam Lanza had shot and shattered with his rifle on the morning of December 14, 2012, to gain entrance into the school.
The photos below are from the State of Connecticut's Final Report on Sandy Hook published on Nov. 25, 2013. I added the words "magazine rack" and arrow, colored red.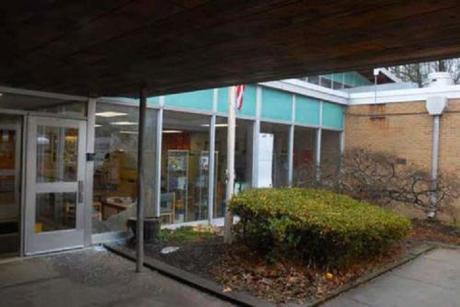 Outside view of shattered glass window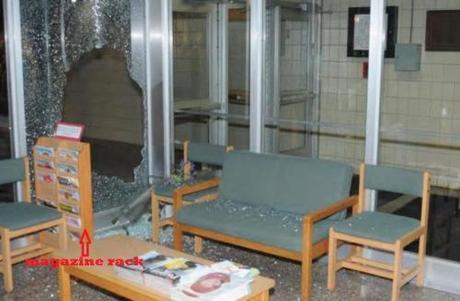 Inside view of shattered glass showing wooden magazine rack on left
The State of Connecticut's Final Report states that "On the morning of December 14, 2012, the shooter [Adam Lanza], age 20, heavily armed, went to Sandy Hook Elementary School (SHES) in Newtown, where he shot his way into the locked school building with a Bushmaster Model XM15-E2S rifle."
The video below maintains that a close-up of the magazine rack shows gray powder around the bullet holes which is consistent with the metal powder residue left by the breaching rounds from a shotgun. But Lanza didn't use a shotgun. Instead, a shotgun was found in the trunk of his car by police hours after the alleged massacre. This means that:
Lanza didn't gain entry into the school by firing at and shattering the glass window.
The window instead was shattered by a shotgun using breaching rounds, most likely by the police or the FBI.
A reader named ABSMOVER of a Sept. 23, 2014 article by the Newtown Post Examiner debunking Sandy Hook hoaxers, wrote a comment stating what video-maker "Barry Soetoro" says about the powder residue. This is the response ABSMOVER received from Newtown Post Examiner:
A breaching round leaves black powder, not blue-ish gray and breaching rounds are used up close for locks and doors. That tiny little hole was consistent with a .223 and certainly not a slug.
I have no familiarity with shotguns, breaching rounds and the color of their powder residue. If you have knowledge, please share your knowledge and opinion with us!
H/t Barry Soetoro Esq.
For all the posts we've published on Sandy hoax, please go to our "Sandy Hook Massacre" page.
~Éowyn