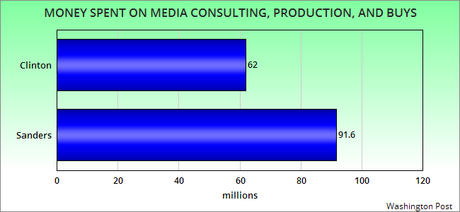 Bernie Sanders has made it a centerpiece of his campaign to get "big money" out of politics -- so it is a bit strange that his campaign is the biggest spender of all. Neither Hillary Clinton nor any of the 17 Republican candidates has spent as much money on media consulting, production, and ad buys as Sanders has spent. In fact, Clinton has spent only about 2/3 (67%) of what Sanders has spent.
Here is some of what The Washington Post wrote about Sanders' campaign spending:


The small-dollar fundraising juggernaut that has kept Bernie Sanders's insurgent White House bid afloat far longer than anticipated has generated another unexpected impact: a financial windfall for his team of Washington consultants.

By the end of March, the self-described democratic socialist senator from Vermont had spent nearly $166 million on his campaign — more than any other 2016 presidential contender, including rival Hillary Clinton. More than $91 million went to a small group of admakers and media buyers who produced a swarm of commercials and placed them on television, radio and online, according to a Washington Post analysis of Federal Election Commission reports.

While the vast majority of that money was passed along to television stations and websites to pay for the advertising, millions in fees were kept by the companies, The Post calculated. While it is impossible to determine precisely how much the top consultants have earned, FEC filings indicate the top three media firms have reaped payments of seven figures.

Sanders's money blitz, fueled by a $27 average donation that he repeatedly touts, has improbably made the anti-billionaire populist the biggest spender so far in the election cycle. The campaign's wealth has been a surprising boon for vendors across the country who signed on to his long-shot bid.

The large profits stem in part from the fact that no one in Sanders's campaign imagined he would generate such enormous financial support. So unlike Clinton, he did not cap how much his consultants could earn in commissions from what was expected to be a bare-bones operation, according to campaign officials.

Sanders likes to claim that he was the little guy, and couldn't compete with other big spending campaigns. That is simply not true (as the chart above shows). Sanders didn't lose because he couldn't afford to compete. He lost because Democrats didn't want him to be their nominee. They preferred to be represented by Hillary Clinton (by several million popular votes and hundreds of delegates). Bernie and his supporters don't want to admit that, but it is the truth.