"Sand, Sea, Spray!" is the theme of the week, in deference to an arts festival going on in Blackpool at the moment. By rights, it should have been a jolly blog, celebrating summer and beach culture, but Sand & Cement would have been a more appropriate title!
Here's why. The last few days have turned into something of a householder's nightmare. I was having a bit of re-plastering done when it was discovered that the house on the strand has a stunning combination of wet and dry rot. It seems the former owner was something of a DIY cowboy. I've only got half a living-room at present...the other half is a big hole; no floor-boards, no joists, just bare earth at the bottom and a pervading smell of damp! (And no, I didn't find the missing Ormerod money... that's an in-joke for long-suffering Blackpool fans.)
Sad to see and distressing though it is, all will be put right soon. Proper venting, damp-proofing, new joists and a complete new wooden floor will be in place some time next week and the only thing hurting will be my bank manager. I have had to turn my house upside down (metaphorically) while the problem is being remedied.
This unexpected and unpleasant twist  has thrown my original idea for the blog quite off track so I've come up with another slant, one that concentrates on the Sand part of the theme (as in desert expanses) and ties in with a poem I've been working on at intervals over the last year ever since seeing the movie Timbuktu and a documentary about the civil war in Sudan.
Timbuktu, a film by Abderrahmane Sissako, is set among the sand dunes of Mali and is about the struggles of the local people against the oppressive encroachment of invading Jihadists - as if eking out a life in the middle of a desert weren't challenge enough. It is a very powerful drama and won many accolades on its release in 2014 (including Best Foreign Language Film).
The Sudan documentary was shocking for the bleakness it portrayed and for the fact that many of the 'soldiers' are just teenage boys and girls brutalised by the predicament they find themselves in.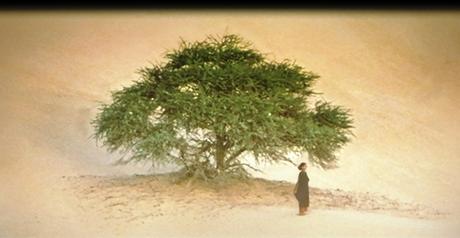 Frontline
A mere slip of a girl,
sixteen, no older,
baby at her hip,
rifle slung from a shoulder.
Her unflinching stare
suggests
there will be no mercy here.
Under what tree,
within what canvas enclave
are peace
or happiness found?
Warlords hold sway.
Fear is the key
and all this dust of decay,
unsentimental sediment
of religious and racial discontent
grits ears, eyes, lips and souls,
a permanent scourge
in a howling dustbowl.
This is the brutal
way of the world -
kill or be killed;
as every raking spray of bullets,
every makeshift tomb of sand
marks the progress of implacable bigotry
across a desiccated land.
What have we become?
Animals with guns!
Using every excuse under the sun...
If he's still alive in ten years,
that hip-riding baby will be a soldier.
Thanks for reading. Here's hoping for a healing week, S ;-)
Email This
BlogThis!
Share to Twitter
Share to Facebook
Reactions: