San Jose Fire Dept. is testing via NTN for FIREFIGHTER EMT/PARAMEDIC Unitl Aug. 30, 2016  Salary $73,486.40 annually…  Fill out your Profile and I'll start your FREE FireCareers Membership….


Job Information SAN JOSE FIRE DEPARTMENT 1661 Senter Road SAN JOSE, CALIFORNIA 95112 (408)535-1485
http://www.sjfd.org/
Updated: August 01, 2016
Classification: Firefighter Recruit EMT/Paramedic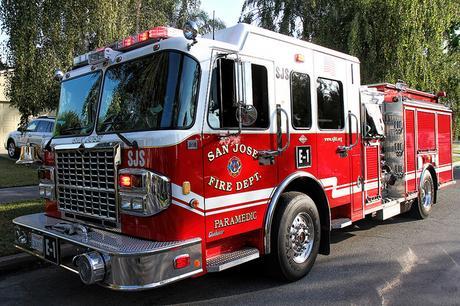 The City of San Jose is currently recruiting for Firefighter Recruit.  All testing for this position must be completed by end of day on August 30, 2016.  The FireTEAM written test and CPAT, as well as all certifications, must be current by August 30, 2016.
Salary & Benefit Information:
Compensation: Full-time with Benefits
Paid Vacation and Sick Leave
Insurance: Medical, Dental, Vision
Uniform Allowance
Tuition Reimbursement
Retirement: www.sjretirement.com. Retirement benefits for the Firefighter position are subject to change based upon ongoing contract negotiations between the City of San Jose and Local 230, IAFF.
Competitive Salary

Firefighter Recruit: $33.63 hourly, $2690.40 bi-weekly

Upon successful completion of the Academy:
Firefighter, Step 1: $2,826.40 bi-weekly base pay; $73,486.40 annually
Anti-terrorism training pay 2% of base
Holiday-in-lieu pay: 5.623% of base
EMT Pay: 3% of top step Firefighter (currently $113.66 bi-weekly)Eligible employees would also receive additional premium pay (upon successful completion of the Academy):
Paramedic Pay: 12% of top step Firefighter (currently $454.66 bi-weekly)
Oral Bilingual Pay: 2.5% of top step Firefighter (currently $91.96 bi-weekly)
Education & Training Pay (AA/AS – BS, Fire Science, Fire Technology, Fire Protection Technology): $35 bi-weekly
More information available at www.sanjoseca.gov/index.aspx?nid=707
Department Overview: The San Jose Fire Department is an All Risk Department committed to excellence in public safety. We embrace innovative approaches to meet the evolving needs of our diverse city. We work in partnership with the community to achieve a fire and hazard safe environment. The San Jose Fire Department (SJFD) is committed to serving the community by protecting life, property, and the environment through prevention and response.
City Information: San Jose was founded in 1777 and is located in the South San Francisco Bay area within Santa Clara County, CA. With a population of approximately one million, it is the 10th largest city in the US and the 3rd largest city in California. SJFD serves the city-proper and other Santa Clara County areas with a total population that exceeds 1 million. Responding to approximately 83,000 calls for service each year (from 33 Fire Stations), SJFD is a high-volume, high-performance, full-service fire department. In terms of critical infrastructure, SJFD is the emergency service provider for a number of high-hazard occupancies, including an International Airport; 1 municipal airport; 7 major hospitals (including 3 trauma centers, and 7 emergency departments); the SAP Center, home of the NHL San José Sharks, (maximum occupancy 17,500); San José State University (the oldest public institution of higher education on the West Coast), student population of 32,713; three super regional malls; 516 high-rise structures; and the United States Patent and Trademark Office.
Job Requirements
Age: Eighteen (18) years of age at time of application.
US Citizen: Ability to provide verification of your eligibility to work in this country at time of hire. The City of San Jose will not prepare or file a labor condition application with the Department of Labor.
High School Grad/GED: Yes
Valid CALIFORNIA State Driver's License: Yes (or ability to obtain one by date of hire)
Ability to Read/Speak English: Yes
Physical Requirements:
Physical examination include medical history and physical examination, screening for heart and lung function, blood and urine tests, and supplemental testing as required to determine that the applicant is free of disqualifying medical conditions as described in the National Fire Protection Association (NFPA) 1582 Standard of Medical Requirements. Please reference NFPA 1582 for further details.
Necessary Certifications:
A current CPAT card/letter, which is not more than one-year old by closing date, and must be kept current to within one year of hire date.
Firefighter Recruit EMT:
Valid EMT Certificate, or valid certification as a National Registered Emergency Medical Technician Basic.
OR Firefighter Recruit EMT/Paramedic:
Valid Paramedic License, or a valid certification as a National Registered Paramedic
Desirable Education, Experience, Licenses & Skills:
Valid CA EMT License
Valid CA Paramedic License
Department of Defense Fire Fighter I Certificate
California State Fire Marshal Issued Firefighter I Certificate
Military Veteran
Bilingual* (Arabic, Assyrian, Cambodian, Cantonese, Croatian, French, German, Greek, Hmong, Japanese, Korean, Mandarin, Persian, Portuguese, Russian, Spanish, Tagalog, or Vietnamese)
*Must be able to use the language fluently and accurately on all levels pertinent to professional needs, and pass the City of San Jose's bilingual professional proficiency certification.
California Class B Commercial Firefighter Driver's License
AA/AS/BA/BS in Fire Science or Fire Technology
Veterans Preference:
The City of San Jose has a Veteran's Preference Policy (http://www.sanjoseca.gov/documentcenter/view/1241) that applies to this recruitment. To claim veteran's preference points, you must provide a copy of your honorable military discharge form, Form DD214. For more information on the City's Veteran's Preference Policy, visit the link above.