Mark Dice strikes again, this time with another fake petition, asking passersby in San Diego, CA, to sign a petition for a "white privilege tax" — a 1% tax on the income of "white" Caucasian Americans. The revenue from this special tax would be "redistributed" to "minority communities" to advance the cause of social justice.
By my count, 4 blacks, one Puerto Rican, and one Asian signed the petition.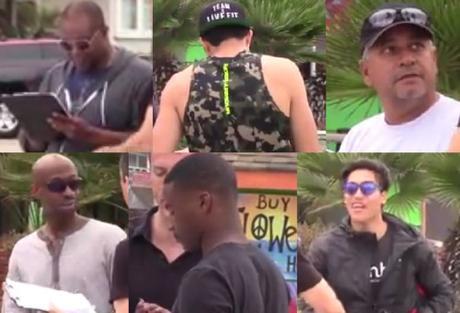 Only one person, a non-white male at the 3:10 mark in the video, balked at the petition, calling it "terrible." A savvy black couple (at the 6:03 mark) caught on that the petition is a joke.
It's a mark of how low-information and downright stupid some San Diegans are that (a) no one asked Dice how "white" or Caucasian would be defined; and after so many of Dice's videos, they (b) don't recognize him; and (c) fall for his phony petitions every time.
H/t FOTM's maziel
See also:
Soldiers Were Lectured On 'White Privilege' At Equal Opportunity Briefing
University professors attack white, heterosexual, Christian males for being "privileged"
White president of California State University: All light-skinned people are racist
Nebraska state senator says all white people are racist
Rutgers 'professor': 'There are no good white people … only less bad white people'
Higher Education: Boston University professor tweets, "white masculinity is THE problem for america's colleges"
"Higher Education": Rutgers prof.: Christian conservatives worship 'a*****e' God and 'white supremacist Jesus'
"White people did not exist on planet earth until 1681″ – Jacqueline Battalora
Taxpayer-funded college brings back segregation: "This space is not for white people"
~Éowyn