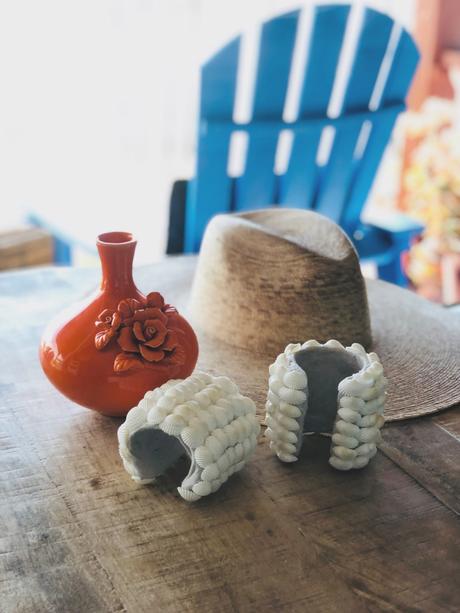 Two months into lockdown has me dreaming of travel.So I thought I would share our last hotel stay.
It was in March for my birthdayin what feels ever so long ago.It was right before everything shut down.
We decided at the last momentto stay at a little motel on the water inSan Clemente California
The Beachcomber Inn
We had talked for years about the possibility of staying at the modest little motel.
It didn't have the sophisticated appearancethat so many of our hotel choices usually do.But it's charming locationwith not only a spectacular viewbut it's grassy knoll locationhad us finally looking past it's modest exterior.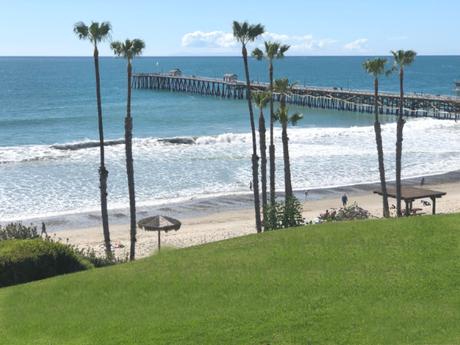 And once we walked over to our roomafter checking in at the windowboy were we ever so glad we decided to give
The Beachcomber Inn
 a chance.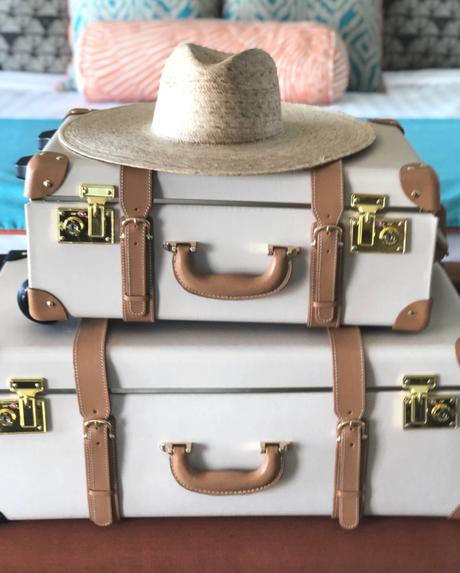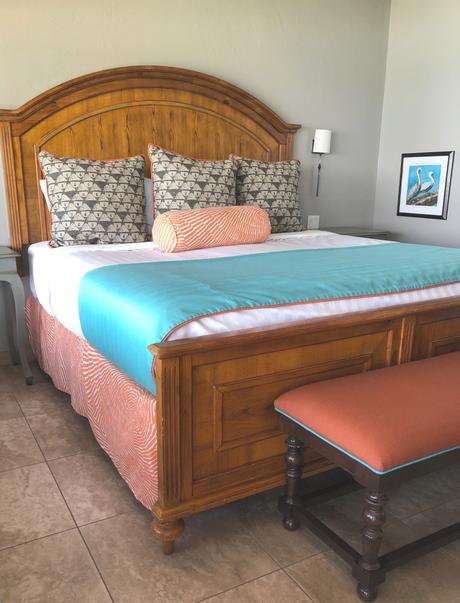 The room interior was as modest as I was expecting.Although I was happily surprised to see a fully functioning kitchenand even more importantly a full sized coffee maker!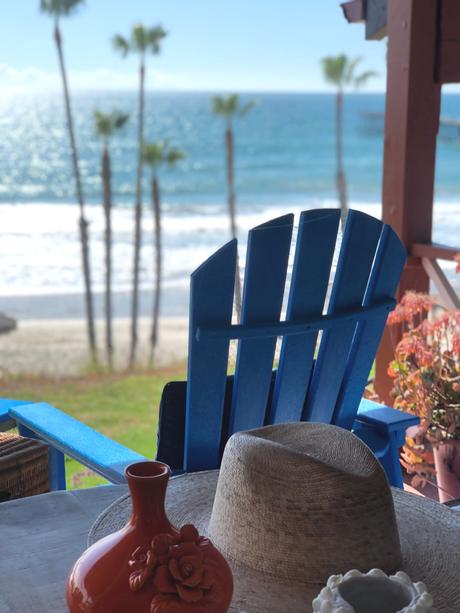 The room interior soon faded awayas the full wall of windowgave way to this magnificent unobstructed view of the Pacific Ocean!
Jeff and I have stayed at plenty of high end destinationsbut  not one of them could beat this view!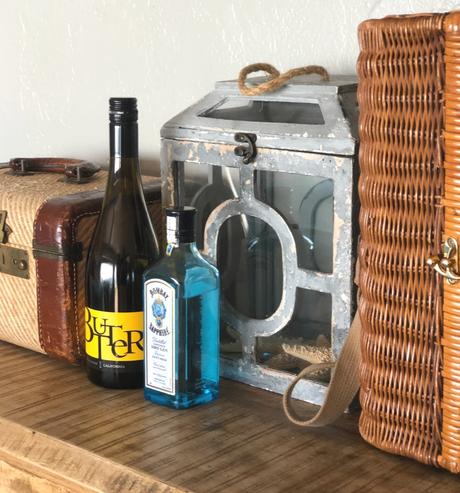 We settled in and unpacked our Road Trip Barand headed out to the highlight of our stay.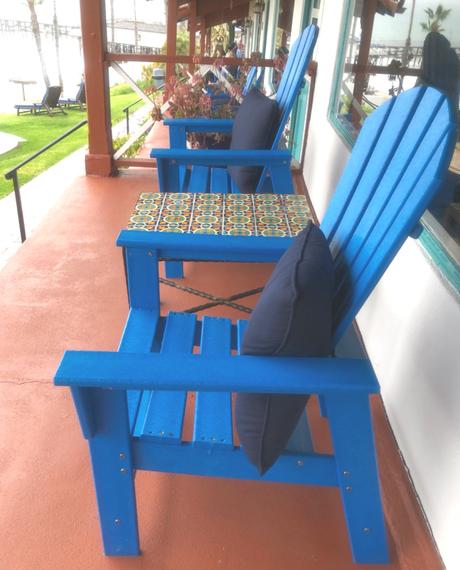 These two inviting blue chairsset out on our very own private  porch!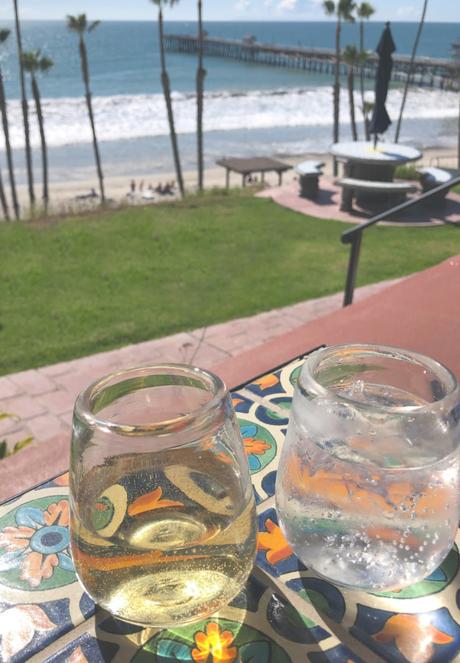 Cocktail Hour at it's finest!
180 degree ocean views!And the fact that the motel sits up on a bluffmeans that the views are even more spectacular.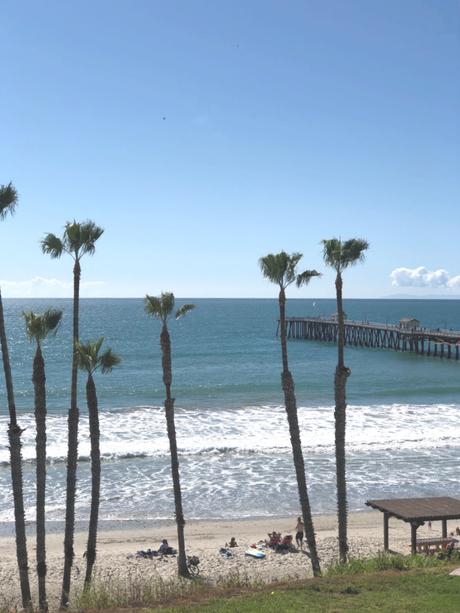 The view off our little porch!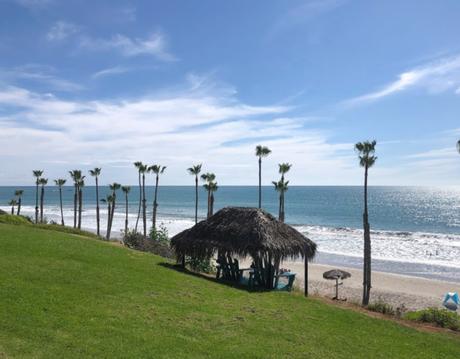 The view to the rightrolling green grass and shaded huts.
The property also has several barbeques for guests to use.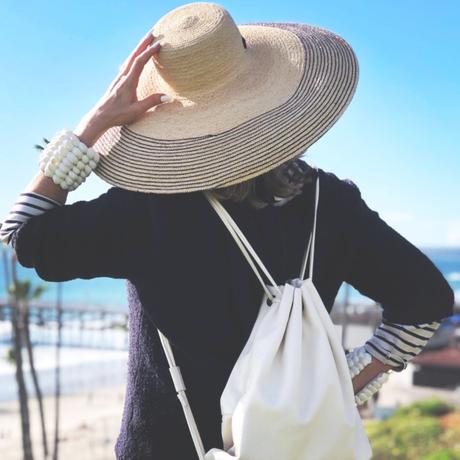 Another aspect of staying at the Beachcomber InnI was really looking forward towas the ability to walk to dinner at one of our San Clemente restaurants which is on the pier.
It was a sunny, but chilly dayso a sweater and straw hat was the pieces of choice.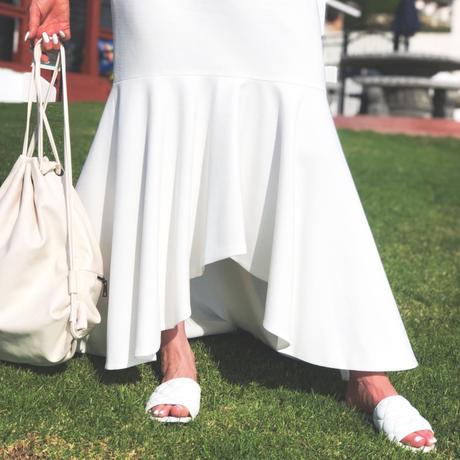 I wore the sweater over my white maxi dress


(which I styled 4 different ways in this post




HERE




this maxi dress makes a great traveling piece!)


Putting the seater over the dress basically turns it into a white skirt!
A flat slide and my backpackmade it an easy beachy walking outfit.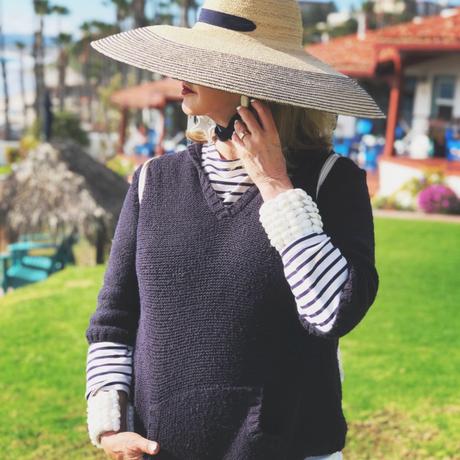 Bold accessories made the outfit Glammed up enough for mefor a casual dinner out!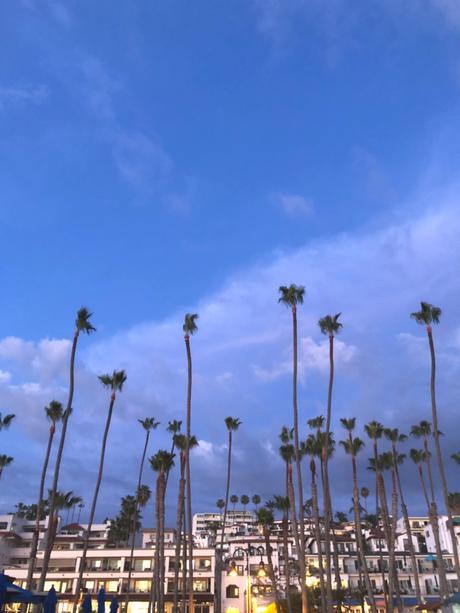 the pier is literally just down the hill from the little motel.A  beautiful and picturesque stroll.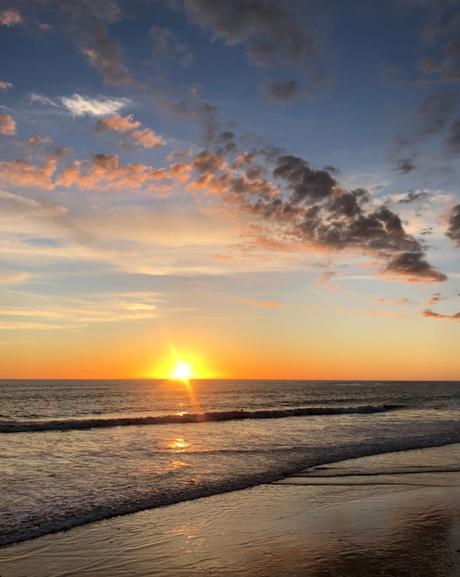 Jeff and I often eat at Fisherman's Restaurant on the San Clemente.
It's one of the best spots in Southern Orange County for sunset cocktails.I wrote more about it
HERE
As well as my top ten South Orange County
Sunset Cocktail spots


HERE


Casual seating on the bar side  of
Fisherman's Restaurantis open seatingso it's worth getting there early for an outside seatright on the water!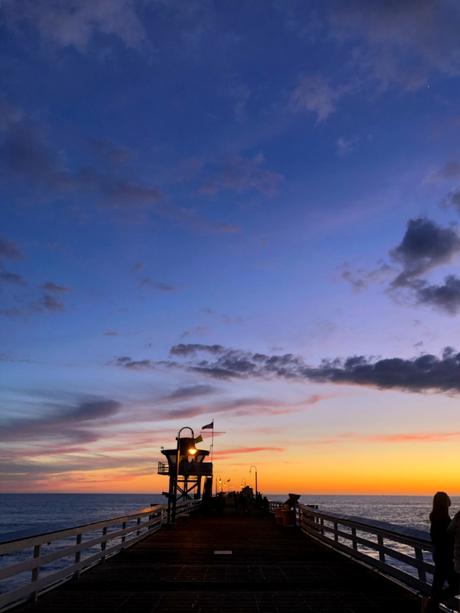 Sunset over the pier is an incredible light showwith Mother Nature showing off her magnificence!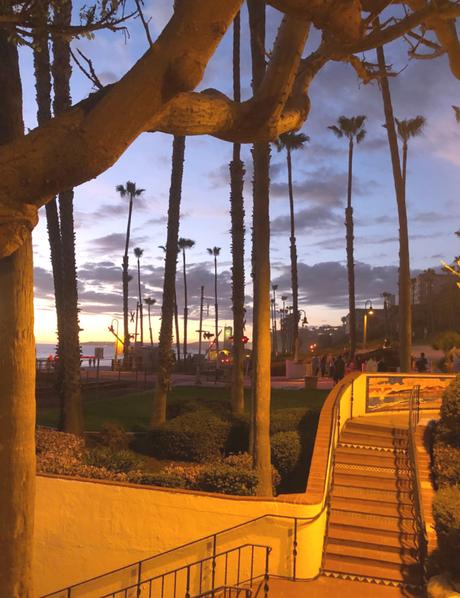 It was just a short stroll back to the sweet motel.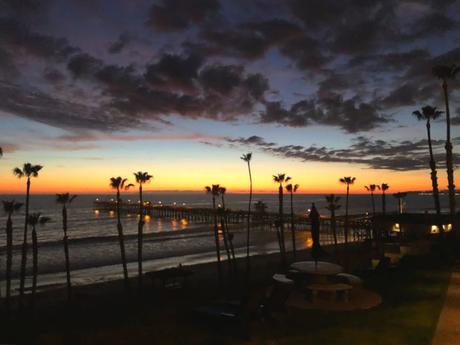 We got back to our roomin time to see the very end of a spectacular sunset!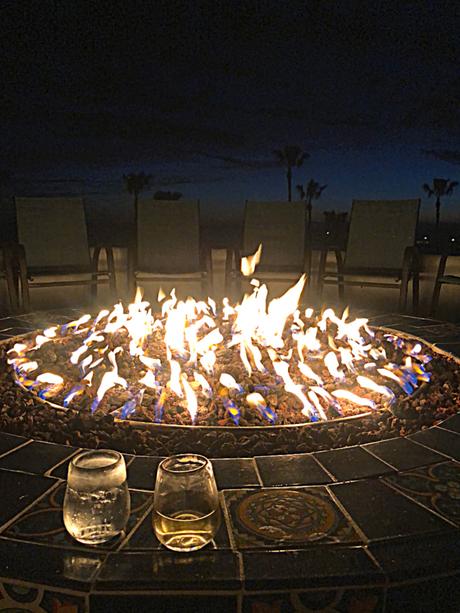 Then we grabbed our cocktailsto sit out by their large fire pit.
We met the most interesting people.We found out how lucky we were to get a room at the last minutebecause the Beachcomber Inn is known to be almost always full.
We heard from several people from out of statethat they had been coming to the motelfor years with family.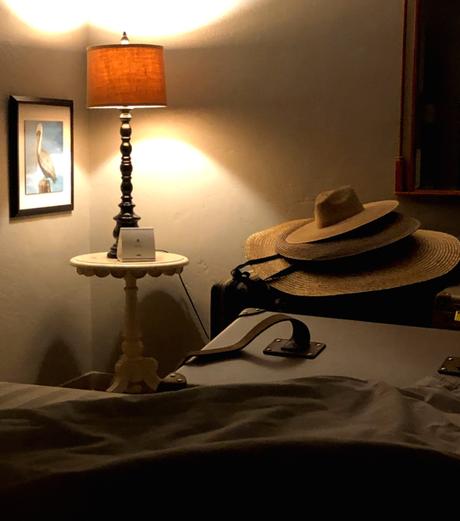 After such a wonderful daythe motel room looked much more poetic and charming.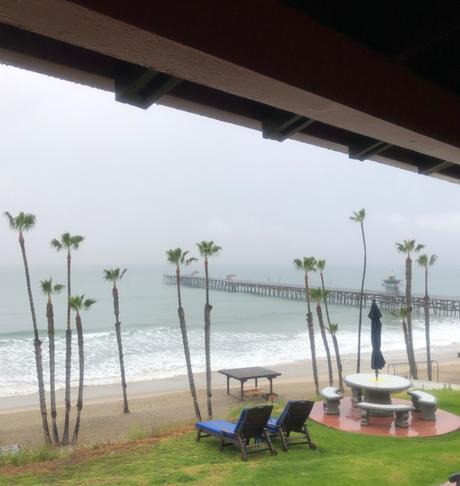 We woke up the next day to a gray coastal  drizzle which made for a different kind of beach beauty.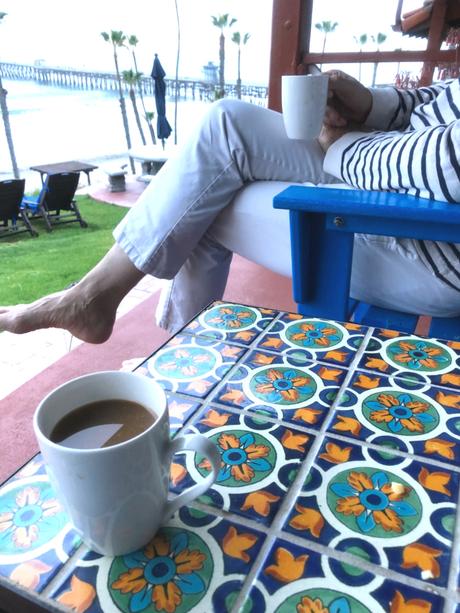 Having a coffee maker in the little kitchenmeant we could wake up and make coffeebefore we got dressed 'to go get coffee'.
Coffee First thing is such a travel requirement for me!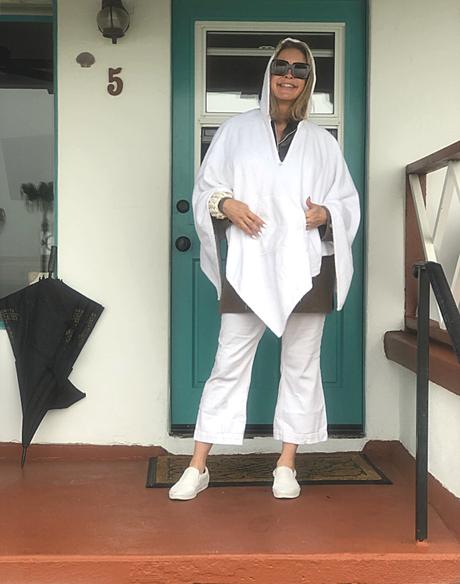 My coffee run choice for the drizzly morning.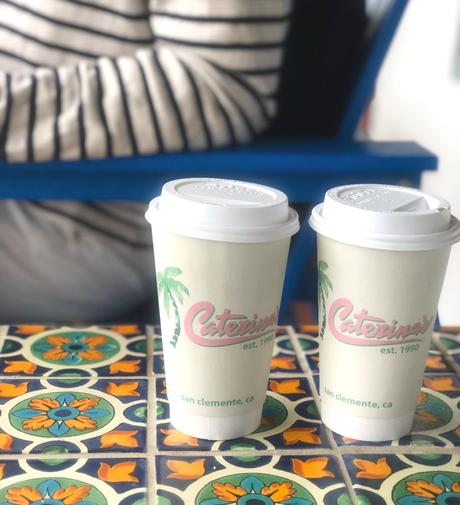 Cutest takeout coffee just a short walk awayand back to our favorite porch chairsto savor the view!
Jeff and I were so glad we finally gave the sweetBeachcomber Inn a chance.
I can't wait to go back!!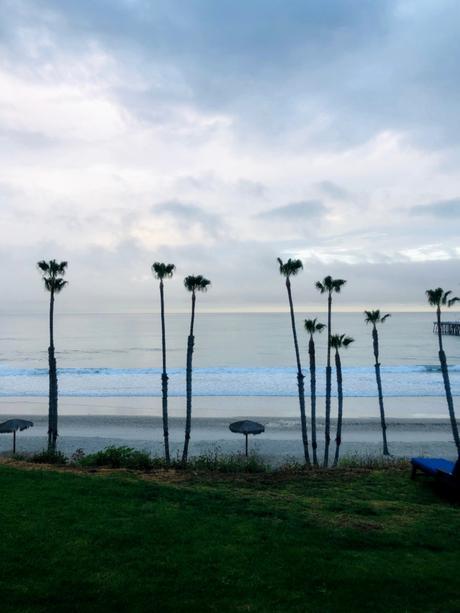 As always my friends


I wish you love and joy

as you style your life