The new 12-inch Ativ Book 9 comes with a sharp, super bright display.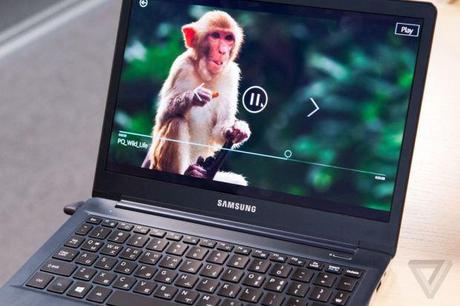 Samsung's produced some very impressive laptops from its Ativ Book 9 line, and for 2015 the company is putting forward a new ultrabook that could be its strongest answer to Apple's MacBook Air yet. The 2015 Ativ Book 9 includes a 12.2-inch display that bests Apple's ultraportable in resolution at 2560×1600. It's also capable of getting super bright, jumping up to a brightness level of 700 nits when you activate its outdoor mode. You'll want to reserve that for emergencies though, since leaving it on surely eats away at the Ativ Book 9's battery — normally capable of lasting 10.5 hours on a charge — in no time at all.
Otherwise, the appearance of this 2015 Ativ Book 9 is similar to others in Samsung's recent lineup. It's all aluminum with a nice trackpad and great keyboard; the company says it's improved those keys further thanks to a scalloped design that's friendlier to your fingers. Inside there are changes, however. This Book 9 features Intel's Broadwell Core M processor, so it won't get you the blistering power of a Razer Blade or MacBook Pro, it'll handle most desktop tasks without any real issue. And on the plus side, it's fanless — something even Apple can't yet say about its lightest laptop. Samsung's also putting an unusual focus on audio with the 2015 Book 9, talking up a built-in Wolfson lossless audio player and native FLAC support as perks for those seeking studio-quality music playback.