Samsung Galaxy series played a major role in projecting Samsung at the forefront of smartphone market. With Samsung Galaxy S6, Samsung has fulfilled a promise of a premium-looking smartphone, much more presentable than the previous Samsung Galaxy series.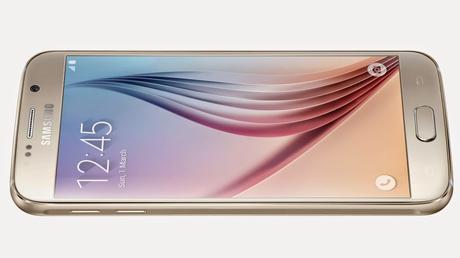 No doubt about it, when it comes to smartphone market, and especially Android, Samsung is a major player that every other mobile phone manufacturers want to compete with.
Related: Samsung Galaxy S5 Key Features Every User Should Know About
The Samsung Galaxy S6 and S6 edge are out of this world. With a slim metal and glass design, incredible screen and fantastic speed, they're the best Galaxies yet.
Samsung Galaxy S6 Specifications At A Glance
Galaxy S6 and S6 Edge are Samsung's latest smartphones, premium design devices made with metal and glass. The electronic giant has claimed that the Samsung Galaxy S6 and Galaxy S6 Edge are two of the most beautiful smartphones ever created.
How true that claim is should be left for the consumers to confirmed. See Don't buy it! Top 5 Stuff To hate About Samsung Galaxy S6 And S6 Edge.
Equipped with interesting features, and a stripped back approach, the Samsung Galaxy S6 is a massive step in Samsung Galaxy series. Below are key Galaxy S6 specs you should know:
Screen / Display: 5.1 inches, 1440 x 2560 pixels, QHD Super AMOLED capacitive touchscreen
Processor: Quad-core 1.5 GHz Cortex-A53 & Quad-core 2.1 GHz
RAM: 3GB of RAM
Storage: 32GB / 64GB / 128GB (no microSD slot)
Operating system: Android OS, v5.0.2 (Lollipop) with Samsung TouchWiz
Camera: 16 MP, 2988 x 5312 pixels, optical image stabilization, autofocus, LED flash rear camera, 5 MP, [email protected], dual video call, Auto HDR front-facing camera
Connectivity: LTE, Wi-Fi, NFC, Bluetooth 4.1 with BLE, microUSB v2.0 (MHL 3 TV-out), USB Host, IR and GPS
Dimensions: 143.4 x 70.5 x 6.8 mm (5.65 x 2.78 x 0.27 in)
Weight: 138g (4.87 oz)
Samsung Galaxy S6 Key Features
That Samsung Galaxy S6 and Galaxy S6 Edge are beautifully crafted is no overstatement. With their slim, seamless, full metal and glass construction, the sleek, ultra thin edged Galaxy S6 and unique, dual curved Galaxy S6 edge are crafted from the finest materials.
But will Samsung be able to successfully keep up with competition from Apple? Below are some of the awesome Samsung Galaxy S6 key features that can probably make you buy one:
#1).
Smart and wireless charging with gear VR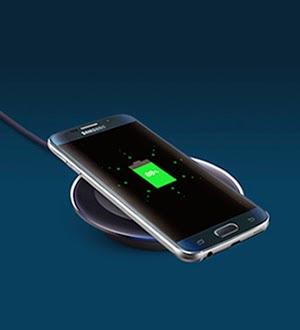 Galaxy S6 feature wireless charging
When you're on the go and short on time, fear not – the Galaxy S6 and Galaxy S6 edge feature the ability to fast charge your battery – letting you watch 2 hours of HD video from just 10 minutes charging. Isn't that smart?
And with their built-in wireless charging capabilities, the Galaxy S6 and Galaxy S6 edge offer you all the convenience of charging without the need to plug in – ensuring you are always powered and ready for what's next.
---
#2).
Sharp, crystal clear metal and glass frame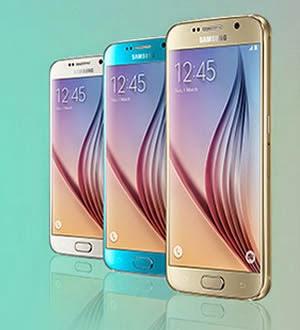 Galaxy S6 is made of premium and upscale metal design
It's a well-crafted smartphone awesomely built with the mixture of glass and metal – just like the Apple's iPhone 6 – and a sharp contrast to Samsung's previous smartphones.
The Galaxy S6 and S6 Edge is an all-metal and glass affair meaning that the company have ditched its trademark chromed plastic construction.
So with a curved metal band that surrounds the edges of the phone, which hold together a glass front and back, Samsung have gone down the "style over substance" route and put the phone in a shiny package.
---
#3).
Improved fingerprint scanner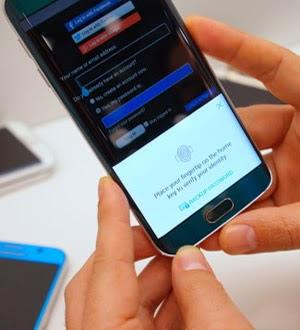 Improved fingerprint scanner and Samsung Pay
But its software-side enhancements build a case for Galaxy S6 as the benchmark for fingerprint authentication.
Even though it's not a full-fledged password manager, Samsung's finger scanner can securely store login credentials for use in the phone's web browser.
Also, Galaxy S6 fingerprint scanner has added the ability to login to your favourite websites with just the touch of your finger.
 
---
#4).
No more credit cards with Samsung Pay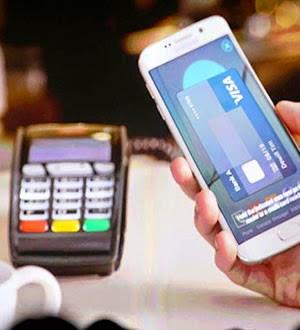 No more credit cards with Samsung Pay
Samsung has launched Samsung Pay, which allows users to pay for goods and services using a credit card swipe terminal. It is another step towards a world without credit cards!
The announcement of Samsung Pay at the press conference means the company wants to offer an Apple Pay competitor that will debut on the Galaxy S6 phones. So, look out for that!
---
#5).
QHD Super AMOLED display, capacitive touchscreen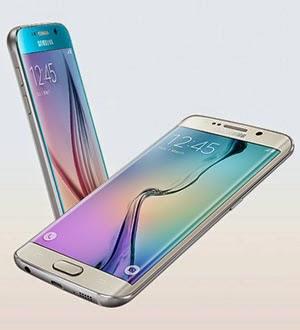 Galaxy S6 feature QHD Super AMOLED display
The 5.1″ screen has a quad HD resolution with a density of 577 pixels per inch (ppi), making it denser than the 432ppi Galaxy S5, 401ppi Apple iPhone 6 Plus– and 43 more pixels per inch than the 534ppi 5.5in LG G3.
The denser the screen the sharper the image, up to a point. Whether users will be able to see the difference is unknown, although quad HD is quickly becoming the new standard for smartphone and tablet screens.
---
#6).
Better and improved camera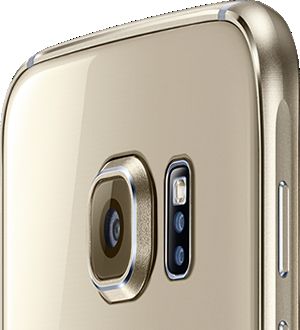 Better and improved camera
Whether you are into capturing stunning 'selfies' or spectacular sunsets, the 5-megapixel front camera and 16-megapixel rear camera are ready when you are.
With a launch time of just 0.7 seconds, you can capture more of your favourite moments, as they happen. And thanks to its Optical Image Stabilisation, fast tracking auto focus and bigger, f1.9 aperture for better low light results, every shot will be as amazing as the next.