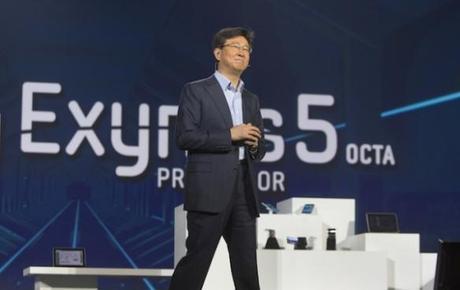 Yesterday rumors reported that the Samsung Galaxy S4 won't have the revolutionary new specs analysts had hoped it would have. Power issues and production shortfalls seem to be keeping Samsung from using its in-house Exynos 5 eight-core chipset or full HD AMOLED screen.
Now an analyst at JP Morgan says he thinks Samsung will produce two versions of the Galaxy S IV — one with the Exynos chipset for the European market, and another with a more conventional Qualcomm Snapdragon processor for the American market.
<img src="http://ad.doubleclick.net/ad/33u.latinos/artcl;poz=artclmid;sz=250×250;ord=123456789?" border="0" alt="In a note to clients concerning TSMC (the chip foundry that manufactures Qualcomm's chipsets), Rick Hsu says that the he expects Samsung to offer at least two distinct versions of the Galaxy S4," writes Android Authority. "One version will be equipped with the Samsung-made Exynos 5 Octa processor and will be made available in the European markets. The other version, bound for North America, will feature a Qualcomm Snapdragon 600 processor."
Of course, this is an analyst taking an educated guess, not an insider leaking information, and it's just a rumor, albeit a very plausible and sensible-sounding one. Samsung released two versions of the Galaxy S III after all, and there have been previous reports of production shortfalls in Samsung processer factories — a shortfall that would be dealt with even if only half of Galaxy S IVs end up with Exynos.
Still, some caveats remain. "First, several previous reports have indicated that Samsung has given up on its plans to use the Exynos 5 Octa on the Galaxy S4, due to technical difficulties," writes Android Authority. In fact, a SamMobile article we referenced yesterday said just that.
"Moreover, why would Samsung choose to have a different version in Europe? LTE is expected to boom in Europe in 2013, with carrier rollouts in most countries on the continent," continues Android Authority. "That means Samsung needs to offer LTE for the European versions of the Galaxy S4, to capitalize on the growth of the new standard. But this year, Samsung doesn't need a Qualcomm SoC to offer LTE; the living proof is the Galaxy Note 2, which has LTE and an Exynos system on a chip."
All good points. Hopefully we'll have some clarification before the launch event on Mar. 14.
33.888628
35.495479