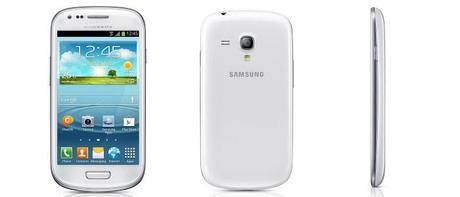 Samsung has finally announced the release of a smaller version of the renowned samsung galaxy S3 smartphone. Reducing the screen-size by 0.8 of-an-inch; galaxy S3 mini resembles its predecessor Samsung S3 in many ways. Various analysts consider this release, a strange twist for Samsung's strategy to dominate the mobile market globally. Galaxy S3 mini will definitely give apple's iPhone 5 a stiff competition in the market.
Weighing 112g just like iPhone 5, and 9.8mm thick, this galaxy mini looks like a shrunken Samsung S3 with a similar curved chassis and home button. It has a plastic body which is quite similar to S3 plus a removable battery-cover. The screen-to-bezel ratio is worse as compared to both iPhone 5 and S3, but this is expected, considering it is way smaller and affordable than S3. It is also thicker and heavier than S3. This phone comes packed with a 1500mAh battery which is way lower as compared to S3 which is packed with a 2100mAh battery.
This smartphone comes with a 4inches screen just like iPhone 5 and way smaller than S3, which has 4.8inches screen . This super AMOLED screen has a resolution of 480x800pixels (233pixels per inch) which is quite lower as compared to its big brother, which displays 720×1,136pixels, and iPhone 5, which displays 326inches per inch (1,136x640pixels), but similar to galaxy S2′s screen. This makes it a great device when it comes to playing games or watching movies.
Galaxy S3 mini does not have a 1.4GHz, exynos-4412 quad-core like its big brother; instead it comes packing a 1GHz NovaThor-UB420 dual-core processor which can run android 4.1 perfectly. Samsung also added a 1GB RAM to help run everything along smoothly. This is also quite lower than 1.2Ghz dual-core found in galaxy nexus and S2.
This galaxy mini has a 5MP rear camera with an LED flash which is lower as compared to 8MP on the S3 plus a front-facing VGA-snapper. Samsung also reduced galaxy mini's HD-video recording from 1080p to 720p. For connectivity, this smart phone comes with NFC and DLNA technology, Bluetooth 4.0 and Wi-Fi b/g/n. Samsung designed this phone with an internal memory of 16GB and 8GB which can be expanded by up to 32GB using a microSD card. Unlike iPhone 5 and S3 which have 4G LTE support, this device comes with an antennae which lacks the 4G LTE support. This might end up being a downside for many technology lovers.