During a special event in Germany the South Korean company, Samsung announced their latest smartphone, Galaxy S III Mini, which comes as a smaller version of their most successful Galaxy S III Android smartphone. New smaller Galaxy S III Mini has a 4-inch display and runs on the latest Android 4.1 Jelly Bean OS.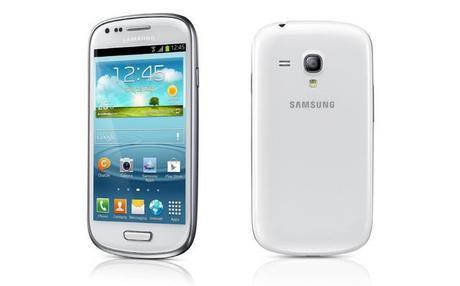 Before we dive into detail, lets take a look at the specifications, shall we.
Display - 4-inch WVGA Super AMOLED display
Processor - 1GHz dual-core processor
RAM - 1GB
Memory - 8GB / 16GB
Camera - 5-megapixel rear camera and front VGA camera
Operating System - Android 4.1 Jelly Bean
Battery - 1500mAh
Dimensions - 121.55 x 63 x 9.85 mm
Weight - 111.5g
Other features - microSD , NFC, Wi-Fi, Bluetooth 4.0, TouchWiz
When looking at the specs we can see a significant decrease of power and features on this new device. You can forget about the 1.4 quad-core processor, 8-MP camera or 32GB internal memory because you can only have those with the big brother, Galaxy S III.
Well, that's sounds boring, doesn't it? Well, not really because you will be getting all the other great stuff  like S Voice, S Beam, Smart Stay and so much more. Screen size is not going to be a problem, 4 inches is more than enough. But it's doubtful if the small Galaxy S III Mini would perform well running on Android 4.1 Jelly Bean with it's dual-core processor. So far the reviewers say it's pretty damn good. So, this could actually be a 'Small package big things come in'. 
According to Tech Radar, Galaxy S III Mini will hit the markets in Christmas for a price ranging $350- 430. Although, Samsung didn't say a word about  the official release date or the price details yet. But, don't worry I will keep you guys posted on that.
[Source : Press Release / Android Central]
(All the images, trademarks, logo's shown on this post are the property of their respective owners)
Roshan Jerad Perera