Samsung Galaxy Note series has been a real success for the company and Note II has been the real game changer last year. Today, prototype of Galaxy Note III was leaked and below is the picture of a 5.99-inch 1080p smartphone. The actual shape and design is hidden inside the cover which is nothing new.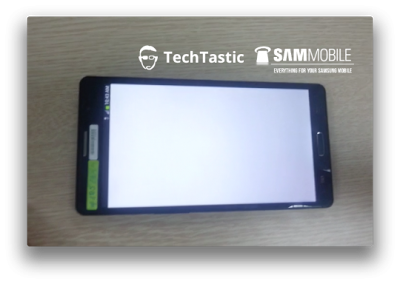 Galaxy SIII and Galaxy S4 first leaked in a similar fashion too. Apart from the screen the device is hidden in some sort of case or covering which don't really give the viewer an idea about the design. But one thing's sure that Note III will rock a 1080p display in a 5.99-inch display. There's going to be a big 'home' button and so we have nothing different in terms of buttons in front.
Other leaked specs suggest a 2GB RAM, 13MP camera, 2.3GHz quad core Snapdragon 800 processor and S-Pen. The device will be running Android 4.2 or may even have 4.3 out of the box.
Note III is expected to be announced at IFA 2013 in September.
Are you looking forward to buy this device?