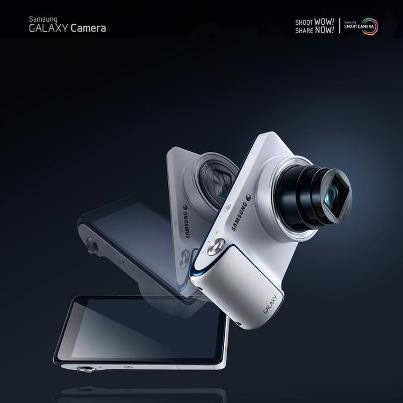 The highlight in yesterday's Samsung Mobile Unpacked Event 2012 in IFA, Berlin seems to be the new Galaxy Camera running on Android 4.1 Jelly Bean OS and full mobile connectivity.
With smartphones becoming more and more like cameras the innovative Galaxy Camera came as their natural evolution turning heads on Wednesday night at the Tempodrom Venue.
The Galaxy Camera is 16.3 megapixels with a 21x optical zoom, features a 4.77-inch HD Super Clear LCD 308ppi screen that makes looking at your photos easy, 3G WiFi or 4G WiFi connectivity, an Exynos 1.4GHz quad-core processor,  8GB of storage, a micro SD cards slot to expand its memory and a 1650mAh battery.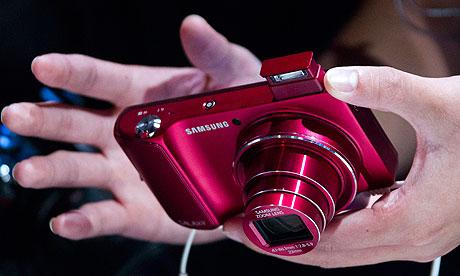 What is also very impressive about the Galaxy Camera is the software it comes packed with that allows the user to tag photos (just like Galaxy SIII users can already do), organise their photos or videos into folders without needing a computer and uploading them to Samsung's cloud service, sharing them directly on their Galaxy SIII or Samsung Galaxy Note II and most important of all instantly posting to Facebook, Twitter, Instagram or more!  You can add text to your pictures by using the pop-up keyboard (just like you do on your smartphone) and among other features there are also Voice Control and Share Shot that can send your images to other devices in real time over WiFi Direct.
The camera is addressed to both amateur and hobbist photographers as you can choose between having full control of the shutter speed, exposure values, ISO etc or many different pre-set modes to choose from.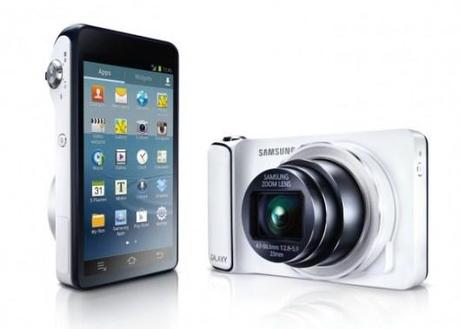 Looking at the Galaxy Camera from the front you will see a long lens and a comfortable handgrip but turning it the other side you will feel as if you are looking at a smartphone as the back pane is entirely covered by the 4.77′ touch screen making buttons obsolete.
It should be easy to use for anyone using the Android OS already and with the boom of photography in Social Media (put the blame on instagram for that) the Galaxy Camera is soon going to find its way in our bags (not our pockets as it's quite chunky (128.7mm x 70.8mm x 19.1mm) and rather heavy (305 grams).
All in all, it is certainly an innovative device that could be setting the standards for other companies to reach and will probably be successfull with Social Media Maniacs.  Unfortunately, even that friend of yours who loves taking pictures, uploading them on Facebook and tagging you even in your most uncomfortable poses.
PS The mode I loved the best is the Slow Mode recording of videos that lets you shoot videos in slow motion!