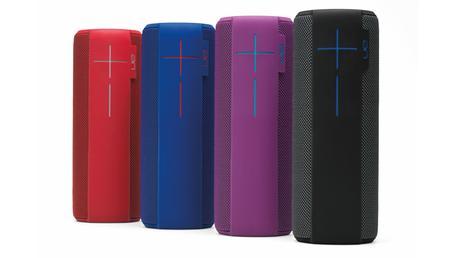 The Logitech UE Megaboom is a beast of a speaker, as it's name suggests, and it may even be my favorite bluetooth speaker yet.
Features and Design:
The Megaboom is a faithful upscaling of the UE Boom. It's a rugged rubber cylinder that measures a tall 8.9 inches and is 3.5 inches in diameter. It's available in black, electric blue, red, or purple, and is covered almost entirely on the curved side with a cloth grille. It has a beautiful design, making it one of the more visually appealing speakers on the market.  The speaker is both shockproof and IPX7 waterproof, so you can drop it and soak it with relative impunity. Placed on a flat surface, it looks identical to the smaller Boom, with a large rubber strip running the length of the speaker holding the volume controls, and the rubber top housing the Power and Bluetooth pairing buttons and indicator lights.  Its design only differs from the original UE Boom when you turn it over and look at the bottom panel. The handy D-ring is still there if you want to hang it up or clip it to your bag, but the micro USB (for charging) and 3.5mm ports are now covered by dedicated rubber doors built into the speaker body. While the Megaboom doesn't have many controls on its own, you can make advanced adjustments with the free UE Megaboom app for iOS and Android. It lets you pair two Megabooms for a stereo setup, use a handful of equalizer presets, or manually adjust a five-band equalizer, and even turn the speaker on and off.  That alone is a huge plus, but only if you have the cash to purchase two of em.  It's still nice to have a dedicated app to customize your listening experience.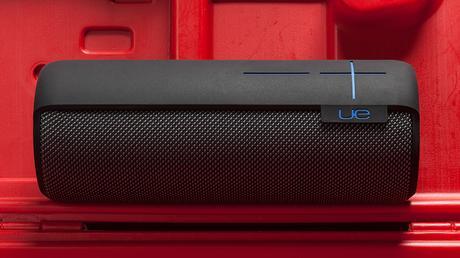 Credit: PCMag
Performance and Quality: 
Since the Megaboom is much larger than the Boom, it can get notably louder. However, it doesn't offer much of an improvement in low-end performance, and struggles with intense sub-bass. If you're into really bass heavy hip hop, the speaker can give off some distortion. For slightly less sub-bass-heavy tracks, the Megaboom is more than capable of conveying fullness and warmth for deep instruments. Overall however, the speaker does sound better than the original. The UE Boom doesn't just sound better, it's got a smarter design. The cylindrical shape throws sound in a wider arc than the forward-facing drivers found in the brick-shaped enclosures. And, the UE Boom's tiny circular footprint keeps the speaker from "walking" around on your countertop as it vibrates.  Like the original Boom, I think the Megaboom and its "360-degree sound" is a really good portable indoor speaker, but where it really shines is outdoors. It just seems more optimized to play in open outdoor areas, where other speakers tend to be more directional. For the amount of sound it produces, you would mistake it for a much larger speaker, and it can cover a pretty wide area, which makes it ideal for pool or even gym use.  A full charge on the battery earns you a claimed 20 hours of use. Oddly, in my testing, I got closer to 23 hours of continuous play out of a full charge. Battery life is huge when it comes to wireless speakers, and the UE boom definitely has the best battery out there.
Final Thoughts:
The UE Megaboom is one of the best sounding and performing bluetooth speakers around, and for $300 dollars, you're getting a lot of bang for your buck. 
+Excellent Sound Quality
+Exceptionally Long Battery Life
+Gorgeous Design and Finish
S&S Rating: 9/10
@whatsPlay