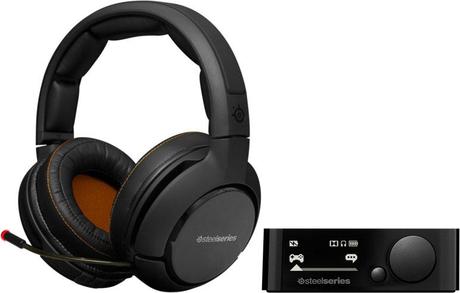 SteelSeries has introduced their new line of premium headphones for gaming, The H Wireless Headset.  These headphones are SteelSeries' answer to other premium headphones out their including the Astro A50's and Razer Tiamat's, and they definitely give them a run for their money.
Features and Design:
Like I said above, The H Wireless headset is SteelSeries' premium headset, and the sleek design is just one of of the features I love about them.  The earcups are circular, and feature a nice level of padding to help keep your gaming sessions as comfortable as possible. Coming from the original Sony Wireless headset, the SteelSeries pleasantly surprised me with how comfortable they were.  As a guy that wears glasses all day everyday, it's always a plus to find a headset that doesn't irritate me while I wear them.  After a couple of hours, the Sony Wireless headsets start to irritate the back of my ears, while the H Wireless headset always felt comfy.  On the right cup you'll find the volume controls, the power/mute button, a port for Xbox 360 voice chat, and a port for sending or receiving audio through a standard 3.5 mm headphone jack. The barely noticeable microphone is always ready to pull out when you want to chat, and when you don't, you can just slide it back into it's original position.  The headset can connect to your PC, Roku, or new Xbox One or PS4 via the small Bluetooth receiver box.  I used the headsets on the PS4, and they work like a charm.  Just connect the included optical and USB cables with the system and you're ready to go.  One of the coolest features is that the package comes with two batteries, so that you can always have one charging over USB while you use the other.  This is designed to simulate "Unlimited Play," and it does a great job of it.  In the end, the 20 hour battery life is a huge plus.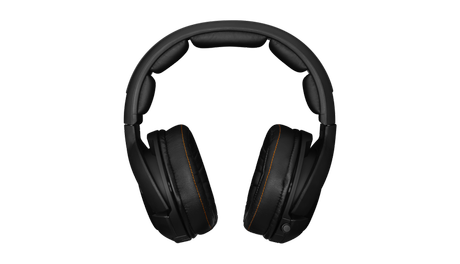 Performance and Quality: 
The H Wireless Headset was made for hardcore gaming, and it does a great job of giving you everything you need to to experience superior sound no matter what setup you're using.  The H headset can be used with basically every console and PC out there, it also works perfectly with the PS4.  I tested the headsets extensively with Battlefield 4, and they sounded terrific.  They did a good job of perfectly capturing what's happening on the battlefield.  Even at the highest volume setting, there's no real distortion in the audio.  These headsets are bass heavy, but they don't drown out the rest of the audio.  Enemies and gunfire both sounded like they were coming from specific locations thanks to the accurate simulation of Dolby surround sound.  If you don't like simulated surround sound, you can just turn it off using the receiver.  The voice chat is nice and clear, and audio never gets dropped during a battle.  The cool ChatMix and Livemix features give you total control over chat audio and game audio. The range is superb, you can freely move about within the allotted 40 feet.  Outside of gaming, these headsets are now my everyday headphones for music.  They sound terrific, just don't go in expecting these to outperform other headphones that were made specifically for music.  You'll want to go with brands that weren't made for gaming, including Sennheiser and the always overpriced Beats by Dre.
Pros:
Superior Sound Quality
Chatmix and Livemix features give you total control
Extremely comfortable to wear
Cons:
The price
The sound quality takes a bit of hit outside of gaming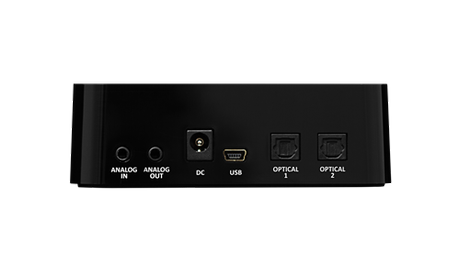 Final Thoughts:
The H Wireless Headset are right up there with other premium headsets out there on the market.  The headset is incredibly easy to setup and use, and if you have the cash to spend, this would be a great investment for the next few years.
S&S Rating: 9/10
@whatsPlay