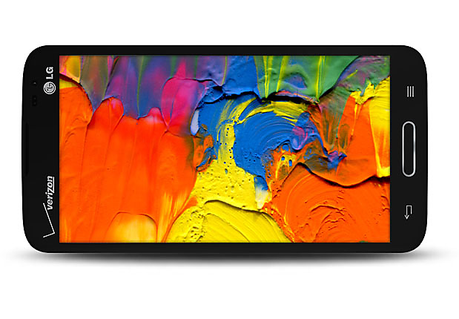 LG's low end line of phones all have a place in the market for people who don't need the extra features or the highest specs possible, and the Lucid 3 is proof that not all low end phones are completely forgettable.
Features and Design:
Since this is a part of LG's low end line of phones, the Lucid 3 takes a much more simpler design choice than other high end phones out there.  The Samsung Galaxy S5 and the HTC One M8 feature a much more premium design, but you're obviously paying for that.  The phone features s plastic body that is lightweight and pretty comfortable to the touch.  It does make it a lot more prone to scratches and smudges however.  On the front, it features the two standard Android buttons separated by a physical home button, which doubles as its LED notification light. The proximity sensor, earpiece, and front-facing 0.3-megaixel camera are positioned above the display, as well as the 3.5 mm headphone jack, which is always the desired position. On the back of the phone, two small notches for its speaker grill lines the bottom area – while a 5-megapixel auto-focus camera with LED flash takes up the top portion.  Even though the size of the display with this year's model has been bumped up to 4.7-inches, its resolution remains the same – qHD, which equates to 540 x 960 pixels.  The screen won't blow you away by any means, but it's s a solid resolution for the price.  The phone basically uses a much more simplistic UI that doesn't have all the features found in the G2 or G Flex.  The interface here running on top of Android 4.4.2 KitKat features some QSlide functionality for an enhanced multitasking experience, Guest mode to selectively choose what guests can use on the device, and the Knock Code to secure the handset at the lock screen.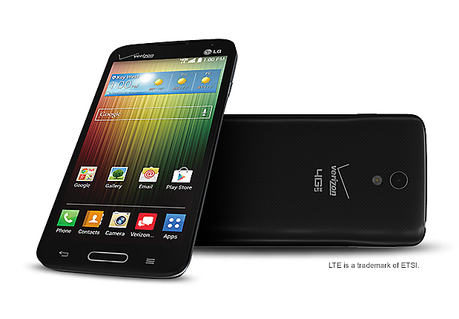 Performance and Quality:
The phone's performance can vary, that's thanks to the LG Lucid 3's quad-core 1.2GHz Qualcomm Snapdragon 400 SoC with 1GB of RAM and the Adreno 305 GPU. Thankfully, it handles all of the basic functions and programs with relative ease, but you start to trying to run the more technically demanding apps, the phone will start to crawl. Removing the rear casing, it was a welcomed sight to find a microSD card slot to help supplement its internal storage capacity of 8GB. Although it's not known to be a powerhouse, the web browsing experience is very speedy. Sporting 4G LTE for fast page loads and generally smooth navigational controls, it delivers a pleasing web browsing experience to suffice anybody's web surfing needs. It also packs along all of the connectivity features of most smartphones – they include aGPS, Bluetooth 4.0 with EDR, 802.11 a/b/g/n Wi-Fi, and even NFC. The 5 megapixel camera is a solid lens for casual photo takers, especially if you're outdoors. It can become a bit overexposed at times, but all in all, the camera works just fine. The slow auto-focus was my only big gripe I had with it. Under lower lighting situations, the quality of course deteriorates, as they're mainly noisy looking with the fine details. The call quality is average as well, the earpiece is loud enough to make voices audible, but they have a robotic tone that muffles the sound.  The battery life is great, the LG Lucid 3's 2440 mAh battery is able to deliver a long-lasting tally of 8 hours, 20 minutes.
Final Thoughts:
The LG Lucid 3 doesn't have all the bells and whistles of the more high end smartphones, but for the price, you can't argue with the performance.
+Phone is Lightweight and Comfortable
+Battery Life is Impressive
-Low Quality Resolution
-Performance can Suffer at Times
S&S Rating: 7.5/10