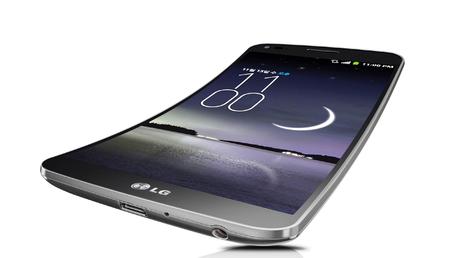 LG's first attempt at a smartphone with a curved design is a good one, as the LG G Flex comes feature packed, but also comes at a hefty price.
Features and Design:
The LG G Flex features a "flexible" design unlike anything I've seen before with a smartphone.  I'm sure that other companies are taking notes and we'll soon be seeing more curved designed gadgets and phones.  After living with mostly flat devices, the curved design makes sense, and it makes me wonder why it took so long for a company to go this route.  I know a lot you make feel that this is just a gimmick designed in a marketing meeting, but it actually makes viewing and holding the phone a bit more intuitive.  The Flex is large, and although it's presented as a phone, it's truly a phablet at heart.  The six inch screen may seem a bit overwhelming, but the curved design makes it easy to hold in one hand.  It's size come some benefits, like better viewing for movies and photos. A bigger phone also means, presumably, a bigger battery, so you won't have to scramble to your charger halfway through the day.  The display is 720p, which isn't the sharpest on the market, but LG says it's because it was the only way to get the RGB stripe on the curved display without resorting to PenTile for a 1080p resolution.  The display still looks nice though, but you'll obviously notice that it isn't as sharp as the new HTC One(M8) or the latest Nexus.  A nice design choice comes in the form of the scratch resistant back, which keeps the back of the phone smooth and scratch-free.
Above the display is the earpiece and front-facing camera along with ambient light sensors, and at the bottom edge of the phone is the microphone, charging port and 3.5mm headset jack. The top edge has another small microphone, for noise cancellation.  On the back is a 13MP camera with flash, and the volume rocker and power button, placed just like it is on the LG G2.  Some of you might not like this particular design choice, but I found it very simple to use.  Inside, there is a 2.26 GHz Snapdragon 800, with 2GB RAM and 32GB on-board storage(Although the device LG sent me was a 24GB).  The phone is fully loaded, and for the price, it better be.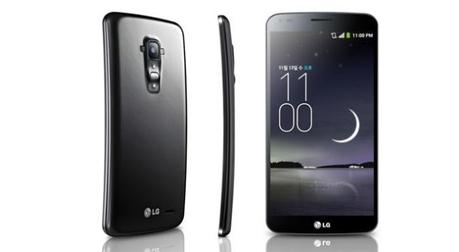 Quality and Performance:
The LG G Flex features LG's custom UI over Android 4.2.2 Jelly Bean, so if you've been an Android user for a while now, you're going to be pretty familiar with the UI. You can wake the device by either pressing the power button on the back of the G Flex, or by double tapping the screen, this is LG's popular Knock On feature. One new trick on the G Flex is what you can do from the lock screen: you can access different widgets with a swipe of the finger, and you can basically access all of your media without fully entering your phone.  There's five home screens by default, which you can fully customize with apps and whatnot.  Thanks to the huge curved design, Youtube videos and HD movies look fantastic on the screen.  It's reminiscent of a mini IMAX theater, and gives you an immersive look at your content.  One quick way to get to all your photo and video content is via the Q Theater app. It's the same app or feature that opens up when you open the phone by swiping with two fingers outward from the center in landscape mode from the lock screen.  The default music player is pretty disappointing.  When you compare it to the iOS's music player, it's just not as intuitive when listening to music on your iPhone or iPod.  If you just want a basic music player however, the Music app will do just fine.  
The camera on the LG G Flex is excellent. It's a 13MP shooter, just like the LG G2, and it produces great results.  The camera software is still a little confusing at first, but once you toy with all the buttons and features for a while, you'll get the hang of it.  Image quality is pretty good. Colors look natural, and edges and lines are sharp. Dynamic range is decent, but even better when you shoot in Dynamic Tone mode.  This mode produces the best picture possible.  The sound quality on the speaker is decent, and it won't blow you away with booming sound.  Finally, the battery life.  The battery is impressive, even with the powerful processor, the phone can last a couple of days of heavy use.  I expected a phone of this size to need a full charge everyday, and it was a huge plus when I found out it didn't.  
Final Thoughts:
The LG G Flex is a solid phone that comes fully featured.  It features a great camera and the curved design creates an immersive experience while viewing movies or Youtube content.  If you got the cash to drop, I would easily suggest picking the Flex up.
+Intuitive Design
+Great Battery Life
+13MP Camera
-Expensive
-Display Could be Sharper


S&S Rating: 8/10

@whatsPlay