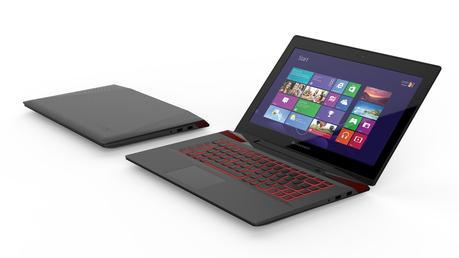 The Lenovo Y50 4K laptop is the company's 4K alternate of the Y50 Gaming laptop, for those looking for the best resolution possible.  Question is, is it worth the extra cash?
Features and Design:
Similar to the Y50, the Y50 4K UHD version features the same design and built quality. It is powered by an Intel Core i7 Quad Core Haswell processor, and comes packed with 16GB of RAM, and a 256GB SSD drive.  The laptop comes with a NVIDIA GeForce GTX 860M Maxwell graphics processor. But what sets the Y50 from the Y50 4K UHD is its display, obviously. The Y50 4K features a 15.6″ inch display with a 3840×2160 Ultra High Definition or 4K display, giving you more room to work with, with video and images looking even more impressive.  The previous laptop had an impressive design, and the Y50 4K shines as well in the design department  It features a nice backlit AccuType keyboard with great tactile feedback. It also features JBL stereo speakers with subwoofer and Dolby Advanced audio technology.  The speakers can really get up there in volume, and the bass is sufficient enough for any music lover.  Under the hood, the Lenovo Y50 4K is powered by a 4th Generation Intel Core i7-4710HQ quad core Haswell processor with a base clock speed of 2.50GHz and Turbo clock speed of 3.5GHz. The processor is paired with 16 GBs of DDR3 RAM, so the computer definitely is no slouch when it comes to processing.  The Lenovo Y50 4K doesn't have any optical drive but an external DVD RW drive may be included, depending on the retailer.  I'm not sure how many people still use optical media on gaming laptops, so that really isn't that big a deal in my eyes.  For network connectivity, it features an Intel Dual Band Wireless-AC 3160 with Bluetooth 4.0. It also comes with an integrated 720p HD webcam and dual digital array microphone. For I/O ports, it has 2x USB 3.0, 1x USB 2.0, an audio combo jack for headphone and mic, an HDMI port, a 4-in-1 card reader, and a LAN port.  That pretty much rounds out the system's design, and as you can tell, the laptop is fully featured.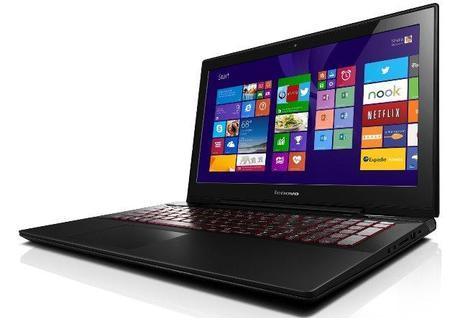 Quality and Performance:
In terms of performance, differences between the Y50 and the Y50 4K are fairly manageable.The Y50 was a pretty solid laptop for gaming, but it had a few hiccups when trying to run the more demanding games.  The Y50 4K can withstand a lot more punishment in terms of demanding games. In direct comparison i7-4700HQ vs. 4710HQ, the latter features a greater 100 MHz base (2.4 vs. 2.5 GHz) and maximum turbo clock rate (3.4 vs. 3.5 GHz).  Also interesting is the comparison to the alternatively offered Intel Core i5-4200H CPU of the Lenovo Y50-70, a standard voltage dual-core chip. Due to a high turbo it can perform the single-thread test on a comparable level as its quad-core colleagues. Only in the multi-core test the processor drops behind. Since GPU performance is first and foremost still limiting for most games, the offered dual-core CPU would be even capable of maxing out the GTX 860M in most of the games that are offered today.  I played a few games like Sleeping Dogs, Battlefield 4, Bioshock Infinite, and Metro: Last Light.  The laptop handled each game well at high settings, but a couple of the games began to stutter quite a bit on the ultra settings.  Most noticeably, Sleeping Dogs and Company of Heroes 2.  Overall, gaming on this machine is a solid experience. In terms of volume, the current Y50 model is, especially in idle mode, noticeably quieter than the version with SSHD. Since the fan remains deactivated over a large span (light green curve, yellow: fan at lowest speed) and since the SSD as mass storage does not produce any noise emissions.
Final Thoughts:
If one looks at possible competitors within the same price range, the decision to choose the right decision might just come down to personal preference.  The Y50 4K is a great laptop for the price, and if you're looking for a gateway into the world of 4K, the Y50 may be for you.
+Great Price +Smart Design +Beautiful 4K Display -Plastic Display Frame -Games can Stutter While Running at Ultra Settings

S&S Rating: 8/10