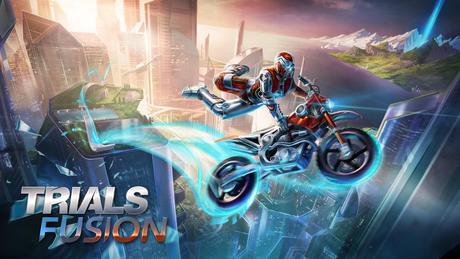 Title: Trials Fusion
Format: PS4(reviewed), Xbox One, PS3, Xbox 360, PC
Release Date: April 16, 2014
Publisher: Ubisoft
Developer: RedLynx
Price: $19.99
ESRB Rating: E

The trials experience has made it's way onto current and next gen systems, and the classic trials formula has never been better.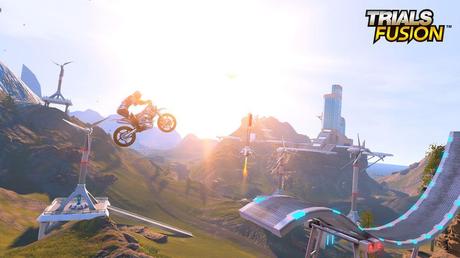 Story and Presentation:
Let's be honest, any longtime fan of the Trials series knows that there's no narrative whatsoever present in the game.  The motorcycle sim is purely about it's physics based gameplay, and that's been enough for it over the past several years.  What this games brings is a beautiful new futuristic art style that lends itself perfectly to Trials Fusion.  I played the game on the PS4, which runs at full 1080p, and it simply looks gorgeous.  The Xbox One version runs at a slightly lower resolution than the PS4 version, but the game will still look great on either next gen version.  The game also runs at a smooth 60fps, which creates a more immersive experience.  The game does a great job of mixing up the level aesthetics and visual flare with every new area.  You'll be exploring futuristic park lands to wintry areas covered in snow, it's safe to say that the devs put in a lot of time in developing different areas to keep things fresh while playing it.  The level of detail permeates through each level, which is pretty impressive when you're playing through every area.  The soundtrack fits in pretty well, as it compliments the game's eclectic visuals.  Outside of the game itself, the music itself is pretty repetitive, the menu tunes being the main culprit here.  This is a minor gripe about the game, but gripe nonetheless.  The presentation is top notch in Trials Fusion, and if you have the chance to play it on next gen systems or PC, you need to take it.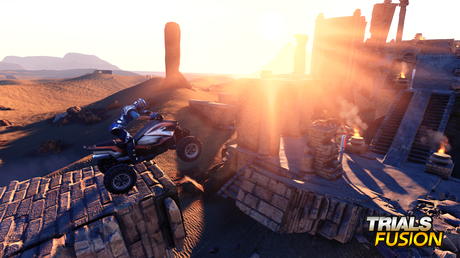 Core Gameplay and Multiplayer:
Trials Fusion sticks close to the traditional formula that has made the series so popular.  Like I said above, the physics is still the calling card in the game, and you'll either love it or hate it.  Lean, gas, and brake are the only controls in the game, and despite this, the game is still surprisingly deep.  You progress through several levels that last about a minute long, and you try and make it to end as fast as you can.  Your goal is to aim for a bronze, silver, or gold medal, with time being the most important factor into your score.  One great feature that fuels your competitive nature is seeing your friends IDs floating through any given level.  This directly represents your friends route, and how fast they cleared a level.  This alone is a fantastic feature, and it gives you a ton of satisfaction when you beat your friends times.  Pulling off tricks takes a backseat to speed this time around, but it's still just as enjoyable doing a triple backflip while pulling off some extravagant pose with your rider.  The local co-op is still fun, if you have friends nearby that is.  The true addictive gameplay still comes from indirectly leaderboard chasing among the ghosts of your friends when you're playing alone.  This gives you a sense of accomplishment and competitiveness that has the feeling of online multiplayer, even though you're playing alone.  The track creator makes a return from previous entries, and it's just as unintuitive as before.  It could be better, but if you spend some time with it, you'll be able to get the hang of it and get some of your tracks up and running.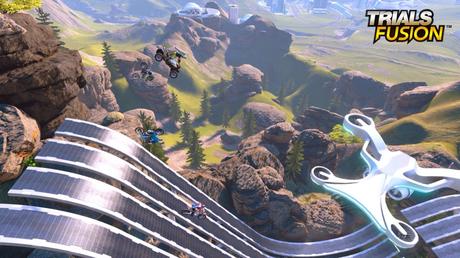 Final Thoughts:
Trials Fusion is a great entry into the long running series, and it's easily my favorite thus far.  The visuals are stunning, and the gameplay is even more addictive than before.  Even if you're not a fan of the games, I would recommend Trials Fusion to you.

+Great Visuals
+Infectious Gameplay
+Fun Local Multiplayer
-Disappointing Track Editor


S&S Rating: 8.5/10

@whatsPlay