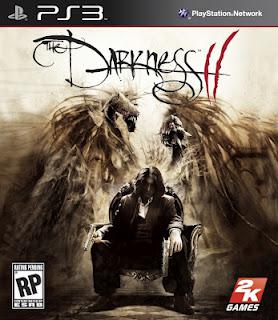 Title: The Darkness II
Format: 360, PS3, PC
Release Date: Feb 7, 2012
Publisher: 2K Games
Developer: Digital Extremes
Price: $59.99
ESRB Rating: M
After a playing the Darkness II, I have fully embraced the darkness.  
Jackie Estacado has finally accepted the power and I have too.  I have never been seen a story this believable and engrossing in quite some time.  The comic book style of the game made me actually read up on the originals, now I know that the series has a comic.  This universe is becoming one of the more unique ones out there.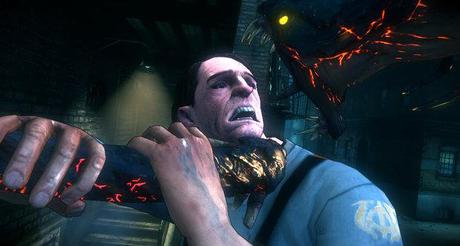 I should have listened to my wife and stayed home....
Presentation/Story:
As soon as you turn the game on you'll notice the drastic changes that Digital Extremes made to the overall presentation of the game.  The comic book style overhaul is a great way to make your game look gorgeous, and DE took full advantage of just that.  Grabbing some poor schmuck  by the legs and wish boning  them never looked this good while not becoming tedious.  Audio is your standard fare mixed in with some creepy and eerie tunes that makes the atmosphere more complete.  Mike Patton is one of the reasons I love the game so much, I never heard "Embrace the Darkness" spoken so sinisterly.  The story is simple, 
Jackie must confront not only the evil creature he's become, but also losing the love of his life Jenny.  The story moves a little slow at times but by the ending it all comes together nicely.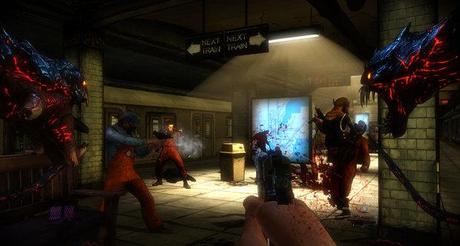 I feel sorry for these guys.
Core Gameplay/Multiplayer:
The combat in The Darkness II is far greater than in the original,  that was one of my gripes of the first game.  The gunplay alone feels very nice, they have a good weight to them a pack a powerful punch.  Learning and executing new moves to tear your opposers limb from limb keeps the game fresh as the hours roll on by.  
Kill a guy with bullets and you'll gain 10 experience, but if you grab him and execute them, you'll get 30.  There is multiplayer in the game but it doesn't feel complete, in my opinion.  It extends the narrative of the game with co-op play instead of the previous shallow competitive multiplayer from the first game.  
You play as one of four Darkness-powered assassins in Jackie's employ, taking on different missions.  It surprisingly adds more hours to the overall experience and can be really fun with friends.
Final Thoughts:
The Darkness II is a great game, with more and more games being released, this one shines out.  
Despite some problems with polish and the occasional bug, these minor problems don't hinder the game in anyway.  For fans of the original, this is a definite purchase.
Final Score = 8.5/10
Email: 

[email protected]
Twitter: @iSamKulii
Apps: S&S Reviews on Apple and Android Stores
PSNID:sameo452008