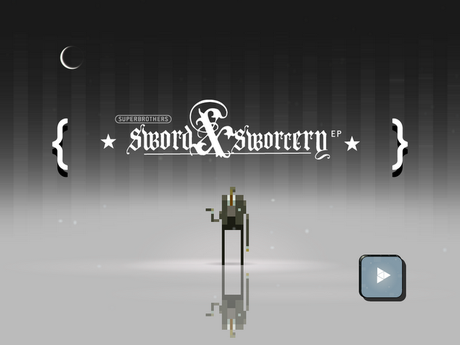 Title: Sword And Sworcery EP
Format: PC, iOS
Release Date: April 16, 2012
Publisher: Capybara Games
Developer:  Capybara Games
Price: $5
ESRB Rating: E
Sword and Sorcery is an indie title with a lot of buzz around it, it has received a lot of praise for its wonderful soundtrack and cool art style....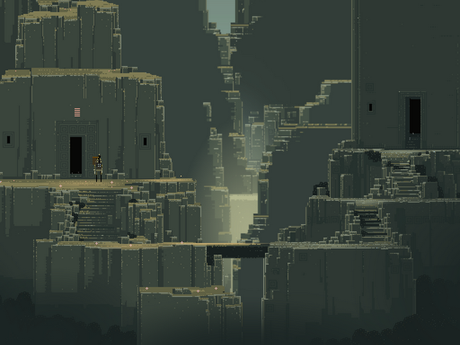 Presentation and Story:
There isn't much of a narrative in the game but what it does have is simple and believable.  Your time spent exploring and admiring the game's gorgeous 8-bit atmosphere will follow a Scythian warrior with her trusty pup Dogfella,( a cool name indeed)  as they try and recover a mystical tome that has ancient powers which can stop an evil force.  The story is solid with a lot of cool moments cleverly included when needed. The writing in the game is great, and can actually be hilarious at times.  You'll be traveling through canyons one moment, then taking a break and discussing blood sports with a fellow traveler. Like I previously stated, the game is gorgeous.  I love the old school 8 bit art style, the game offers a ton of cool environments including deep and lush forests, old and decrepit temples, with huge mountain tops to take pleasure in.  There isn't a lot of voice work in the game, but what was included is good.  The entire soundtrack was done by Jim Guthrie, the epic soundtrack continuously drives the story forward with enticing sounds that brings constant delight to your ears.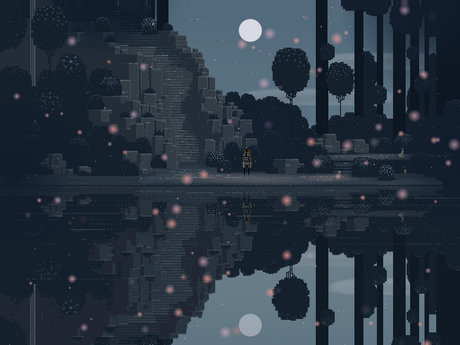 Core Gameplay:
Traversing the world of Sword and Sworcery EP requires little to no effort, the simple point and click mechanics work fine.  Double clicking on certain areas of the environments offers up either a funny little message that correlates to that certain object, or it'll trigger an action that advances you through your campaign.  The game is an adventure with a lot of puzzle elements mixed into the formula.  Swordplay and magic combine to make combat simple and enjoyable.  Once you require the mystical tome, you'll be able to cast different spells that alters the environments that reveals hidden secrets.  This is necessary in solving the more challenging environmental puzzles.  The challenges are very abstract at times that will require a bit of mental finesse.  Cool and easy combat with intriguing puzzles make up the overall gameplay of this title.  One other cool feature is the Twitter integration, it allows you to tweet out the messages that appear in game, which makes for some interesting conversation starters.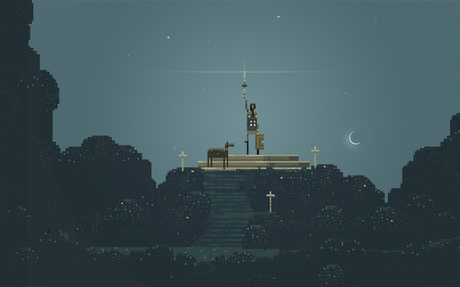 Final Thoughts:
Indie titles are making a lot of progress, and Sword and Sworcery is a testament to that.  The music is sublime and ambitious. The intricate puzzles can cause a strain on your precious brain(including mine), and rhythmic combat that never ceases to satisfy you, this is another game you must play.
Final Rating = 9/10