Title: Lil Kingdom
Format: Mobile
Release Date: April 23 2012
Publisher: Glu Mobile 
Developer: Glu Mobile 
Price:  Free on Googe Play Store and Apple app store
ESRB Rating:  E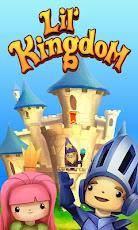 Lil Kingdom is a fun and casual offering from Glu. The all rounded multi-genre mobile games developer hardly disappoints and there is no difference with their latest offering, this time presenting an animated, time consuming
outfit accessible to a broad range of player.
Story
The game introduces you to a beautiful castle with a cheerful jester as your first character. He welcomes you to your castle and prompts you to name it. The Princess gleefully greets you  and you immediately feel important. You begin to sense the great amount of responsibility coming your way. Here we go...
Nothing happens above ground. Yes Lil Kingdom is an underground fortress. You build floor upon (or below) floor full of rooms for citizens, kitchens and restaurants for food places, services and entertainment hubs, Art and Craft and even special rooms which get unveiled to you as the game progresses.
Gameplay
The jester wastes no time in advising you on how to begin building, Rooms for citizens are the most valuable at first because citizens keep your Castle alive. They will need a place to stay and these dwellings cater up to 5 citizens at a time. You then send them to work at different trades. Each citizen has unique attributes 
which
 suit them better than others so it's important that they're happy doing jobs they enjoy. 
Your silver coins are collected through the sale of different trades your castle provide. The Gold coins are the most valuable and dont come easy. What you do with them is entirely up to you. And there's alot you can do with a gold coin. From speeding up production of sales items and construction of new floors, to upgrading those floors so they gather more silver coins, to buying cute lil dragons which have the power to instantly produce and stock all sales items on a floor.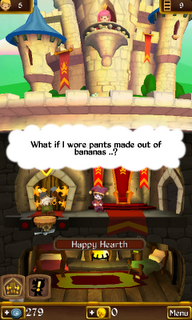 During the game characters will knock on the only door available to your underground throne. They knock. Alot. In fact it might irritate you but that's the only way anyone will enter, be it new citizens or special characters who come with benefits. You then take them down with your prehistoric elevator to the floor of their choice. Your citizens and Princess will require your attention at all times. When mind bubbles appear on their heads you tap it and they give you insight to what they think, which is usually a quirky, often amusing statement that has nothing to do with anything. Be sure to keep bursting their bubbles as they come with silver and some even with the odd irreplaceable gold coin. The Princess will occasionally have an exclamation mark which, when pressed, will give demands that you gather a product or service produce underground. If you're fast enough she will reward you with collectible items which can be used to build special underground floors among other goodies. Just for that, when she calls, you listen.
Presentation
The game hosts a rainbow of color and animations which suit the whimsical fantasy (underground) land. Citizen and princess comments are definitely humoring and add a calm to the ever busy flutter of the castle. The floor's names and themes are as weird as possible.  The music is too fairy-like in my opinion but i prefer all my mobile games on mute, with my own music blasted 
instead. An interesting advantage is that while the game i\s left in the background or you have quit, it still runs seamlessly in real time. It acknowledges that even though you aren't looking after things, everyone is still at work. you will still collect money and products/services still get sold. Once you come back be ready to sort out the mess you left!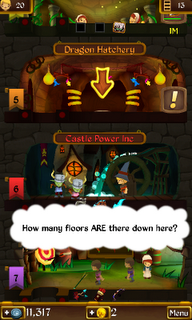 Final Thoughts
You feel responsible for the upkeep of your dungeon and you will be stuck in there for hours ensuring products are constantly stocked, citizens are happy and everyone's busy making money. The developer has done well to keep the gamer busy through a number of inter-playable channels, making the game far from monotonous even though you're stuck xxx feet underground. One cant help but feel that there should be more characters behind the door as the game progresses, as you do get tired transporting basic citizens after a while. Ive gotten 20 floors deep, 2 dragons and still building!