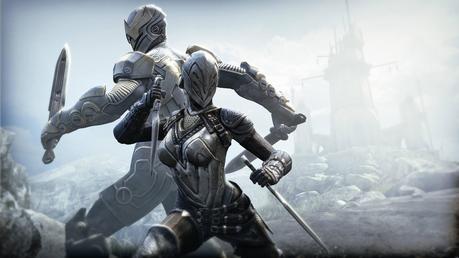 Infinity Blade 3 was announced during Apple's iPhone 5 event yesterday, and below I've posted the trailer for the game along with more details.
According to the press release, the game "delivers an epic conclusion to the award-winning series with a thrilling story of honor, love, betrayal, and redemption."
Also, for the first time in franchise's history, gamers play as the hero Siris and the warrior-thief, Isa. Both come equipped with their own combat styles and hundreds of collectible weapons and items.
Another new addition is The Hideout, which serves as the "player's base of operations where they discover the interactive world map and unlock all-new allies to join their cause."
Players will also be able to explore eight new worlds through the single-player campaign comprised of multiple paths as they set out to defeat the Worker of Secrets. They will encounter dozens of new enemies, including a flying dragon.  I loved the second game, and I'm curious to see how the third will come out.
Infinity Blade 3 will be a universal app priced at $6.99 on September 18 and will be compatible with the new iPhone 5S and iPhone 5C, along with: iPhone 5, iPhone 4S, iPhone 4, iPad 4, iPad 3, iPad 2, iPad mini, iPod touch 5, and iPod touch 4.