Title: Pocket Planes
Format: iPhone/iPad
Release Date: March 14th 2012
Developer: NimbleBit LLC
Price: FREE
Size: 17.3MB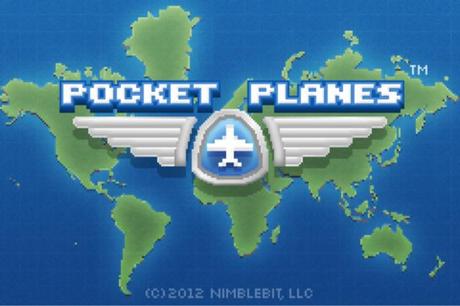 Pocket Planes is the most addictive game I have played on any console or device in a very long time and it's hard to understand the reasons why. You see, you don't actually do very much on Pocket Planes. It's a casual air line simulator which when written down makes it sound like the most boring game ever devised but this little game has so much character it's impossible not to love it.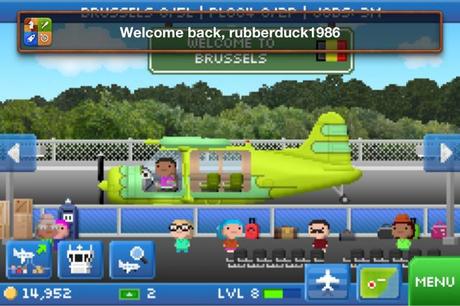 Presentation & Story
Pocket Planes uses possibly the cutest art style and graphics I have ever seen. It is presented in basic 8-bit and everything from the people to the planes to the clouds in the sky look sweet. It really is so endearing and instantly appeals to the older gamer in me.There really isn't a whole lot to pocket planes too, it keeps things very simple which is another reason it's so much fun. All the controls are laid out on the bottom  of the screen. It reminds me of the original Theme Park in this regard which might be the other reason I love this game so much.
Pocket Planes is a sandbox and there is no story here. It is up to you the player to come up with your own stories using your imagination. There is a very short tutorial at the start of the game which has the only dialogue I have come across in the game. After that it's all up to you and I love it this way. When ever simulation games try to inject narrative and objectives into the mix it usually waters down the core experience so I think the devs have made the right decision in just letting the player do what they want.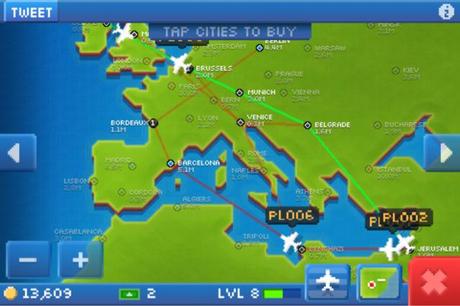 Gameplay
Pocket Panes is a simulation of running an air line (albeit a very cute air line) which will put a lot of people off from even downloading it in the first place. I personally don't usually enjoy this type of game very much but the way this game has been put together just makes it unbelievably addictive. The basic operation of the game is this; A plane lands in one of the air ports, you check for available jobs which are either people or cargo that need to go somewhere, load your plane, decide on the best route by tapping other unlocked air ports (you can make journeys as long or as short as you want) and that's it. After about 10 minutes though you suddenly realize there is a lot more going on here then at first glance you realised. Each plane has a passenger and distance limit so smaller planes can only make short journeys before they have to land and refuel. This means that you might not make a profit from a poorly planned journey as it costs money to put the planes in the air in the first place.
You start off with a hand full of air ports to fly between and then it is up to you to unlock the rest of the world. Each level allows you to unlock another airport and add more planes to your fleet. Planes can be upgraded, retired and replaced. There are also world events that can be good or bad like a snow storm that might close an air port for a period of time or a tourism boom that will greatly increase the amount of people who want to fly to a particular place. Honestly there is so much depth to this seemingly simple simulator it will blow your mind. I've been playing this for literally days solid and I'm still making discoveries and finding new ways of improving my air line.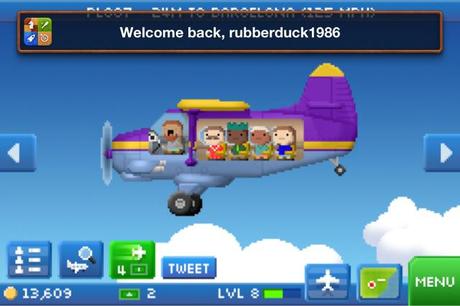 Final Thoughts
Pocket Planes is a game of discovery, the tutorial gives you the very basic basics and then just lets you go on to find everything else out on your own. Another great feature of this game is that when you get all your planes up in the air you can do other stuff on your iPhone and you'll get a push notification when flights have come into land. I played this game for an entire day like this (much to my partners annoyance) and it also means you can keep the game going during work and catch up on new flights when you get a break.
Considering that Pocket Planes is the first game I have reviewed that it free on the store it is also the one the I recommend the highest. There is literally no reason not to download this game right now and start to loose your life to it.
Final Rating: 10/10
email: [email protected]
twitter: @rubberduck1986