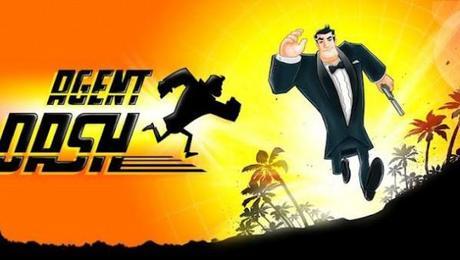 Title: Agent Dash
Format: Andoid/
iOS
Release Date: August 2nd, 2012
Publisher: Full Fat
Developer: Full Fat
Price: Free
ESRB Rating: All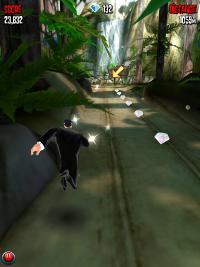 As of late there has been a lot of mimicking in the mobile games market. Playing through countless "runner" games, I was reluctant to download this game, thinking it was just another Temple Run clone. What I got instead was a high quality mobile game, aesthetically different from many other "runner" games out there.
You play as a secret agent. You start out with one agent but are able to unlock various other characters by means of the diamonds you will be collecting on your

playthroughs

. The first thing that struck me was how beautiful the game looked on my Nexus 7, colors popped out and the agents are all detailed nicely. On my tablet it ran as smooth as butter without any hiccups or drop in

framerate

. On the mobile side of things it ran well on my phone, not nearly as good as on my Nexus 7, which is to be expected considering the spec dominance my tablet has over my phone.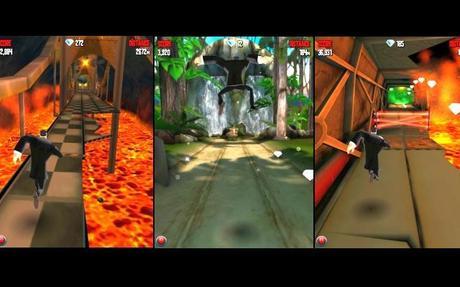 Although Agent Dash is cut from the same cloth of games like Temple Run, endless running with collectibles sprinkled on top, the similarities stop there. You won't be running through the same environments the whole time, rather the more distance you cover, the more things will change. You start out in a jungle but soon will find yourself running through lava filled compounds, and other unique locations as you jump and dodge your way through randomized paths. Something I thought was great was the use of the touchscreen to move your character instead of relying on an accelerometer, although Agent Dash is on

three

way rails instead of actual full movement.
The game is simple yet addicting. It's very easy to lose the time as you try desperately to beat your high score or unlock the next agent. Of course, as always with games of this nature, you will get burnt out quickly if you don't play in short bursts. The game is a good time waster and if you're looking for a nice alternative to Temple Run, then look no further.
S&S Rating: 9/10 @Masjord