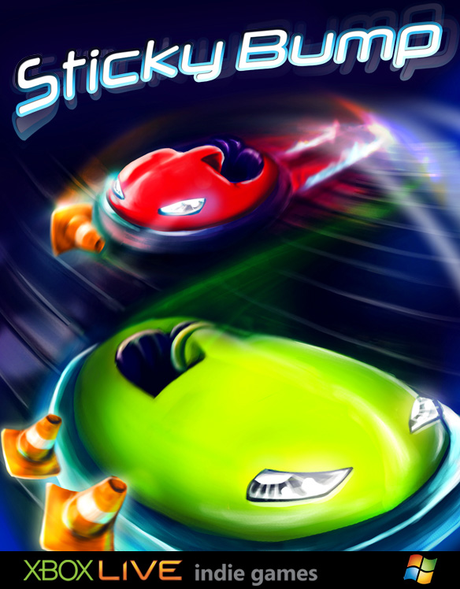 Title:
Sticky Bump
Format: Xbox Live Indie Game
Genre: Action & Adventure
Release Date: August 14, 2012
Developer: KeeWeed
Price: 80 MSP
Rating: Violence = 0/3, Sex = 0/3, Mature Content = 0/3
Sticky Bump is a fun local multiplayer game from Dutch developer, KeeWeed. The objective is simple - battle other bumper cars to collect cones and deliver them to the goal. The more cones you collect, the more points you earn. Cars with white borders are "sticky" and can collect the smaller cones by bumping into them. Cars with black borders are the "bullies" that are charged with the task of preventing stickies from delivering their batch of cones by any means necessary. The strategy is up to you - use speed boosts to chase down your opponents, outfox them by changing routes at the last minute, or play spoiler and spread out the cones to make their job that much trickier. The possibilities are endless which gives Sticky Bump tremendous replay value.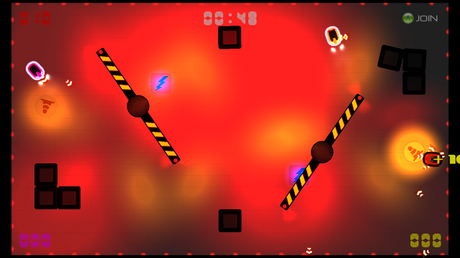 What's nice is that up to three other players can join and leave games quickly and easily, allowing friends and family to start playing without any hassle. The gameplay itself is very easy to pick up, but the controls do feel a bit sluggish. Even with a speed boost it felt like the car should have been moving just a
little
faster than it was. And the speed boost is great, but it would be nice to see more upgrades and other boosts to choose from.
Aesthetically, Sticky Bump is pretty sharp and polished for KeeWeed's first major release. The arena is like a trippy Euro dance party with the Dutch funfair sounds and bright flashing colors. Visually, it's super fun and exciting, but I do wish there were more environments to choose from.
Final Thoughts: 
Sticky Bump is a great casual game to play with a friend, but it's really an excellent party game as it's most enjoyable with more players. The straightforward nature of the game is great, but it also leaves you wanting more in terms of upgrades and additional modes. Overall, Sticky Bump is super entertaining and will surely spark some fierce (but friendly!) competition between you and your friends.
S&S Rating: 8/10
About: Jennifer Roger is a fine arts student from the Chicagoland area. You can follow @missjendie on Twitter or visit her blog at
missjendie.com