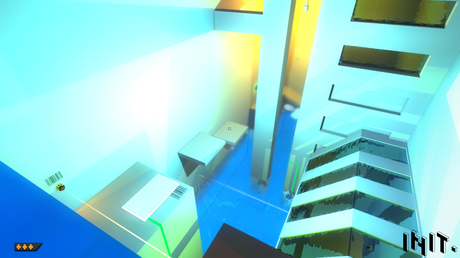 Title: Init.
Platform: PC
Release: 5/24/2012
Publisher: Narrow Monolith
Developer: Narrow Monolith
Price:
€ 10.99
Init. is puzzle game that promises to deliver levels, that challenge the way you think and see a puzzle game through illusions and innovative cerebral challenges. Can the developer come through with these promises, or is it just another puzzle game?
Gameplay and Graphics
Init. is a game with beautiful graphics and you can easily see, that the developers have been working on this game for two years. The developers promised innovative and illusional levels and they delivered. However I found myself very frustrated sometimes, for example if you had to jump from a step to another step. Sometimes you simply couldn't see the step, that you were supposed to jump to, the game just became too illusional. All in all I have to say that the graphics are very good and I didn't notice any bugs.
The game has a short but very good intro, with a very impressive sound side. You don't really get an introduction to your character, and as to why he has been sent into Init. which apparently is a digital world.
The gameplay seemed to work well but there are one major issue. You can't really configure the game apart from the resolution and the brightness. This is a major problem since the mouse sensitivity is just too damn high. In the game there's big yellow balls, called lol's and they can get through places you can't. You have to push these balls with your mouse, to push it you left click and to pull it you right click. Since you can't adjust the sensitivity of the mouse, this becomes very hard because your mouse is just everywhere. I use a Roccat Kone and with this mouse you can lower the DPI but, it just wasn't enough my mouse was just everywhere on the screen.
That being said Init. actually has some very good gameplay that really works well.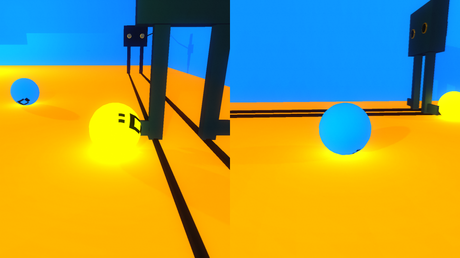 Thoughts and verdict on the game
Init. is indeed a pretty and well designed game but I can't really look away from the earlier mentioned issues. These issues really annoyed me and because of them, I rage quited a couple of times during this review. It's a shame because I really think this is a good game with 10+ hours of playtime. It's a game that's actually worth it's price and if you like puzzle games, I can recommend this game. Init can be bought on www.desura.com.