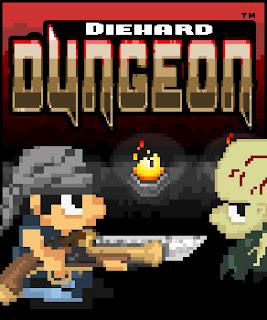 Title: Diehard Dungeon
Format: Xbox 360
Release Date: September 11, 2012
Publisher: tricktale
Developer: tricktale
Price: $1
Rating: Violence 3/3, Sex 0/3, Mature Content 2/3
Gameplay:
Diehard Dungeon is for all intents and purposes an 16bit version of Dark Souls with some slight changes. The game relies on a simple mechanic of killing everything on screen and then proceeding to locate the key that dropped from an enemy to put in the door so that they the player can move to the next room to do the exact same thing. Granted each room every time you play the game will be different because the rooms are randomly generated which provides a neat touch. However quitting from a session of Diehard Dungeon will result in the loss of the file because saves are not a thing that Diehard Dungeon believes in. This is quite annoying and ruins the game in a way because to be able to finish the game a player has to do it in one sitting. There are bosses at the end of each "level" and after a boss is defeated a choice must be made about which location to visit next. However right before this decision there is a quick little mini-game that involves putting out fires and avoiding evil chests. These are essential to the game and cannot be failed because they provide crucial upgrades for the player. There is only one chance per game so failure is simply no an option if one wishes to progress.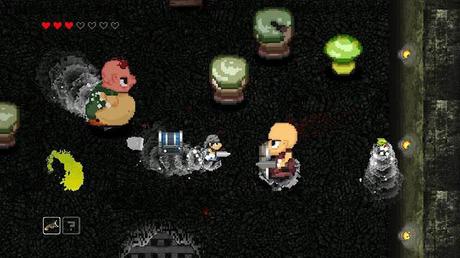 Presentation:
Diehard Dungeon has that classic 16bit style that makes it feel at home with any gamer's collection of games from that era. The screen is never crowded with information and any information provided is done so in a minimalistic way so that all attention can be focused on the action on the screen. Sometimes however it can be hard to see where damage is coming from which makes it hard to locate the enemy that needs to be killed. It can also be a pain to locate the key hole for some rooms at time because they occasionally blend in.
Final Thoughts:
Overall Diehard Dungeon succeeds in providing a fun experience provided that you plan on beating the game in one sitting. For gamers looking for a fun time and have a handle on their anger then this game is perfect for you. However if you get annoyed at semi-constant deaths and if the thought of no save system angers you then stay far far away from this one.
S&S Rating: 8/10
@natehubes