O.P. Jindal University feels proud in unveiling its second edition of business fest 'SAMPLAVA 2016; a three-days event where knowledge and fun collides from 16th to 18th September 2016.
Samplava is an opportunity for all the great minds of different colleges to come together and compete both for business based as well as cultural event. The best feature about Samplava is that it provides a platform to both learn and earn.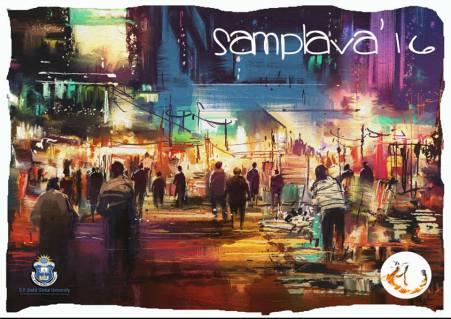 The events in the fest are going to witness some of the greatest thinkers of the business world, giving an insight to the backstage of the reality, along with some mind unraveling games, cultural events and much more.
The fest provides more than a stage for the youngster to peek and learn about the real world out there, but also gives the confidence and opportunity to believe in themselves.
The recipe to make this fest successful is already there with us. The only thing we lack is your participation and enthusiasm to make it better. Here is the chance to touch your destiny by enhancing your future.
The world is more malleable than one thinks, and it's waiting to be hammered into shape. Look for opportunities, look for growth, look for impact, look for MISSION. Build skills, not a resume. Keep looking, don't settle. Take a break if it is must but don't ever give up. Rise and grind. Reflect with intelligence. Stop saying no and start taking actions. Go ahead and peal every layer.
To turn up the heat of the fest we have categorized the list of events into two sections- the Star Events and the Side Events.
The Star events would comprise of:
Food Fiesta
CEO summit
Jindal Bike Rally
Jindal Go-Karting Championship
The Side events comprise of:
Suits
Stone-Paper-Scissor
Fashion Show
Nukkad Natak
Dance Competition
Human Foosball
an Exhibition etc.
Last but not the least The Star Night with stars to set the stage on fire and to boost up your fun.
With all this and much more to keep up the levels of your enthusiasm we invite you to join us in the celebration of the youthful energy and human creativity and we would appreciate your whole-hearted participation in each of our events.
Mohit Kumar - +91-86078-00025
Aayushi Pratap - +91-9557797518
Instagram -
www.instagram.com/samplavajgu
Karuna Janghu - +91-8689037700
Facebook - https://www.facebook.com/samplava/
Website - https://spark.adobe.com/page/p6v0V/
For Registration - Links shall open up soon or Contact Mohit Kumar (8607800025)
Samplava - 2016 - Business Fest - O.P. Jindal University