Samode Palace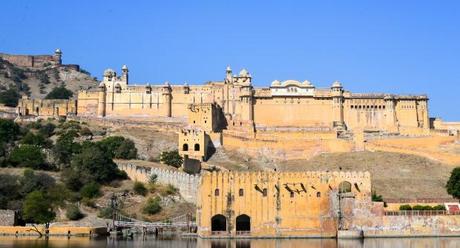 A photo of the brilliant Amer Fort (also pronounced and spelled "Amber Fort") in Jaipur which this time we didn't visit, having been to it twice before.
However, when you visit Jaipur you can't leave or enter without taking a photo of it as it is so stunning and breathtaking especially with the fort wall on the hills.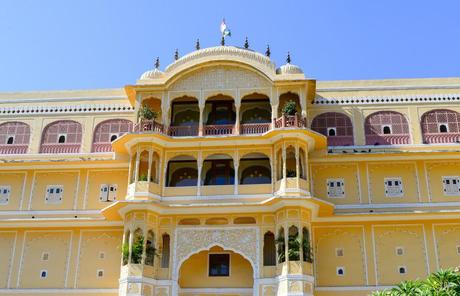 After an hour or so in the car we were driving down a rickety old road and passed through a few small little villages which reminded me of "Old India".
This was the India I used to know, where tarmac roads are a thing of the future, goats, cows and chickens are the main inhabitants and there are groups of nomads who occupy the barren land. Once we had finished bumping up and down, left - to - right, we finally arrived by a short road from Chandwaii and through the gates into the Samode Palace.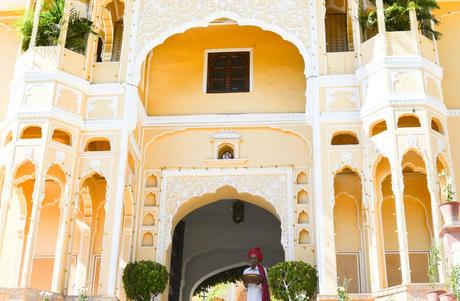 Nice entrance huh?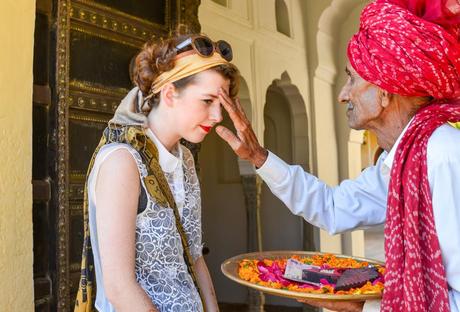 Greeted with tilaka and a warm welcome we stepped through the archway and wandered into the main courtyard only to be taken under the wing of our wonderful guide who appeared out of nowhere.
We hadn't actually "booked" a tour guide but he was certainly very useful and knew his way around, plus he was pretty keen on taking photos too which made a nice change for me.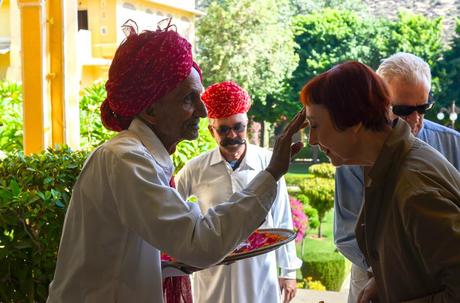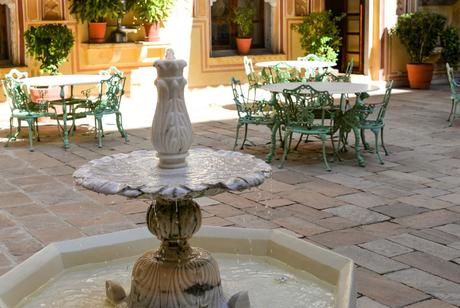 The Samode Palace is an example of "regal Indo-Saracenic architecture" and combines the best of the beautiful Indian and Mughal styles individually.
It is 475 years old and it is magical to spend an afternoon here, plus they do the most superb lunch if you really have to have an excuse to visit!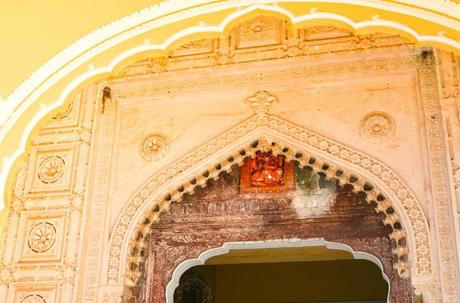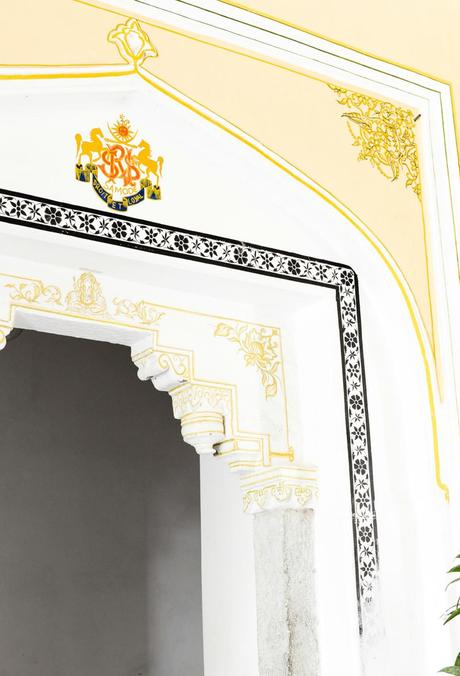 Rawal Sheo Singh is credited with the utterly amazing hand-painted "Darbar Hall" and the overlooking gallery which forms part of the hall of mirrors. This is also where my camera did not stop clicking as I tried to photograph every little cm of detail!
The legacy of this hall of mirrors has been mirrored across the famous palaces throughout Rajasthan and is utterly eye-opening.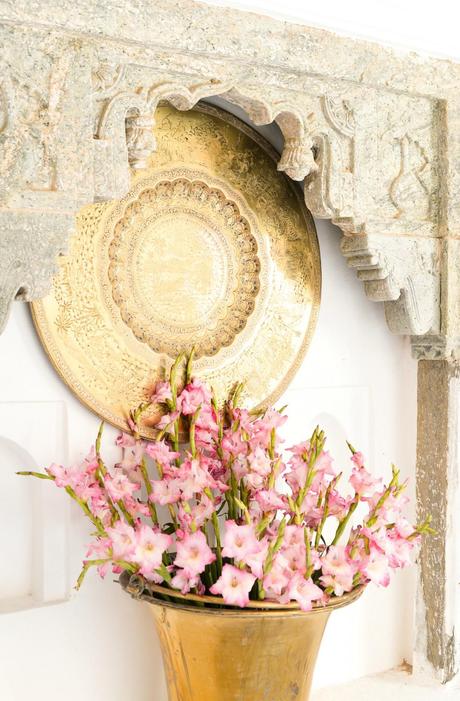 The Samode Palace has been meticulously restored and updated into one of India's premium palace hotels in 1987! It combines the perfect balance of Rajput-Mughal architecture influenced in turn by Nepal which is where the Rawal wives originated.
Under the Samode hotel group they have preserved the historical influences in both the décor and design of the palace. The Rajasthani fabrics and European furniture blend effortlessly together to make it a comfortable stay for guests.
What I like most about restoration projects is when local knowledge, skill and material is used, as has been done at the Samode. Massive brownie points for them!!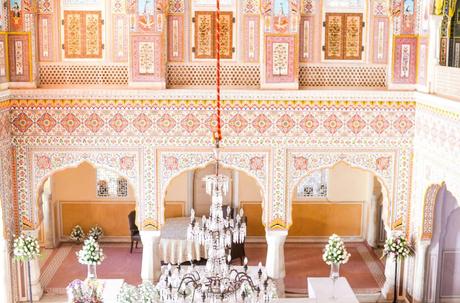 Let's start the eye opening tour of the Durbar Hall, and hall of mirrors, shall we? It's breathtaking, and I hope my photos can convey a small sense of it.
The above photo is taken from the corridors upstairs looking down onto the main hall. Can you believe it is all hand painted? Utterly remarkable.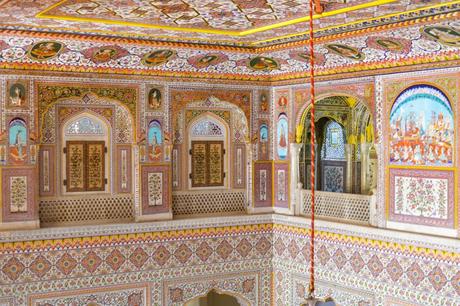 The ladies would peer out from behind the shutters, definitely a case of being shut away behind closed doors.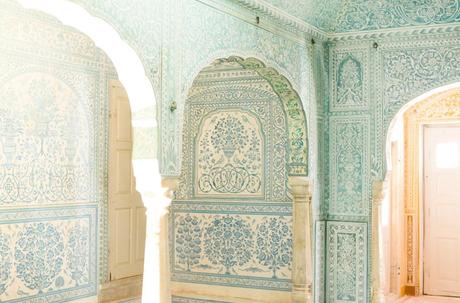 We were then taken into this blue room which honestly was probably one of the most relaxing and peaceful rooms I have ever stepped into.
Extremely calming and utterly beautiful for the soul to experience.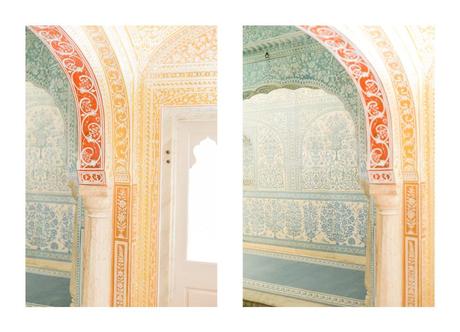 Aren't the colours and patterns so delicate?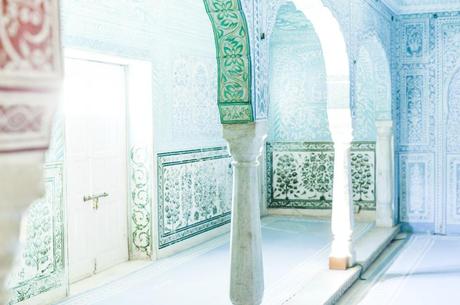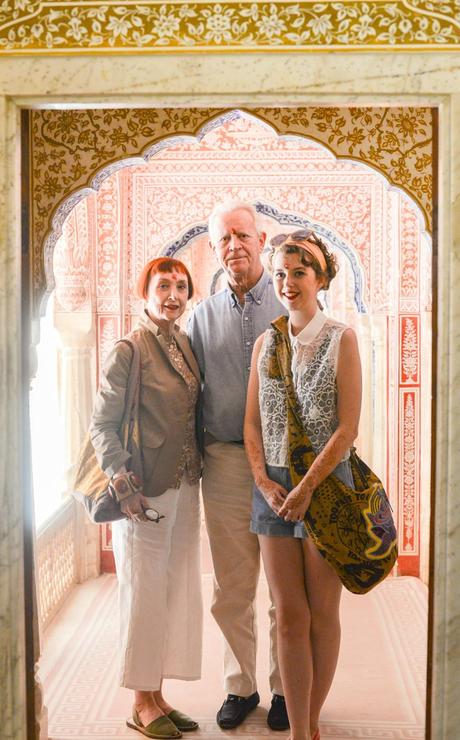 Family photo, just about squeezed in.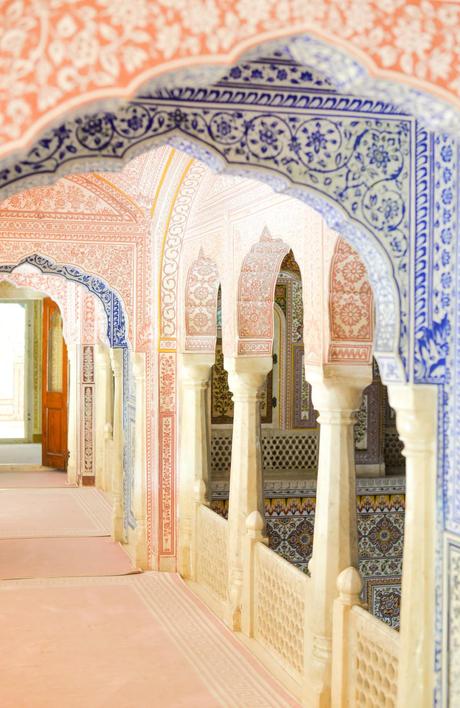 Columns and columns of the most beautiful and intricate work.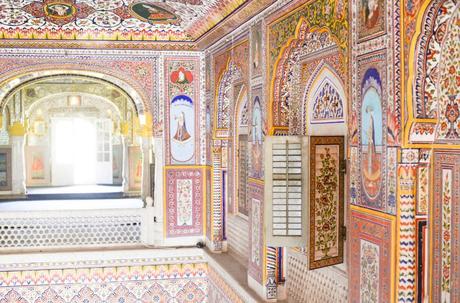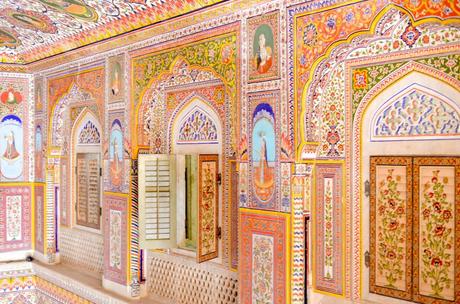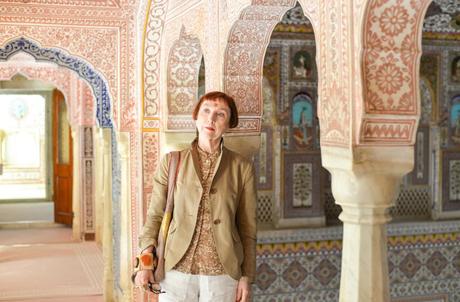 Ma having her photo taken.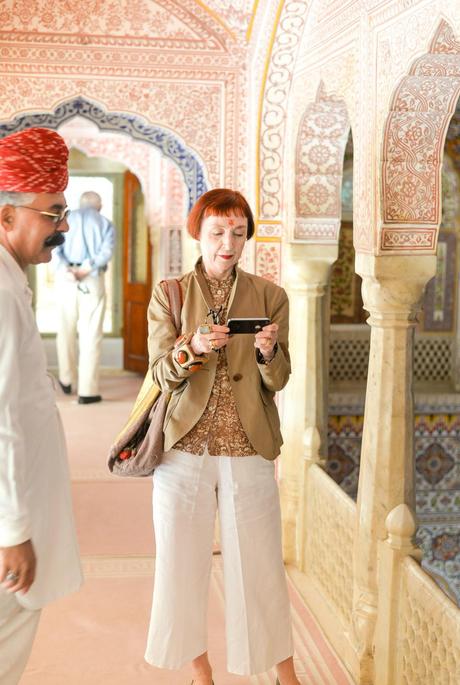 Our guide definitely loved taking them.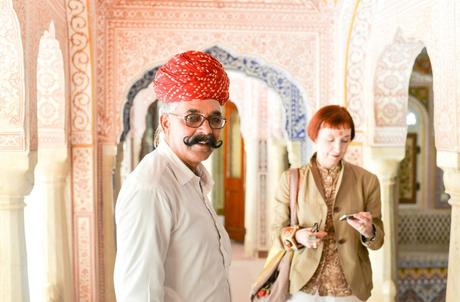 And being taken too!!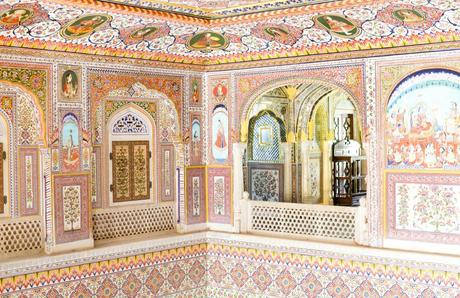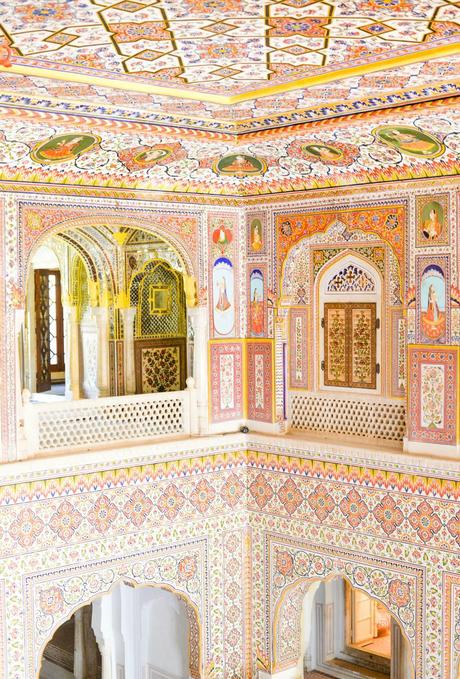 I don't know of any other place in the world which has such magnificence and detail.
Do you?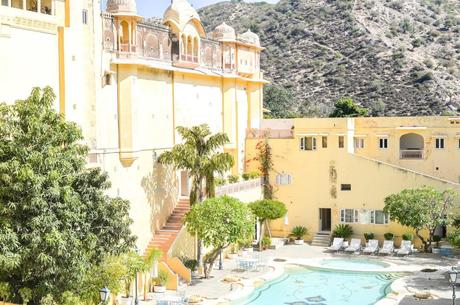 The Samode Palace also operates as a fully functional hotel, complete with swimming pool, stunning surrounding views and also a lift which was only put in a couple of months ago!
We all agreed next time we would go to Neemrana for lunch and carry on down to the Samode Palace to stay the night, or two.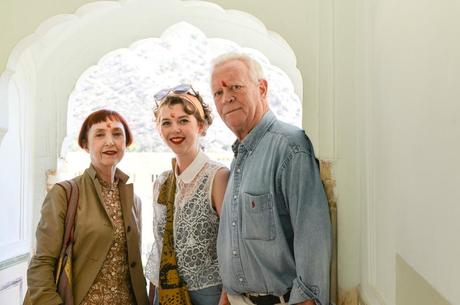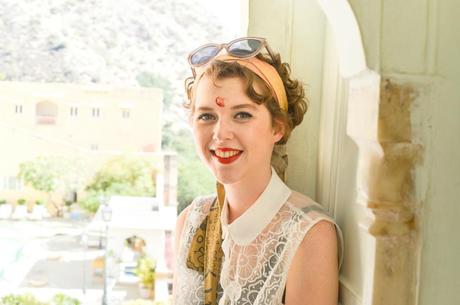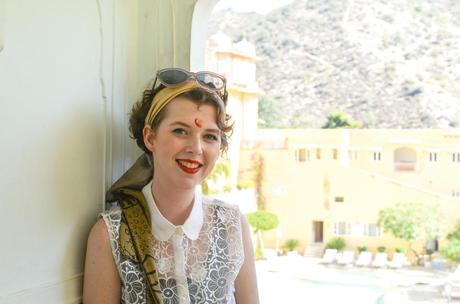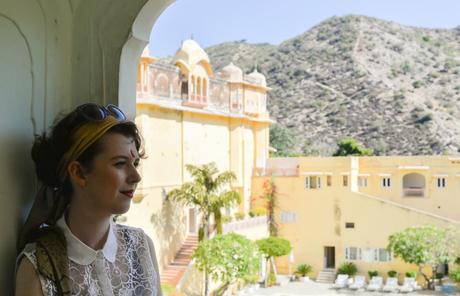 I told you he enjoyed taking photos although I was a happy participant too.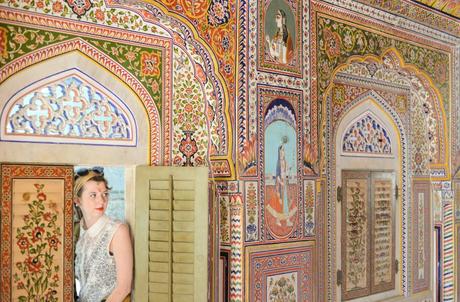 Peek - a - boo.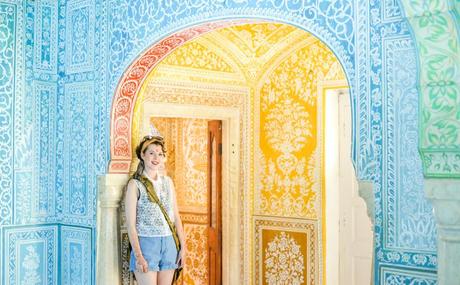 So many colours, this is definitely "India" to me.
There's no place quite like this in the world.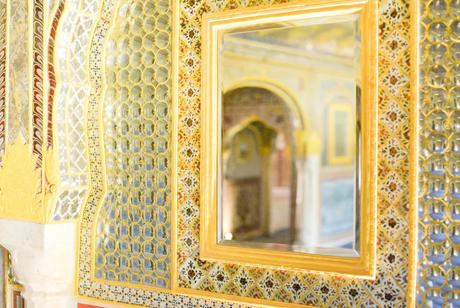 The hall of mirrors is out of this world, and the craftsmanship involved is beyond remarkable.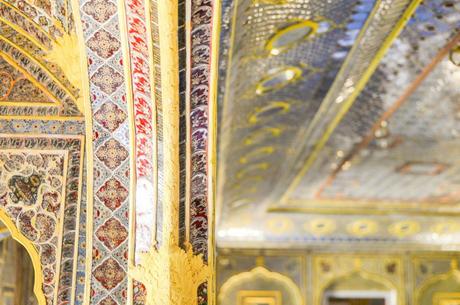 One of the stones seen here is ruby.
No expense spared, that's for sure.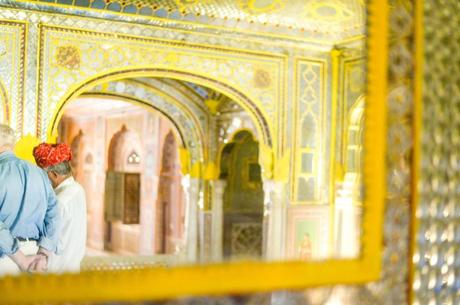 Every mirror you see can reflect another aspect of the hall and can play tricks!!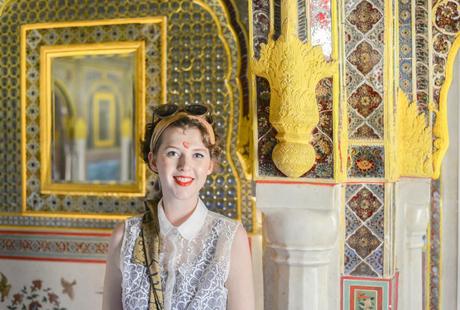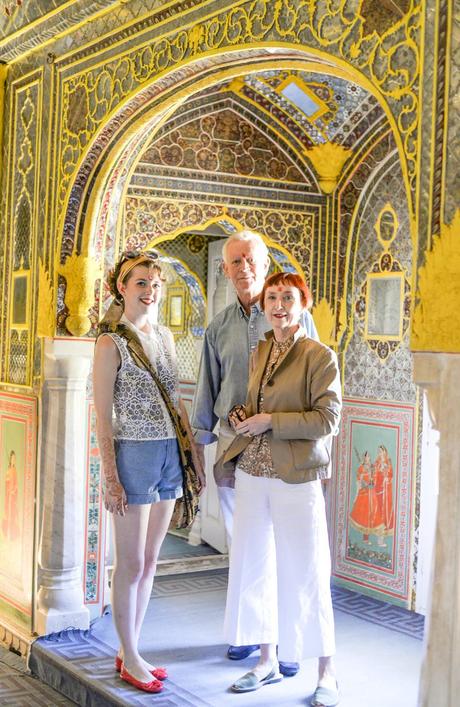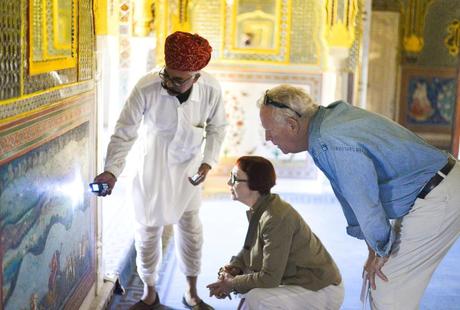 Pointing out the tiny details in the paintings to us.
It was amazing to be able to walk around with no madding crowds and have the place to ourselves. Last time I came here it was teeming with people and was hard to have a look at anything, so this was even more beautiful for so many reasons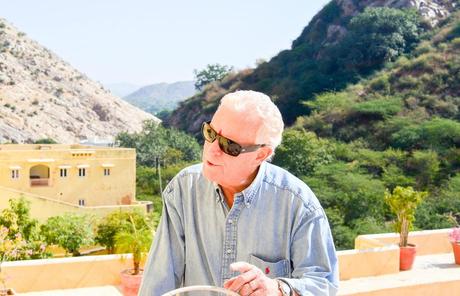 Once we had departed from the Hall of Mirrors we asked if we could see a bedroom for future reference and so our guide showed us what he thought was the best one, complete with the incredible views of the surrounding hills.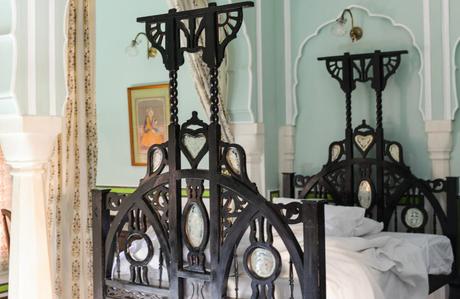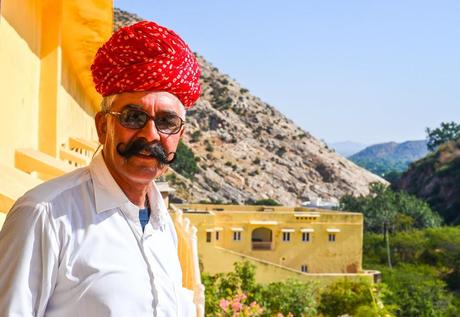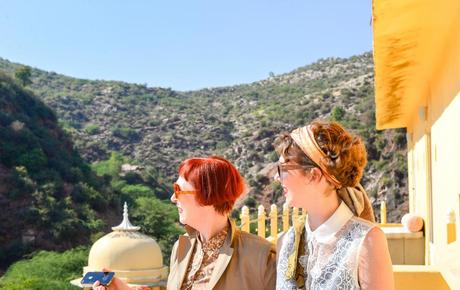 We were busy looking out for the panthers which roam the hills.
Just as long they don't come too close!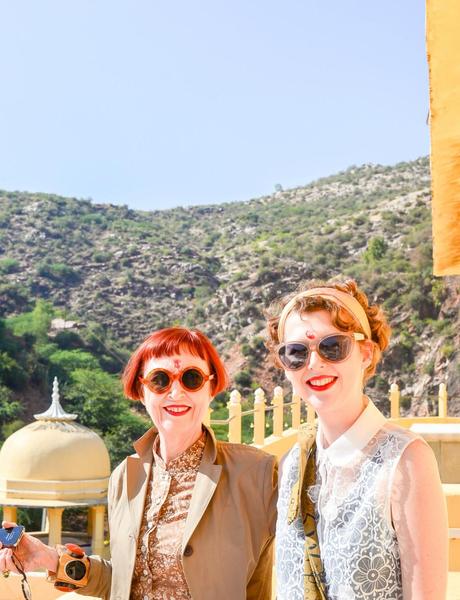 Cutler & Gross represented well.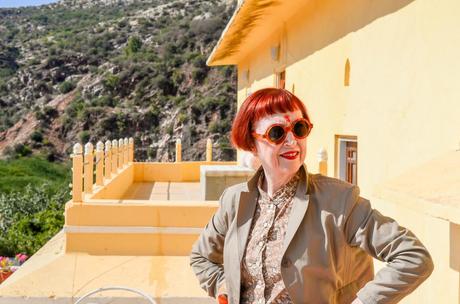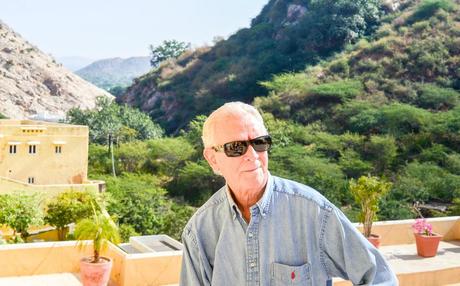 Handsome fa.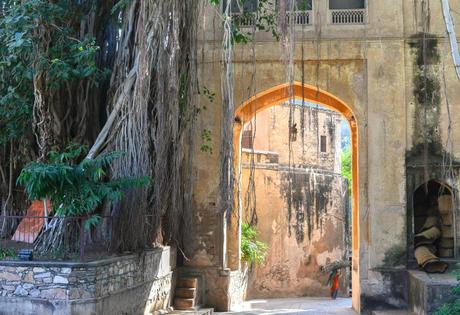 Once we had enjoyed a sumptuous lunch (the menu was extensive and superb) we returned to our car and set off back to Jaipur and to the Samode Haveli.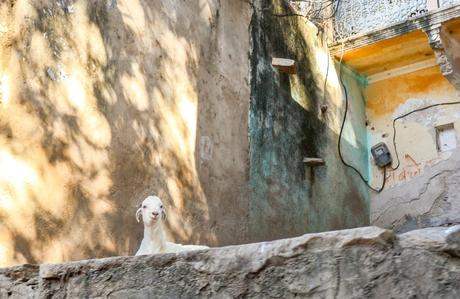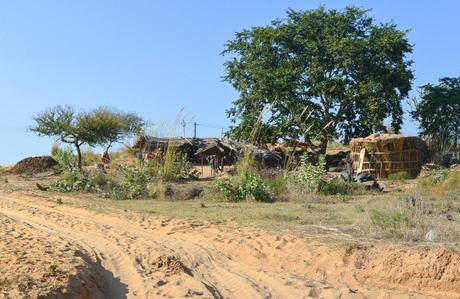 Passing little groups of nomads along the way in almost desert like conditions.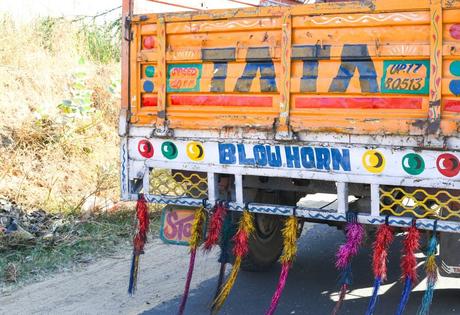 And remembering to blow the horn as we overtook on the road. Horns in India is a sound you hear constantly and traffic lights are more of a guide than a requisite.
Definitely a colourful and vibrant country which ebbs and flows in a way no other country does, I think. Perhaps this is why people find it such a difficult and contrasting country. I've always said people either love or hate India, and I really don't think there is an in-between, what do you think?
| Details for the Samode Palace here