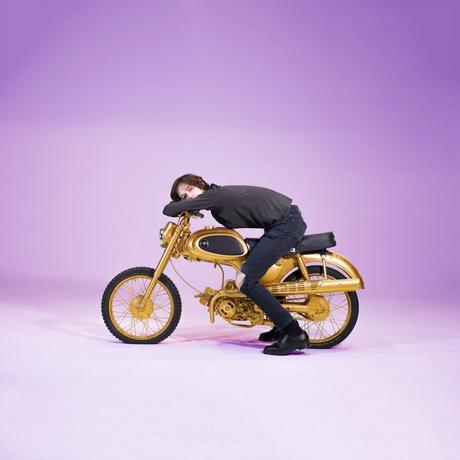 Sam Evian out of NYC is releasing his dreamy debut album, Premium, on September 30. To help prepare us for the marvelously mellow sounds of his bass guitar and psychedelic synths, he gave us a pretty dope list of tracks that helped inspire his personal and meditative album. Evian makes music that could be described as chilled, groovy electropop and the playlist he gave us is as groovy as it gets.
Playlist
Sly & the Family Stone – In Time
My friend, Julian Fader from Ava Luna got me into this record last year sometime. It's incredible. Sly.
Serge Gainsbourg – Ballade de Melody Nelson
I wrote "I Need A Man" when HB2 passed. I was listening to this album incessantly…many will recognize my reference of the opening riff.
Carrie Cleveland – Love Will Set You Free
Hannah Cohen showed me this song and I can't get enough of it. Hannah sang on "I need a man."
George Harrison – Ballad of Sir Frankie Crisp
This song is so beautiful and so George. I look to it always. The instrumentation is perfect — Pete Drake on pedal steel, Billy Preston on organ, Klaus Voormann on bass — it's just so melty and inspiring.
Cass McCombs – Brighter (ft. Karen Black)
Cass is one of the best living songwriters. He had Karen Black sing this song before she passed away. It's devastating.
Ronnie Spector – Try Some, Buy Some
A Harrison composition produced by Phil Spector and sung by Ronnie Spector, Phil's wife at the time. The whole thing gushes with this giant Abbey Road style orchestral score. The band is George Harrison's crew — Klaus, Jim Gordon, Pete Ham, Leon Russell — it just blows my mind that all these people were hanging out and recording this amazing music. I wonder about Phil. I've heard that he would always have a gun and shoot it sometimes. It amazes me that people were okay with that, especially George, who was in such a different spiritual headspace. My friend Adam Schatz from Landlady sent me this song while I was mixing my record.
Gerry Rafferty – Right Down The Line
I don't love all of Gerry's songs, but this one is killer. I think he plays the chorus 3 times…because when you write a chorus like that you need to do it 3 times.
Alessi Brothers – Seabird
I don't really know the deal with the Alessi Brothers. I don't really care to know. I just know this song. It sounds ridiculous, but I promise after a few listens it reveals itself. My friend Grey Gersten played this for me and told me this amazing story which I will relate. So, the Alessi Brothers signed with a major label and hired a fancy producer to work with them. They have a meeting with the producer about the demos. He tells them, "Okay, so I've listened to the demos and these are the songs that I think are good." The Alessi Brothers are like, "It looks like you forgot seabird. Did you hear that one?" and the producer says, "No, you you hired me to do a job, and I listened through everything and I'm showing you the list of songs that are going to make the cut. 'Seabird' is not going to make the cut." The Alessi Brothers are upset about this but ultimately decide to proceed because they really had no choice. The label had paid for this guy and there was a lot of pressure riding on this record. The label wanted a major hit record. So, they make the record, and months later the brothers sit down to listen to the master together. At the end of their listen through they turn to each other, and without saying a word one of them gets up and pulls out a razor blade. They splice their demo of seabird right onto the master reel, because seabird was a hit, and they knew it. A few weeks later, the brothers get a call from the label. It was the head of the label. He said, "We need to talk." The brothers knew what this was about. The next day they went in for a meeting with the label and the producer. It was like going to the principal's office. The label head sits them down and says, "We all know what this is about." One of the brothers starts to say something and the label head says "Shut up. We need to talk about 'Seabird.' 'Seabird' is one of the best fucking songs on the record. Why is it last and why does it sound like shit?"
This story is inspiring to me. Thanks Grey. Keep flyin'.
Jackson Browne – These Days
Last year, I learned that Jackson wrote "These Days" when he was 16. Ugh. Here's the original version from his first record, which flopped.
Big Thief – Paul
I love these people and this song. They've been incredibly supportive of me throughout the writing/recording/signing to Saddle Creek process. So lucky to be able to call them family.