When I agreed to take a trip to Boston to visit my best friend, Fourth of July weekend seemed like the perfect time of year. What better place to celebrate our country's independence than in the city where it all started? What made the trip even better was that it ended up being a reunion with all of my high school friends, who now live all over the country. I knew the weekend would be epic, and I was not disappointed.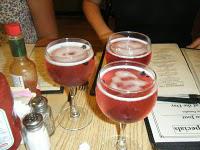 Within the first couple hours of getting off the plane at Logan International Airport, my friend Stephanie and I met up with three of the other girls, Hannah, Elise and Emily, my friend who lives in Boston. After dropping our bags at the hotel, we ventured over to Newbury Street--a quaint high-end shopping area--and found a cute place for brunch called Trident. There, we immediately embraced the theme of the weekend: a Red, White and Drunk Mimosa. It's made with blueberries, white grape juice, cranberry juice and Champagne--absolutely delicious and the perfect kick off to the weekend.
After scarfing down our breakfasts, we headed back to the hotel to meet up with our friend Christi who had just arrived. If you do not already know, Boston has a strict rule when it comes to buying and serving alcohol. First, you cannot purchase it on Sundays or holidays--so we had to stock up that afternoon on necessary libations. Second, there are no happy hour deals in the city, because the rule is that establishments cannot have any kind of deal that would promote excessive drinking, for instance half-price beers or $5 cocktails--these are the moments I truly appreciate Chicago's nightlife. Anyway, we headed over to the local Shaw's grocery store, where I learned about another interesting Boston rule: If you have an out of state ID and you are under 25, you cannot buy alcohol at the grocery store. Luckily, most of the girls I was with were 25, so that was not a problem.
We made our way to the hotel, drinks in hand, when we were abruptly stopped in the lobby. Here is another little travel tidbit for you all: Apparently, you cannot bring outside alcohol into a hotel--or at least not The Colonnade in Boston. If this is in fact a global policy, it should be prominantly posted on the hotel's website and all guests should be informed of it upon check-in so as to avoid these kinds of awkard and frustrating encounters. (I would also like to note that hotel employees should be trained to better handle these incidents, since a guest's happiness and comfort are the most important thing to maintain in the hospitatlity industry.) I will spare you the details of the events that occurred over the next two hours, but in the end, the hotel won--to some extent.
Where the Colonnade certainly regained points was with its rooftop pool. While the pool itself was relatively small, the seating area was very comfortable and spacious, with lots of lounging chairs, couches and tables. And the wait staff was very attentive, friendly and accommodating. (And the drinks were not bad either, depsite being a little pricey.)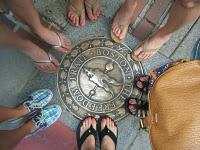 When in Boston--especially during the Fourth--it's a must to go on the Freedom Trail. Whether you hit every landmark along the way or not, it is worth checking out some of the incredible buildings, old graveyards and historic locations where some of the most famous events occured in our country's past. While my friends and I were unable to make it the whole way--due mostly to key stops at certain pubs, including the first tavern ever in the nation, the Bell in Hand--I would say the Trail was one of my favorite parts of the trip.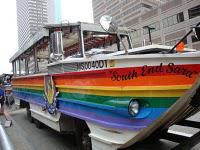 On my second day in Boston, my friends and I took part in another Boston tourist staple: A Duck Tour. Ducks were built back in the early days of World War II to help allies unload cargo and soldiers in areas where there were no dock facilities. The vehicles, known back then as DUKWs, were half boat and half truck that could run on land and water. Of Boston's fleet of Ducks, we had the privilege of riding on South End Sara, and our conDUCKtor was Frim "DucKarma" Jolly: Boston's Good Time Guru. For the next 80 minutes, we were led by our guru-guide through the streets of Beantown, where he pointed out all the "FIRSTS" of the city--the first public garden, the first public school, the first free-exchange library (you get the idea). When the Duck made its way onto the Charles River, our guide took a little break and let us take the wheel--or more accurately ME! Yes, I had the privilege of driving the Duck through the high-traffic waters of Boston. While our trusty guide was right beside me, nerves got the best of me at times, and I worried about possibly crashing into the boats floating next to us. Alas, no such thing happened, and I returned safely to my seat to enjoy the rest of the journey. When the river portion of the tour was over, we headed back through the city to where we began. And by the time we disembarked, we were starving, craving some much needed New England Clam Chowda. (Say it the Boston way.)
Emily took us to Legal Seafood for a late lunch, where we met the final addition to our group, our friend Sari. We all orderd a cup of chowda, followed by random plates of muscles, oysters and fish and chips. In an effort to be a bit more adventurous and outgoing--even though I consider myself a risk taker--I ventured to try some of the slippery, slimy specimens my friends were happily scooping out of shells. It is true, I had never tried an oyster or a muscle before this moment, so I figured, there is no time like the present. With that thought in my head, I slid the oyster onto my tongue, let the taste and texture briefly register, and then swallowed it down without another second to waste. Not bad, but I'm not sure I would order a whole plate for myself. As for the muscle, well, let's just say it was lucky I was able to keep it down. Perhaps it was the texture or the fact that I had to chew it, but something did not sit well. Despite not being a fan of these particular dishes, and even though Legal Seafood is a chain, I definitely recommend it to anyone who enjoys seafood.
Our evening contained even more dishes from the ocean, as dinner took place at a sushi joint called Haru, located in the Prudential Center, or as the Bostonians call it "The Pru." Since part of this trip was to celebrate three of the girls' birthdays and one of them getting engaged, a sake bomb was certainly in order. I've only ever done a sake bomb where you poor the liquor into the beer, so attempting to slam the table, resulting in the shot glass dropping, was kind of a challenge. Some of the girls were able to get it, but my attempt failed, so I just plopped it in myself. We finished off the rest of the sake and shared a heaping plate of colorful, scrumptious rolls, which I would consume again. When dinner ended, we headed to Prudential Tower where we ventured up to "Top of the Hub," where drinks and dessert were waiting. One bottle of Champagne, four decadent desserts and seven signature drinks made our special girls night almost complete. Of course there were toasts and tears devoted to our long-standing friendships that have been able to survive both time and distance. Once again, I have to credit the transportation in this country, making it relatively easy to bring seven high school friends from across the country together in one city for a memorable weekend. It certainly was amazing. With the somewhat foggy view of the city before us, we cheered to our lives both in separate parts of the world, and together for these few precious days.
For those of you who are still with me, and have not gagged from my sentimental storytelling, I will spare you events from the rest of the evening, as they mostly involve bar hopping, drinking and meeting many Bosotn locals.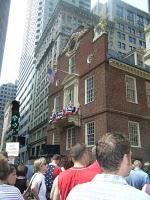 Fourth of July arrived with a bright morning and eighty degree weather, the perfect environment for our patriotic activities. We woke up early so we could snag a good spot at the Old State House, where we heard the Declaration of Independence being read from the very balcony it was first proclaimed from back in 1776. I will admit that I do not know the Declaration well, and some of it was tough to follow since the diction in those days is far more sophisticated than our simplistic prose, but it was still extremely moving to hear those words stating our separation from the Bristish, our country's determination to be free and to dictate our own lives.
The final flourish of the weekend was, of course, the fireworks. To make sure we got a decent viewing spot, our crew departed early to stake territory on the esplanade right next to the river. Unfortunately, a lot of prime grass space was already taken at 5:30, but we figured we would have better luck on the Cambridge side--at least that's what our Cambridge compatriots told us. But before we could get there, we stumbled upon a prime spot on the Harvard (Hahvad) Bridge, right in the middle of the river with a perfect view of the island from where the fireworks would be set off. Since we had a lot of time to kill before the show, a few of us braved the crowds along the water to go in search of sustenance. We returned with arms ladened with hot dogs and sausages and fried dough, oh my. We popped open some of our previously purchased drinks--yes, the very same we could not bring into the hotel--and proceeded to enjoy our dinners.
Over the course of the next few hours, the area around the river became more and more packed, making it difficult to get anywhere. If you decide to go to Boston for the Fourth, and choose to sit on the bridge to watch the fireworks, here is a little piece of advice: Use the bathroom well in advance. With less than an hour before the show was scheduled to start, Emily, Stephanie and I decided to make a quick dash to the restroom, thinking we would have plenty of time to get back. Little did we know that the police would proceed to close down access to it just as we were trying to get back to our group. I begged with the guard to let us through the barriers, since we had been in before and all our friends were there, but his sympathy was nonexistant. So, in a desperate attempt to rejoin our group, we scurried over to the side of the bridge and down the grass so we were somewhat out of view, and then leaped over the railings before any of the officers could turn around. My heart was still pounding when we reached our crew, and my leg was throbbing from slamming it into the rail, but the fireworks were totally worth it.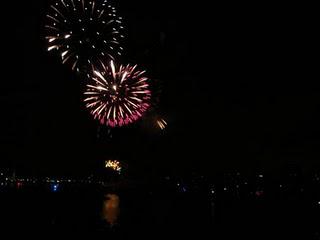 You know that feeling of complete and utter aw when you witness something so spectacular that it takes your breath away? That's what watching these fireworks was like. First there was general excitement about them actually starting, then joy and exhiliration as each new fire cracker burst into a different image, and then just pure amazement as the final couple minutes of gut-wrenching, tear-enducing explosions went off in a fit of color and smoke. It truly left me speechless. Emily was in tears. Smiles spread across all our faces. The perfect end to a truly perfect weekend.