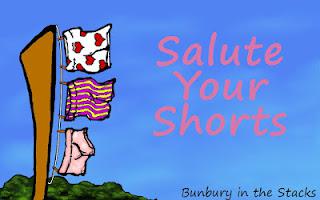 Description
'Salute Your Shorts' is a weekly(ish) meme from Heidi at Bunbury in the Stacks in which we can highlight and review short stories and novellas that we've read.
Short Story: The Lepidoctor by Mick Jackson
From:
Ten Sorry Tales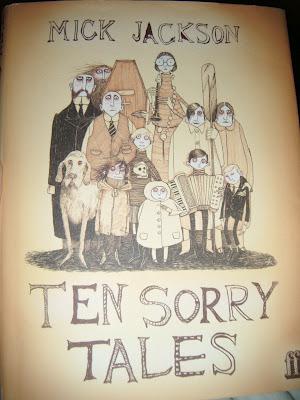 Illustration to go with the story: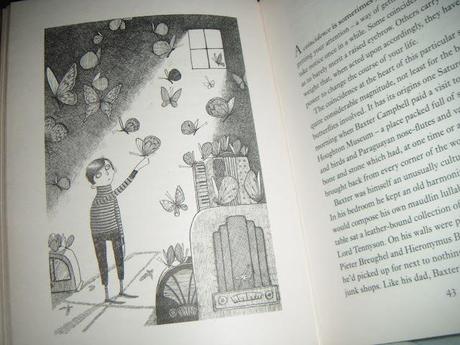 Ten Sorry Tales
I really love the collection of short stories by Mick Jackson contained within his book 'Ten Sorry Tales'. What attracted me to the book initially was the Tim Burton-esque feel and the macabre title.I love anything dark and creepy with children dying...which I felt this book would probably deliver! It did not disappoint. It was everything I hoped it would be- morbid and sinister but with good narratives to back it up. 
The Lepidoctor
What It's About...
This story is about a young boy who is quite...unusual. He is an 'unusually cultured fellow' who 'kept an old harmonium on which he would compose his own maudlin lullabies.' He is only about 8 years old. One day he goes to the Houghton Museum and sees a display of butterflies pinned to the wall. In a twist of fate, the same day he discovers a lepidoctor's kit at a junk shop that is used to 'carry out repairs on butterflies' and he knows what he needs to do.
Why I Love It...
To me, it's such a beautiful image. The thought that a little boy can take a butterfly which has been used as 'art' and repair it in his attic is magical to me. I think the image is especially poignant due to the tremendous popularity of Damien Hirst's work in which he uses many preserved animals and animal carcusses as 'art'. I don't know where I stand on that, but I do find it quite creepy that dead things have become fashionable and are seen as 'culture'. A little boy seeing a beautiful butterfly lifeless in a stuffy museum and wanting to resuscitate it is the most natural thing in the world. Young people want to breath new life into things whereas old people want to admire youth and contain it. I also just love the depiction of a 'broken' butterfly; it provides the glorious striking image of a damaged butterfly like a broken watch; intricate and beautifully crafted. The ending of the story also sees the butterflies get their revenge on a butterfly netter, which I really liked because it annoys me when people can't just see the beauty of something in nature and instead have to try and control it and keep it all to themselves...is there anything uglier than antlers on someone's wall or a stuffed bird? Ick.