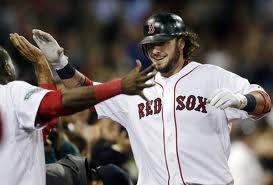 It looked a repeat of Monday night at Fenway in the first inning last night, as the Blue Jays jumped on Daisuke Matsuzaka for one run, but it could have been more, like what happened to Felix Doubront the previous night.
Toronto had second and third and one out with one in, and Dice-K shut the door there, getting a foul out and a line drive right back to him. The Red Sox could do little with Aaron Laffey, who was making his first start in nearly two years. Laffey went six innings and allowed no runs on three hits.
The Sox struck in the seventh against the Jays' pen, getting three runs on Jarrod Saltalamacchia's solo shot to left and Dustin Pedroia's two-run double. The Sox added two more insurance runs in the eighth to make it a 5-1 final.
Dice-K went 5 2/3 innings, and pitched nicely after the shaky first. The bullpen once again turned in excellent work, as Scott Atchison, Andrew Miller (the winning pitcher), Vicente Padilla and Alfredo Aceves allowed just one base runner after Dice-K departed.
New York's win kept the Red Sox 6 1/2 games back, but they are just a game behind slumping Tampa Bay for third place. The Red Sox are 6-2 on the homestand, and it concludes this afternoon with Jon Lester on the mound, and then the Sox head for the West Coast for the first time. They play the Mariners for four games starting Thursday night.