As you know I make creme fraiche from time to time–basically, when I realize my cream is nearing its use-by date and I want to eke out a few more days from it.  And since I love to bake, it's also so much more useful that way–it makes baked goods rise wonderfully and, since it can be substituted measure for measure for sour cream, there's plenty of recipes I can use it in.  (Joanne Chang is a particular fan).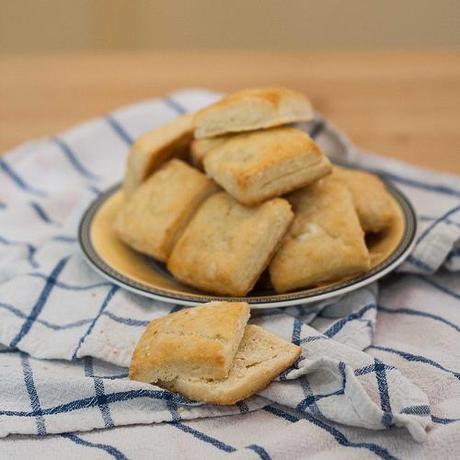 With my newly acquired biscuit cutter set (thanks mom!) and with a half of cup of creme fraiche in the fridge, this recipe from one of the latest Food & Wine issues called to me.  I'm always meaning to bake more savory goods–what better way to start?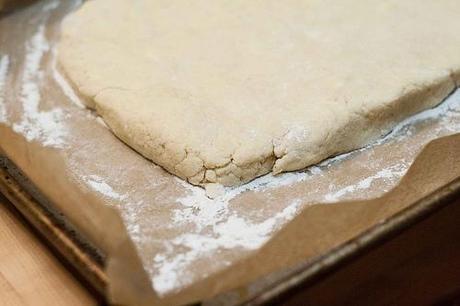 These biscuits were so much fun to make:  from rubbing the butter into the flour, to patting down the fluffy, pillow soft dough, to cutting out perfect little squares of dough and painting them with an egg-milk wash.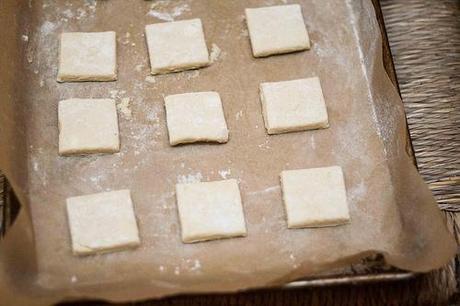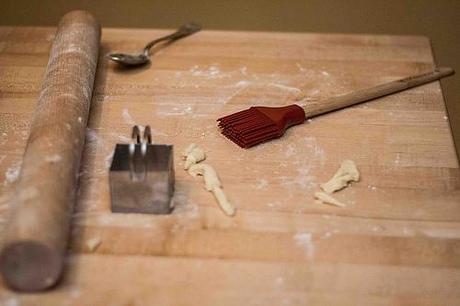 And (it goes without saying) they are fun to eat.  Thanks to the acid in the creme fraiche, the rolling and folding, and the rubbed in butter, these biscuits are delicately light and tender.  (These are definitively not those bready, heavy biscuits you'd pour thick gravy over).  The freshly ground pepper stands out against the slightly sweet background–an addictive and richly savory taste.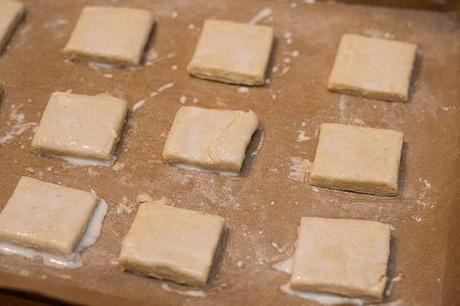 Now some notes:  I deviated from the original recipe by necessity–not having enough creme fraiche I added a bit of yogurt to top it up.  (The original recipe, which I've linked to, uses a mix of creme fraiche and milk).  I rubbed in the butter rather than cut it in, but you can do whatever you like (you could even use the food processor as long as you take care not to over-process).
You'll see that it's key to chill the dough–it's so soft it would be too hard to work with without that step.
This recipe makes a LOT, and unfortunately these don't taste quite as great on subsequent days.  But since biscuits and scones generally freeze well,  I'll certainly be setting aside a portion to bake another day the next time I make this.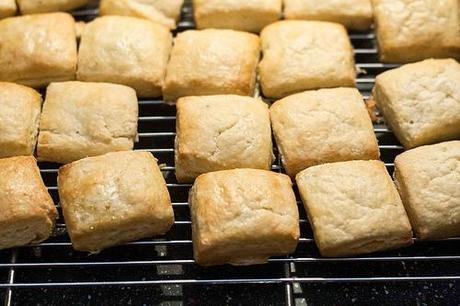 Salt & Pepper Creme Fraiche Biscuits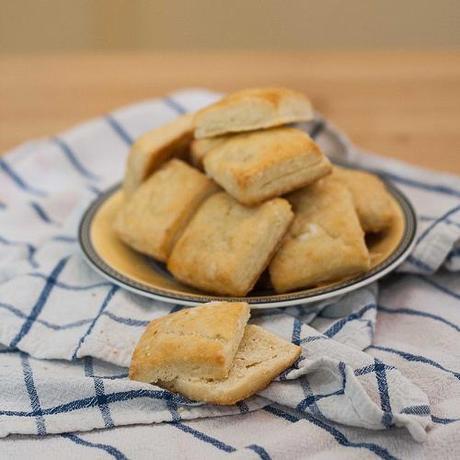 Print
Author:
Sara, adapted from Food & Wine
Ingredients
1 large egg
1 large egg yolk and egg white (separated)
½ cup crème fraîche
½ cup greek yogurt
2½ cups all-purpose flour, plus more for dusting
2 tablespoons plus 2 teaspoons sugar
1 tablespoon plus ¼ teaspoon baking powder
2 teaspoons table salt
1½ teaspoons freshly ground pepper
1½ sticks unsalted butter, cut into ¼-inch dice and chilled
2T heavy cream or half and half or milk
Maldon salt, for sprinkling
Instructions
In a small bowl, whisk the egg with the egg yolk, crème fraîche and milk. Reserve the egg white.
In a large bowl, combine the 2½ cups of flour with the sugar, baking powder, table salt and pepper.
Using a pastry blender or 2 butter knives, cut the butter into the flour mixture until it resembles coarse meal–or rub in with your fingertips or pulse in a food processor.
Add the egg mixture and stir with a wooden spoon until the dough is evenly moistened. Gather the dough into a ball and knead 2 or 3 times, just until it comes together.
Line 2 large baking sheets with parchment paper and dust them with flour. Transfer the dough to one of the baking sheets and press it into an 8-by-10-inch rectangle. Cover with plastic wrap and refrigerate for 1 hour.
Preheat the oven to 400°. Transfer the dough to a floured work surface and roll it out to an 11-inch square. Fold the square in half and roll it out again to an 11-inch square. Repeat the folding and rolling once more. Using a 2-inch round biscuit cutter, stamp out as many biscuits as possible. Gather the scraps, reroll and stamp out more biscuits.
Evenly space the biscuits on the lined baking sheets. Whisk together the reserved egg white with the cream or half and half, and brush the tops with this mixture. Sprinkle with Maldon salt.
Bake the biscuits in the upper and lower thirds of the oven for about 20 minutes, until golden; shift the baking sheets from top to bottom and front to back halfway through. Serve the biscuits warm.
Notes The original recipe called for ¾ cup of creme fraiche and ¼ cup of milk–I used ½ cup of creme fraiche and ½ cup of Greek yogurt (2%) because that's what I had on hand. I'm sure other combinations would work, as well as sour cream in place of the creme fraiche. As long as you use enough of an acidic dairy product (creme fraiche, yogurt, or sour cream) you should be good to go! I also mixed my leftover egg white with half and half for "painting" the biscuits before they went into the oven. 3.2.1596