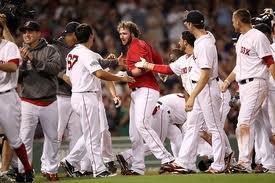 The Red Sox gained their first win in their final at-bat at home this season, the so-called "walkoff" win, as Jarrod Saltalamacchia was the hero, blasting a two-run shot off Fernando (Crooked Hat) Rodney.
A huge, big-time 3-2 win over Tampa Bay.
Josh Beckett was excellent again, allowing just a single through the first six innings. The Red Sox finally got a run off David Price, who was just as good, in the sixth on Will Middlebrooks single with two on. (It was a generous official scorer, as Sean Rodriguez booted what looked like a sure third out.)
Beckett gave up two runs in the seventh, one on a sac fly to left that Daniel Nava ill-advisedly threw home, and it allowed Matt Joyce to tag and reach second. He score when Birther Boy singled to right.
It stayed 2-1 until the ninth when Nava walked to lead off the inning. Nick Punto sacrificed him to second, and Salty, pinch-hitting for Marlon Byrd, went deep.
Rich Hill got the win, as he pitched a scoreless ninth.
Curious move by Bobby Valentine in the sixth. He pinch-ran for Adrian Gonzalez with Che-Hsuan Lin, and he later pinch hit Scott Podsednik for him. (I didn't hear of any injury in regard to Gonzo.)
The Sox go for the series win over Tampa Bay on Sunday with Clay Buchholz.