This is a super easy and very tasty recipe, taken from Dutch cooking magazine with minor changes. It's healthy and very quick, so it's perfect for me:) Salmon tastes great in a company of carrots and fragrant sesame seeds.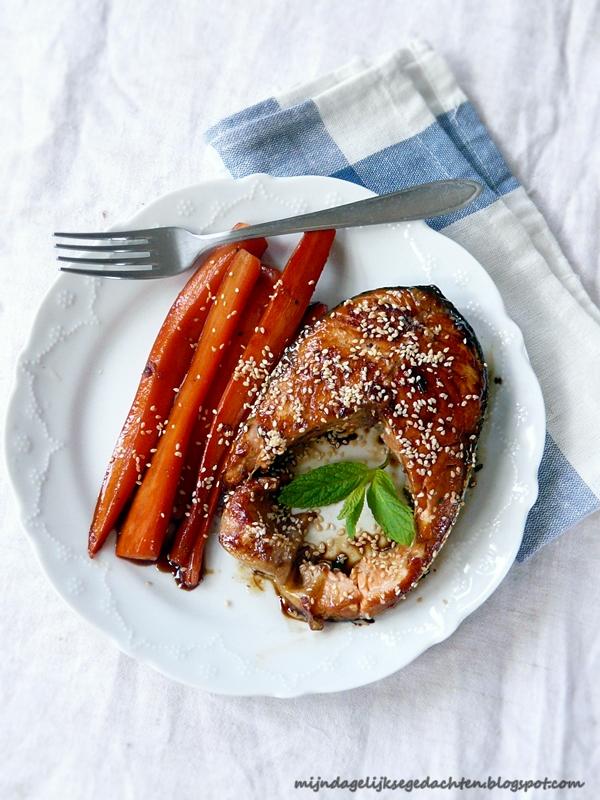 2tb.s. sesame seeds
about 300g young carrots
olive oil, about 4tb.s.
2tb.s. runny honey
6tb.s. soy sauce
1tb.s. white wine vinegar
1 garlic clove
black pepper to taste
2 portions of salmon
First on a dry and hot frying pan cook sesame seeds approximately 2 minutes, stirring a couple of times. Set aside.
Peel and cut carrots in half lengthwise.
Heat about half of olive oil on frying pan, add carrots and cook them for 2 minutes. Pour 1 tb.s. honey, 3 tb.s. soy sauce, vinegar and press 1 clove garlic into the pan, stir and cover with a lid. Cook 7-10 minutes. Set aside.
Pat dry salmon pieces. Pour olive oil,  1 tb.s. honey and another 3 tb.s. soy sauce into a pan and add salmon. Fry on medium high during 3 minutes on each side (depending on the thickness of salmon).
Serve with carrots and sprinkle sesame seeds over the fish. Great with some rice.