Hello lovelies!!!! Have been busy lately, so have not time to update my blog. Today i am going to review the Sally hansen All in one pedicure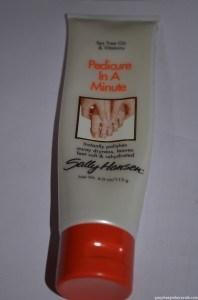 Product Details
Description: Pamper your feet with a blend of natural sugar crystals and vitamin A, E and C with Pro-Vitamin B5, olive oil & tea tree oil to instantly give you smoother, softer, nourished and protected feet in just a minute. Gently massage onto wet skin or for a more intense exfoliation, massage onto dry skin. Apply extra pressure to rough spots and rinse thoroughly
Price: INR 925 for 113 gms
Ingredients
 blend of natural sugar crystals and vitamin A, E and C with Pro-Vitamin B5, olive oil & tea tree oil 
My Take on the Product
To begin with I am really thankful to Fab Bag for sending this full sized product. I really like Sally Hansen products. I have previously used the nail hardener which was very effective. I received this full sized Pedicure in a minute with the April fab bag. My mom loves using a different foot scrubs and foot gels, as she suffers from dry and rough feet. Initially I thought it was a foot cream, but I learnt later that its a foot scrub. The the foot scrub comes in a white and orange tube with a flip flap cap.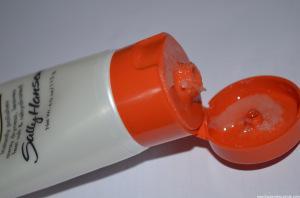 The foot scrub with is a thick gel with lots of granules and scrub particles. The foot scrub has mild rather no smell which I really like.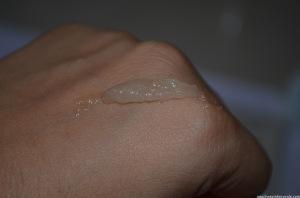 Squeeze the amount you want as per your foot size or as per the requirement, even a little goes a long way. Now coming to the effects of this foot scrub, it was my mom who used it for the first time. She found the product to actually work on her rough and dry feet. She often uses get itching sensation, dryness and roughness, all this reduced a lot in the first use. I also suffer from a lot of roughness, which now completely gone after regular use of this all in one pedicure. I use it every alternate days or sometimes once week. My feet became soft and is not rough anymore. All I can say this is truly an all in one pedicure kit in one tube. It has the properties of a cleanser, cream and scrub. The pedicure didn't keep foot problem away, but also helps in maintaining the softness.
Pros
1. Keeps dryness and roughness away
2. Maintains the softness
3. Complete all in one package
Cons
Nothing
Overall Verdict: It is just like its name All in one pedicure, rather than buying 5 different foot products for 1000, this one tube of 950 is worth the money.
More from my site
Sally Hansen Lip Inflation Extreme in Shade Clear 22 Review And Swatches, LOTD

Himalaya Anti Dandruff Hair Cream Review and Swatches

A Look at the April Fab Bag Contents 2014

Scholl Fresh Step Crackling Ice Foot Gel Review
Zemanta