With SaleFreaks You can order and dispatch items without lifting your finger because in the dashboard:
Orders are automatically placed on Amazon within minutes
Auto-upload buyers' tracking information to eBay
You can analyze detailed profit statistics for every item
SaleFreaks Features: Is It Really The Best Arbitrage Software?
With SaleFreaks users can supposedly do everything they need to do in one place, as well as using multiple programs. You can order the best selling products and list them in multiple eBay accounts You can monitor Amazon prices, control the BIN price of competitors, place orders, and then send the tracking to eBay as well.
Here you will find an overview of all tools offered:
1. The Locator
This tool helps you to find items that you can sell. You'll get the parameters (products that relate to your niche) and their "scan engine" will help you find very profitable items on Amazon that you can list on eBay.
2. The Price Agent
This tool monitors the competitor lists of your products and redefines the price of the item for you. This means you do not have to worry about setting a price too high or too low.
3. The Ticket Sales System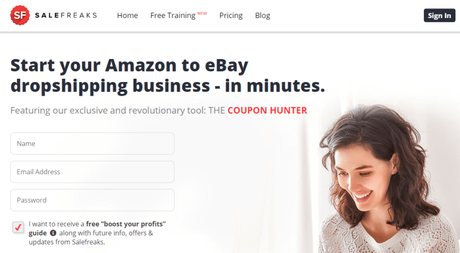 This tool was developed for the successful communication of eBay. This means that you can communicate with all your buyers in one message.
4. The list Generator
This tool helps you to create friendly SEO descriptions for all your products. This means that your items will be rated higher. If you search for it, yours will be found first. You can also list the products of your online shop on eBay.
5. The Translator
This tool stores all the information about your articles in one place. It displays all ordered items, shipping details, a summary of each transaction, and so on.
Are all these tools really working? Well, this is new software and you may face some bugs to fix. However, it does seem that it would really help people who list many items on eBay.
If you're just starting out with just a few things to list, it's best to do it alone and learn the concept early. If you know and succeed, you should try this software if you need to spend little money.
SaleFreaks Pricing Overview:
You can add an eBay account for free. However, if you want to add more accounts, the amount will need to increase your subscription by 5 Euros per month. To list items and use the software, you need to invest money.
First, you have to choose a plan with your "price calculator". The amount you pay depends on your choice for using the Automatic Ordering and Shipping software (which allows you to manage your customers).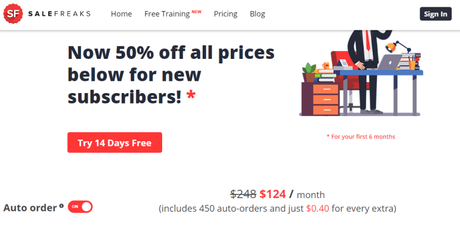 You can also pay monthly or annually. Then move the knob and select the number of ads you want to buy each month. The more you need it, the more it costs you.
For example: Suppose you need 90 lists per month. It costs you $ 30 per month, or $ 300 per year, without using your "Automatic Order and Shipping Bot" software, or $ 53 per month, or $ 530 for using the software. If you need more than 100 ads per month, it costs more.
Some major points to keep in mind:
Note, however, that you can only pay for SaleFreaks through a Paypal account. You can not receive payments in any other way. I do not know if it's a bad thing or just because it's new software, but PayPal is a reliable source.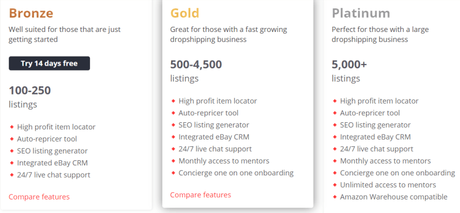 You get a 14-day free trial a nd can add up to 100 free items!
Also, note that with your rate plan you will receive a series of automatic orders. If you approve the number of automatic orders that you can make for you, you must pay the difference the following month.
SaleFreaks Also Have A Training Program:
SaleFreaks provides training videos on using their software. This is very useful if you know what they are talking about. If you are unfamiliar with the arbitration process, catching up may take a little longer.
Here are the videos they offer (you can find them all on YouTube):
Locator Basics
Extended Locator
To load gift cards with your credit card
How to load gift cards into your SaleFreaks account
To use the title optimization tool
Learn how to manage your SalesFreak articles
Learn how to manage your orders.
Learn how to use the help to buy and place orders manually
To migrate old monitor elements to SaleFreaks
Purchase problem
Learn how to update the manual purchase - cancel
How to sign up and the Amazon account at SaleFreaks and turn it into Prime
To update the tracking number if you do not have a Gmail account
They also have weekly live online training seminars to keep you up to date with anything new or anything else that could help you in your business. However, you will not be able to access these webinars unless you are a paid member.
SaleFreaks Customer Support
SaleFreaks has a place to chat with Roni, Avi, or Tal, and they are the ones to lead the chat support (it seems they need more than three people). Avi sent me a message as soon as I signed up to check it, but it was very automatic and I do not think there is anything special about it.
I asked a question and just said that they usually answered within a few hours. So do not wait for an answer right away. When they answered my question, they seemed to be very helpful.
It does not seem that they are always there for you, but they will do it if they can. If you are looking for someone to help you every step of the way, it can take some time!
You can cancel your monthly or annual SaleFreaks plan by sending an email to [email protected] After canceling, you will still be able to log in, but only to view your reports. You simply can not list any more articles.
What Famous Dropshippers Say About SaleFreaks



Conclusion: SalesFreak Review With Discount Coupon Promo Codes March 2019
In my opinion, SaleFreaks can help individuals who are intensely involved in online arbitrage and have a successful business. You do not have to spend so much time tracking your orders and making sure you have the best prices. Let me know in the comments section below what you think about it and what features of SalesFreaks you loved the most?
We hope this post suits your purpose well. Feel free to drop your comments about SalesFreak right in the comment section below. Share this post on social media channels like Facebook, Twitter and more.