The time of Sagittarius in the course of the year corresponds to the time before dawn in the course of the day. The two hours before sunrise are very favourable for meditation and bring fourth the best results with ardent worship. We can easily receive the cooperation of the Devas, who pour out subtle energies on the beings of the earth.
For the background of the image I warped a photo of predawn seen from an airplane and worked on the colours. The bottom indicates the sphere of the earth, the dense matter. From out of it rises a rose in pinkish colours into the vastness of the blue firmament; it is a symbol for the blossoming of fiery aspiration.
The flower is surrounded by the signs of the zodiac with Sagittarius at the top. The varying colours of the signs indicate the subtle work of the devas of dawn. They dance around the flower and seem to plunge into the flaming sphere announcing the rising sun.
The symbolism of Sagittarius is visualised in the eleven Sagittarius paintings done between 2010 and 2020. For detailed detailed descriptions please see the ludgerphilips.org website.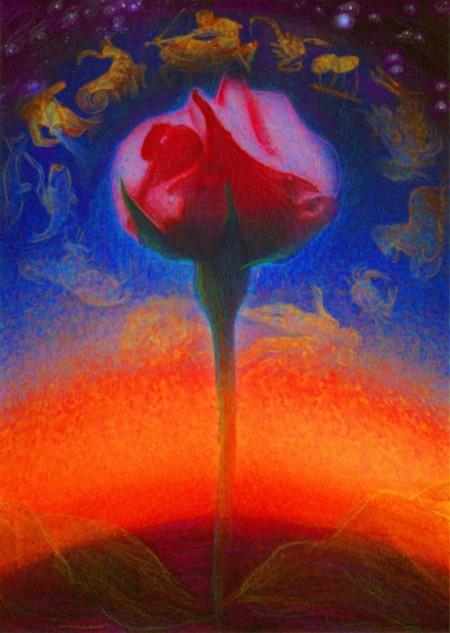 24 August 2020, pencils and photo work