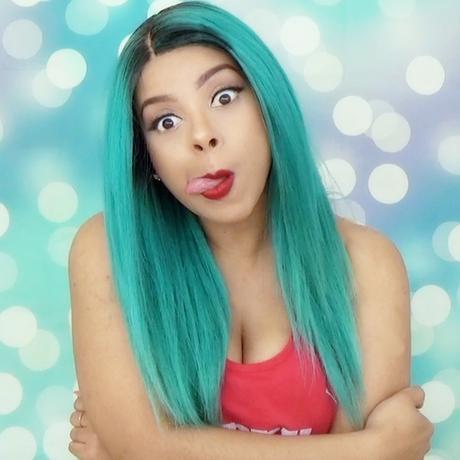 Let's talk Saga Remy Human Hair Wig Yaki Cap. 100% human hair wig on a cap that's ready to wear. Comes in lots of colors and lengths. I have it in 22 inch which is a great everyday length. The color, KMTURQUOIS, is everything but everyday. LOL. It's cool. I wanted some bold, summer units. The Saga Yaki Cap line is more expensive because it's 100% remy hair. And, it should last a very long time because of it. It has a great density and little to no shedding. It also has a skintop parting which will either make it or break it for most people.
SAGA REMY HUMAN HAIR YAKI CAP REVIEW
WIG SPECS:
BRAND:
Saga
NAME:
Remy Human Hair Wig Yaki Cap
COLOR SHOWN HERE:
KMTURQUOIS
MATERIAL:
100% Remi Human Hair
TYPE:
Full Cap Wig
LENGTH:
22 inches
PARTING:
35-inch Skin Part
HEAT SAFE:
Yes – Human Hair
WIG CAP:
Normal size with NO combs and djustable straps.
RATING:
3 stars by GirlRatesWorld

TIPS FOR STYLING:
– add a cream concealer or foundation powder to parting
– wear straight or bump/curl for more volume
– use bobby pins or wig grips to keep in place all day
– store unit in wig bag or on a wig stand to keep tangle free

I'M SOCIAL!
I hope you found this review helpful. I have dozens of wig reviews posted on this site. Stay up-to-date by following @GirlRatesWorld on your favorite social media sites. YouTube | Pinterest | Instagram | Facebook. I appreciate the support and share my blog with anyone who ♥︎loves♥︎ hair as much as we do!
Related Post
Go Plum! Isis Collection Brown Sugar Wig BS216
Zury Sis Dream Lace Tamanna Wig
ISIS Lace Front Wig Brown Sugar Silk Lace BS607
Model Model Jina Wig Review

About GirlRatesWorld
Beauty and style lover with an addiction to wigs, pups, french toast and neon polish. Hundreds of reviews under my belt with new ones added weekly. Be sure to swing by often ♥︎.