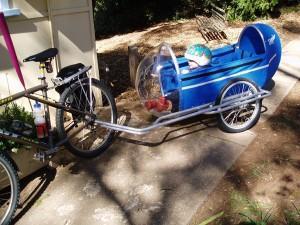 Over the past few weeks I've been putting my kids in the bike trailer and hopping on the bike trail system in the greater Minneapolis/St. Paul area. I'd known for a long time that The Twin Cities were considered exceedingly bikeable. As we prepare to depart for warmer climes, I find myself biking the trails increasingly. Sadly it's hard to have a city be rated number one in terms of bikeability when the weather makes it prohibitive a majority of the year for average riders like myself. However, given the warm weather (and lack of rain), I've picked my kids up and dropped them off at school roughly a dozen times over the past few weeks. When I drive them, it takes about 30 minutes from start to finish (leaving our house to pulling into the garage). On the other hand it takes 40 to 45 minutes round trip when I bike there.
Not only do my kids seem to prefer going in the trailer attached to the back of the bike, but I do. There are some hills/ramps to go over the train tracks and a few other obstacles, but the largest obstacle is time. If I'm feeling rushed, it makes it harder for me to get them in the carrier and pedal down the street. What I end up missing is the lesson I impart on them by biking when I could drive. They miss out on the experience of sitting next to one another with the wind blowing in their faces as we cut through back alleys and under the highway. They miss the implicit message that biking is a valid form of transportation to and from school.
It is this latter point that I want to stress. While time and convenience – sustainability's nemesis – will always dissuade some from biking, it is integral to the transportation mix. In particular, having routes for children of all ages – kindergarten through graduate school – to bike to and from school is essential. City planning where schools are the central institution and multiple types of housing are close enough to allow for students to walk or bike to campus provide real world examples that can either be used in the curriculum or act to promote healthy lifestyles. The National Center for Safe Routes to School has been working on this goal for more than 15 years. It's time for schools, communities, and families to work together to make this a priority.
Image source