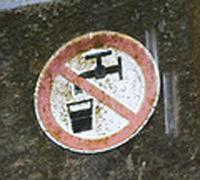 Getting safe and reliable drinking water while traveling is not always easy, but there are ways to get it if you're willing to prepare and work for it.
Avoid Suspect Water in the City
When your travels take you into cities or populated areas, you need to know how to find clean water. As cited by doctors and medical transcription experts, one of the biggest causes of health problems for travelers is drinking unhealthy water. As a general rule, when possible always go with sealed, bottled, or bagged water.
If you are in a city where the water quality is questionable, avoid tap water in almost every circumstance, even at upscale hotels. If you must use the tap water, bring along a "steri-pen" or purification pills. Use the steri-pen to purify and kill microbes or bacteria in the water. Pills are a resource to use when nothing else is available; because they have chemicals in them, prolonged use is not recommended.
Order mixed drinks or sodas without ice. Frequently, ice-cubes are made from tap water, placing you at risk.
Filter in the Backcountry
If your travels take you to a remote area, bring along the aforementioned steri-pen or a good water filter. If you are bringing a filter/pump, check that it filters down to .005 microns, the level the FDA considers safe and one that removes up to 99 percent of microbes and bad bacteria from water sources. 
Purification pills should only be used as a short term back up plan for emergencies, like if your filter breaks or gets lost. Most pills contain a form of chlorine or bleach, making long term use a bad idea – avoid using them for more than three days straight.
For a safe and healthy trip, start with safe and healthy water.
Author: Elaine Hirsch
Elaine Hirsch is kind of a jack-of-all-interests, from education and history to medicine and videogames. This makes it difficult to choose just one life path, so she is currently working as a writer for various education-related sites and writing about all these things instead.
Photo by escowles.